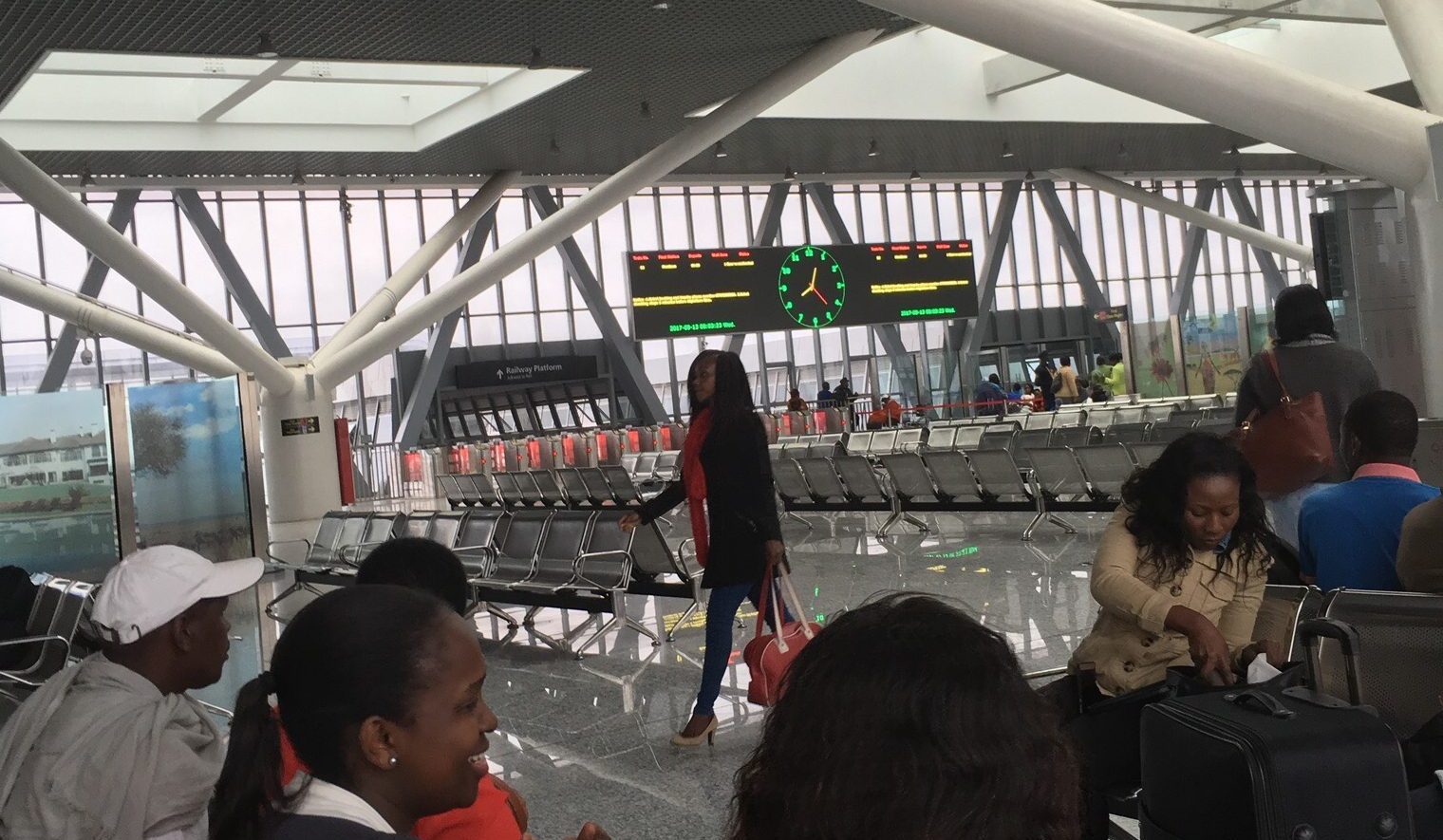 There are a few different ways to get to Mombasa from Nairobi and vice versa:
Go by car
Fly with a plane
Take the train 
We decided for option Number 3 because it was the cheapest and most convenient way for us to go to Diani Beach/Mombasa. The SGR just opened in spring 2017 and a train ticket costs around 9$ (700KSH) one way per person (pretty cheap right?). If you, however, want to travel first class, a ticket will cost you 3000KSH.
So how do you get the ticket? Currently, you cannot book the ticket online and so you will have to purchase your ticket at the respective train station up to 7 days in advance or even on the same day (and hoping that the train won't be full). This train ticket will only be valid for yourself because it will have your name and passport ID on it.
Train tickets for Kenyan residents and children are usually cheaper, so check the prices beforehand.
The train ride to Mombasa Train Station takes about 4 1/2 – 5 hours and departs every day in Nairobi at 9:00 AM. You will arrive in Mombasa at around 1:30 PM – 2:00 PM. It is a pretty scenic route because the train will go through Tsavo National Park and you might be able to spot a few animals like elephants or giraffes. We actually saw a few elephants on our way to Mombasa.
---
Just a quick tip: Make sure to arrive at least 1 hour prior to departure at the train station since you will have to undergo a variety of security checks that will take some time.
---
The ticket contains your coach and seat number which will make it easier for you to find your place. The train staff will check your ticket and ID before entering the train.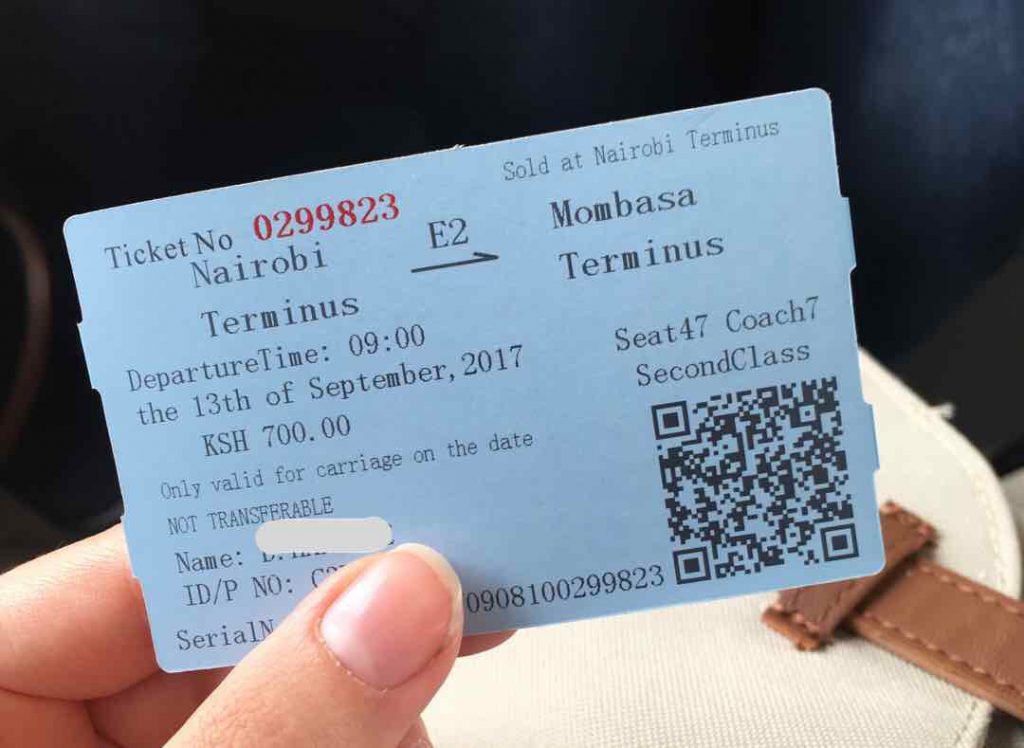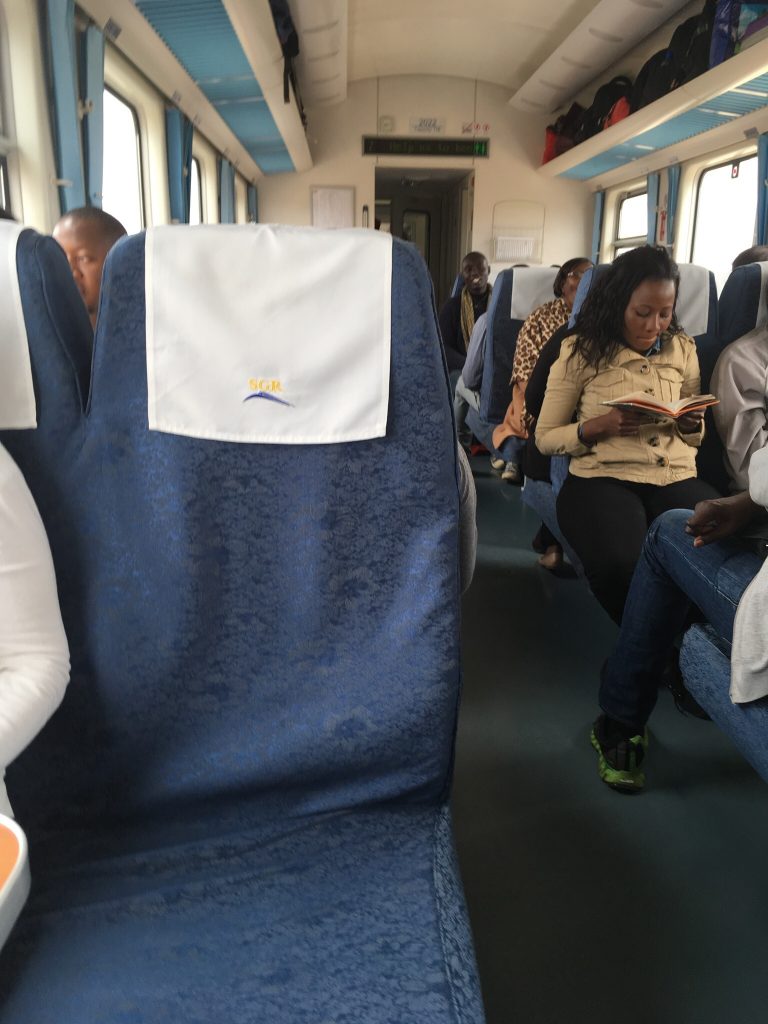 When booking a ticket with the SGR, keep in mind that the seats are not separated by armrests and the trains are a 3-3 layout. If you want a window seat, make sure to ask the personnel for such a seat when buying the ticket.
---
Just a quick reminder: Do not take any sharp objects or bottles of alcohol with you on the train. You will be asked to throw them away at the security check.
---
My overall experience with the SGR
The train tickets were cheap and the train ride overall did not take too long. Unfortunately, though, the train only departs once a day in the morning.
I did not like that there were no armrests on the train. Also, the seats are super uncomfortable and after a few hours on the train, you will feel a slight back pain. The seats are not at all ergonomic-friendly and due to the missing armrest, you will not be able to find a nice and comfortable position. I am not sure how it is in first class because we only booked economy class tickets. Next time, I would book the first class tickets hoping that the seats are better.
What I also disliked was the fact that the overhead compartments were very high and I could not reach them without stepping on the seat and even then I had to stretch to be able to reach them. A big suitcase would, therefore, be very inconvenient because you will have to put it up.
The service on board was good because the staff came around with trolleys of coffee and snacks that you could purchase. Also, they kept the train clean throughout the whole journey.
Nevertheless, I don't think there is any other mode of transportation that will take you to Mombasa for that cheap and that amount of time. And if you don't mind slightly uncomfortable seats, then the SGR is definitely the best way for you to travel to Mombasa or Nairobi.
---
Did you take the SGR before? What did you think of it?
Would you take it again? Let me know in the comments below.
Make sure to check out my other blog posts about my visit to Kenya!