Valencia is a beautiful city on the coast of Valencia. It is easily accessible by train, bus or plane as it has its own airport. Valencia is the perfect place to spend a few days to explore the city and its beauty.
Read below for 6 things to do and see in Valencia in 2 Days.
1. Visit Ciudad de las Artes y las Ciencias
This is certainly one of the most famous areas in Valencia – the first thing that you will see when you search for images of Valencia, and something that is just out of this world.
The Ciudad de las Artes y Ciencias is a very futuristic looking area in the south-east of Valencia. There is so much to explore both inside and outside. Since my time was limited, I just spent time outside, strolling around the water pools and admiring the amazing architecture that is nothing like the rest of Valencia.
Here's a list of what to visit when you're visiting La Ciudad de las Artes y Ciencias:
Oceanogràfic: A big aquarium (the biggest in Europe) with over 500 species of marine animals
Hemisfèric: An underground IMAX cinema located right in the middle of two blue lakes
Museu de les Ciències Príncipe Felipe: A futuristic-looking science museum
Terraza L'Umbracle: an outdoor tropical sculpture garden
Palau de les Arts Reina Sofia: A modern performing arts building
2. Explore the Historic Part of Town
This was definitely my favorite part of the city. Before coming to Valencia I honestly did not think that the historic part is so beautiful. There are old and colorful buildings everywhere you go and every corner you turn, you'll find another beautiful photo spot. I loved strolling through the streets without a map or phone in hand and just see where the streets are taking me. We found some lovely streets without any other people that we used to take some pictures.
3. Drink Horchata
While I was in Valencia, a friend messaged me asking if I had tried Horchata already – which I hadn't at this point. I did see a cute place near Plaça de la Reina but didn't go inside the first day.
Horchata de Chufa is a milk-based beverage with so-called tiger nuts inside. It's a very refreshing drink for a warm summer day and I enjoyed it a lot. We tried Horchata at Horchateria Santa Catalina and paid 2.95€ for one drink. We also had a really delicious Caña de Crema for 1.55€.
4. Explore the Central Market
Opening Hours: Monday through Saturday from 7:30 am until 3:00 pm
One of Valencia's famous markets where you can buy a wide variety of fresh fruits, juices, but also meats and fish. There aren't many souvenir stores so I recommend going here either if you are hungry or if you want to buy some local delicacies.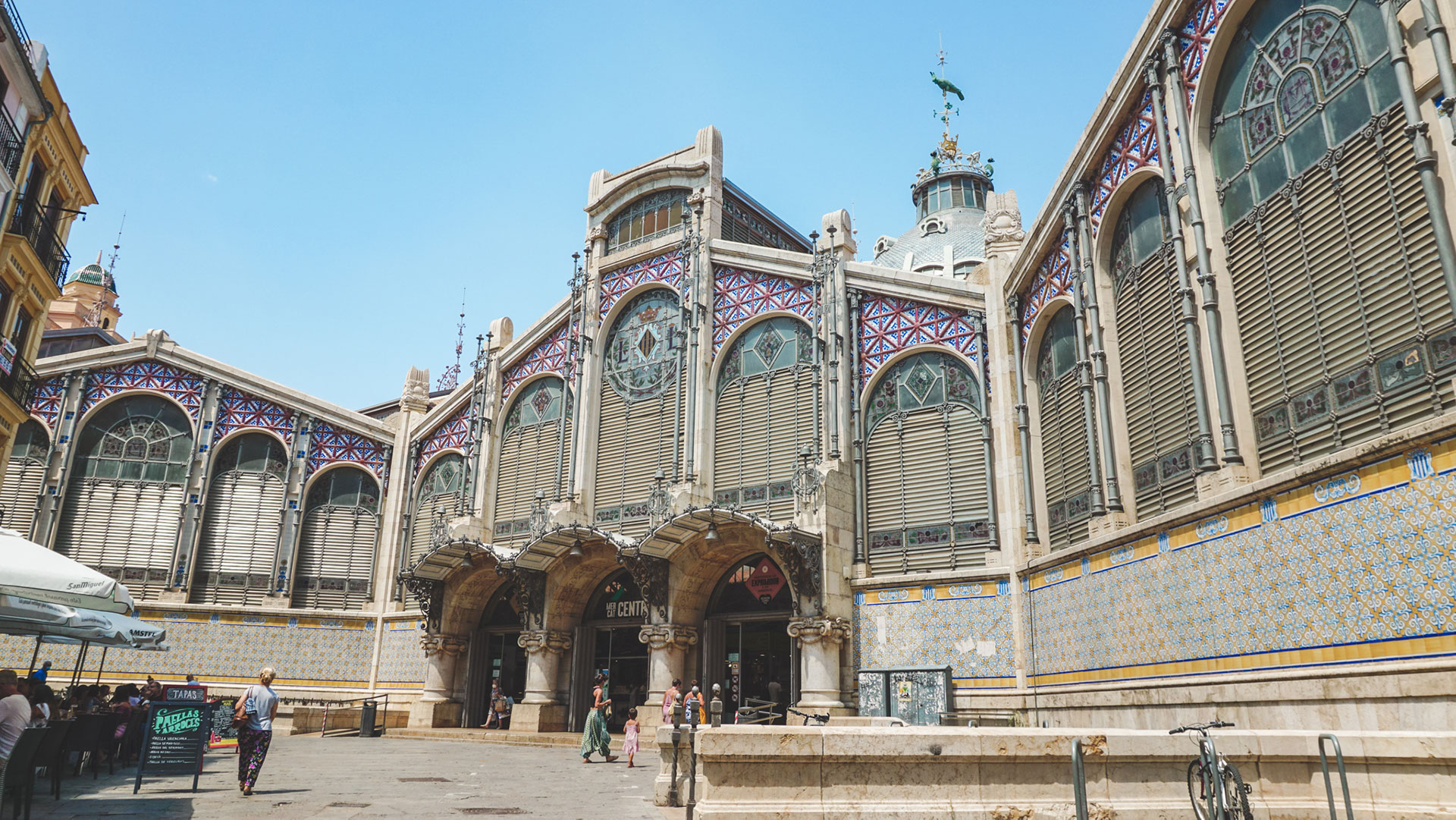 5. Go Souvenir Shopping at Plaça Redona & Plaça de l'Ajuntament
Plaça Redona
You'll find Plaça Redona close to Plaça de la Reina. It's a partially covered outdoor market with souvenir stores, some pottery as well as arts and crafts stores.
My favorite one was an everything linen shop where you can buy tablet cloths, sachets, pillowcases, curtains, etc. – all made out of linen and for a fair price.
Plaça de l'Ajuntament
This area is great not only for souvenir shopping but also for browsing through other stores, like Ale-Hop. If you are looking to buy some espadrilles, I can highly recommend the Alpargatus Store.
6. Relax on the Beach at Playa de la Malva-Rosa
A must visit in Valencia is definitely Playa de la Malva-Rosa. It's a beautiful area with a giant promenade and various restaurants right by the beach.
The beach itself is very nice with soft and clean sand and you can walk into the ocean for a while until it gets deeper. I'd recommend coming here during the week as it can get a little more crowded on weekends when locals are off from work and school.
Have you been to Valencia? What tips do you have on things to do and see in Valencia?
Would love to know! Leave your thoughts in the comment box below.
Read more about other European trips here.