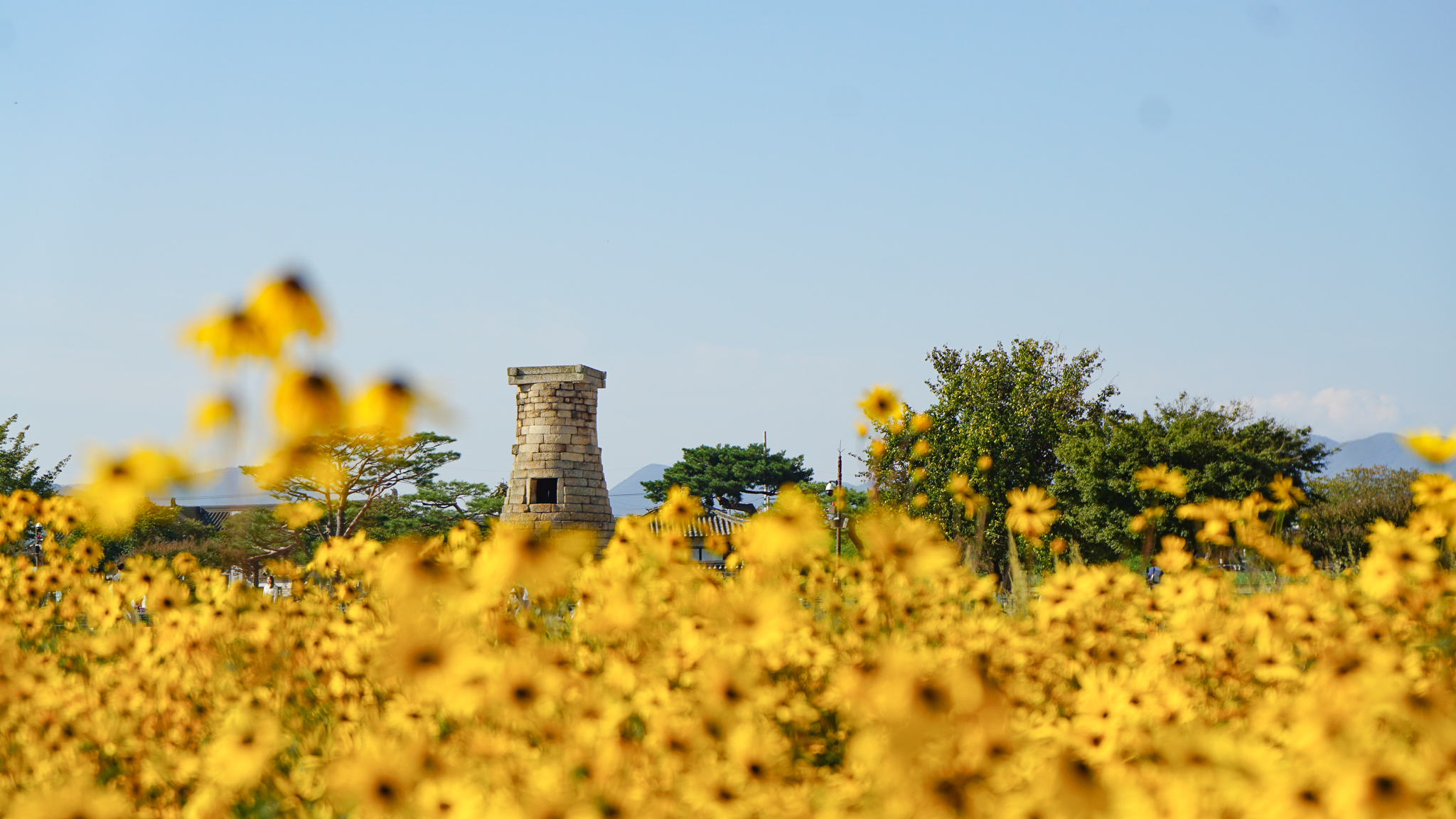 Gyeongju (경주), South Korea – once the capital of the ancient Silla Kingdom of Korea is now a very popular destination for both locals and tourists. You'll find many historical sites as well as lovely Hanok cafes and a beautiful temple. If you're planning on traveling to Gyeongju or still just considering it, then check out this very detailed guide to Gyeongju, South Korea. 
Assuming you are either traveling from Busan or Seoul to Gyeongju, there are two modes of transportation you can take to get to the city (apart from taking the car). 
From Busan
KTX/Train
Getting to Gyeongju from Busan is fairly easy and quick. The KTX ride only takes about 30 minutes and costs around 11,000 KRW one way. You'd have to get off at Singyeongju Station and take a bus to the city center. 
Bus
The bus is also another convenient way to get from Busan to Gyeongju. The bus terminal is located more in the city center so you would be able to easily walk to your accommodation or potentially take a short taxi ride. 
The bus ride is a bit longer than the KTX but would also only take about 1 hour and cost between 5,000 to 7,000 KRW one-way.
From Seoul
KTX/Train
The fastest route from Seoul to Gyeongju is to take the KTX from Seoul Station to Singyeongju Station. The trip takes about 2 1/2 hours one-way and costs approx. 50,000 KRW (economy class). Just keep in mind that from the train station, you will still need to take a bus (ca. 30 mins) to get into the city center where your hotel is most likely located. 
Bus
Another option on how to get to Gyeongju is to book a bus ticket. The most popular departure station in Seoul is Express Bus Terminal. The bus ride will take longer than the train with ca. 3 hours and 30 minutes in total but you will arrive within the city center of Gyeongju. And depending on where you are staying you can either walk or take a short bus or taxi ride to your accommodation. 
The long-distance busses in Korea are actually very comfortable and I'd recommend you try it at least once! A bus ticket to Gyeongju will cost approx. 30,000 KRW. However, this also depends on what time you plan on taking the bus and which one you choose (as there are also premium buses that are slightly more expensive).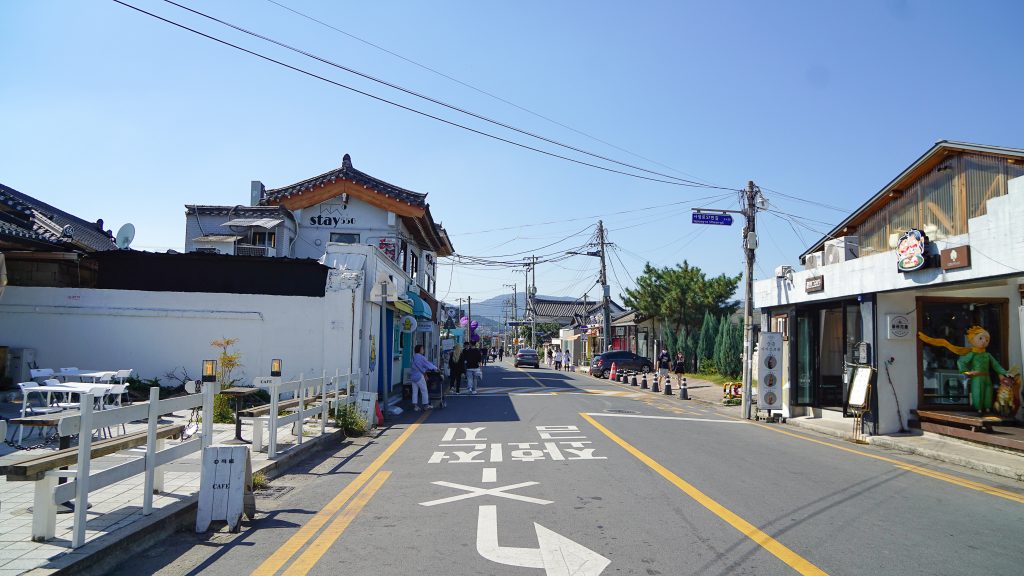 Where to Stay in Gyeongju
If you ever wanted to experience staying in a traditional Korean Hanok house, then this guide to Gyeongju is talking about this being the place to do so. On all these travel websites you'll find many accommodations for Hanok stays. These are great ways to spend your time in Gyeongju. Just keep in mind that mostly you'll be sleeping with a mat on the floor – the real Korean way. There are some Hanok stays that offer actual beds but those are a little more limited.
However, if you prefer sleeping at a hotel, you will also be able to find smaller hotels all throughout the city. 
I stayed at a mini hotel/guesthouse which was not too far from the city center and main tourist attractions. If you can, I'd recommend staying somewhat close to the main area (close to the tombs, palace, and observatory) as you would be able to easily get to all the sights without having to take a bus. 
How long should you plan to stay in Gyeongju
While creating this guide to Gyeongju, I also asked myself the question of how long you should actually stay in the city. I think staying in Gyeongju for 2 full days is enough to see all the different sights and not rush doing so. I stayed for 2 half days and one full day and that was more than enough to see and do everything I wanted to.
How to get around Gyeongju
The two easiest ways to get around Gyeongju are to either take a bus or just walk. The only time we took a bus was when we arrived in Gyeongju and had to get to our accommodation and when we visited Bulguksa temple. Otherwise, everything else is within walking distance. Check out the next section of my guide to Gyeongju to see where each tourist attraction is located.
There is one bus line that was created as a tourist bus in 2016 that will take you to all of Gyeongju's main tourist attractions: Bus 10. The bus comes at an interval of 20 minutes and operates between 6:00 am and 9:40 pm.
In Gyeongju you will also be able to easily pay with your T-Money card on all the buses. Just be sure to top up enough so that you don't run out of money. In case you don't have enough money on your card, make sure to stop by your closest convenience store (GS25, 7Eleven, CU, etc.) and ask them to top up your card (bring cash!).
Bulguksa Temple
Address: 경상북도 경주시 진현동 15-1
Opening Hours: 7:30 am – 5:00 pm
Admission: 6,000 KRW for adults
Bulguksa Temple is one of those sights in Gyeongju that's a bit further away than the rest and requires either a bus or car ride to get to. And although it's a bit further out, I would still highly recommend visiting. 
Especially during autumn season this historic Buddhist temple must be absolutely stunning as you'll find many red maple trees all around the temple grounds. But even during the other seasons it is a must visit place. 
Bulguksa Temple was built in 528 and has been given the title of cultural heritage site by UNESCO in 1995. During the years of Japanese invasion, most of it had been burnt to the ground but the reconstruction started in 1612 to rebuilt what has been destroyed.
In order to see everything and really be able to admire the beautiful temple, I would plan at least 1-2 hours (including some small breaks).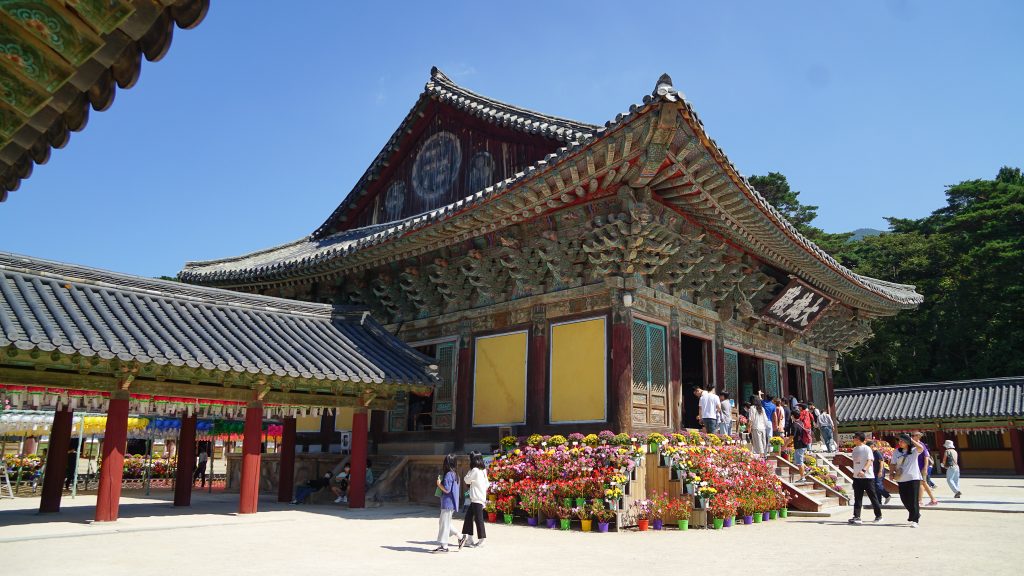 Ancient Tombs
The ancient tombs of Gyeongju are to my mind one of the most fascinating attractions of the city and definitely something I had never seen before. You'll find these round hill-shaped tombs all throughout the parks of the city. Each of them belonging to different former kings and queens of the Silla Period. 
If you want to read more about the ancient tombs and want to get a more in-depth guide to Gyeongju and its tombs I recommend checking out the official website of Gyeongju.
Daereungwon Tomb Complex
Address: 경상북도 경주시 황남동 31-1
Opening Hours: 9:00 am until 10:00 pm
Admission: 3,000 KRW
This beautiful park located in central Gyeongju is home to huge burial mound hills. You can easily spend an hour walking through the park and exploring all the different tombs. During the autumn and spring season, this park is an extra beautiful sight with many colourful trees surrounding the ancient tombs. While walking through the park, you will also find many persimmon trees that are a great picture background.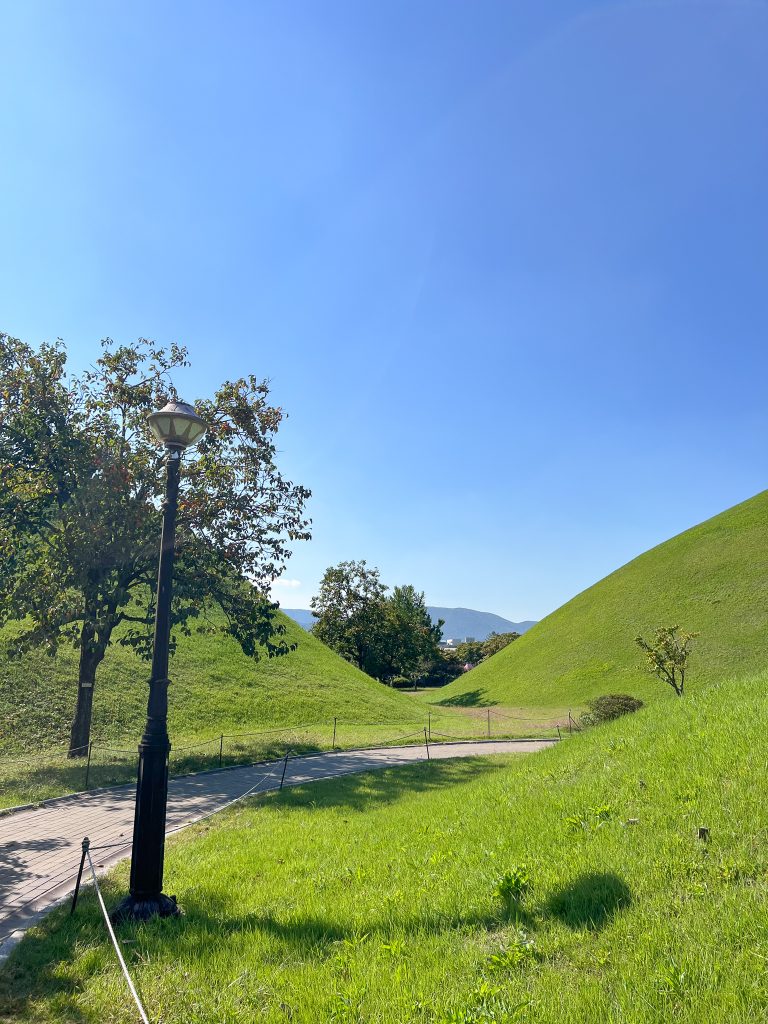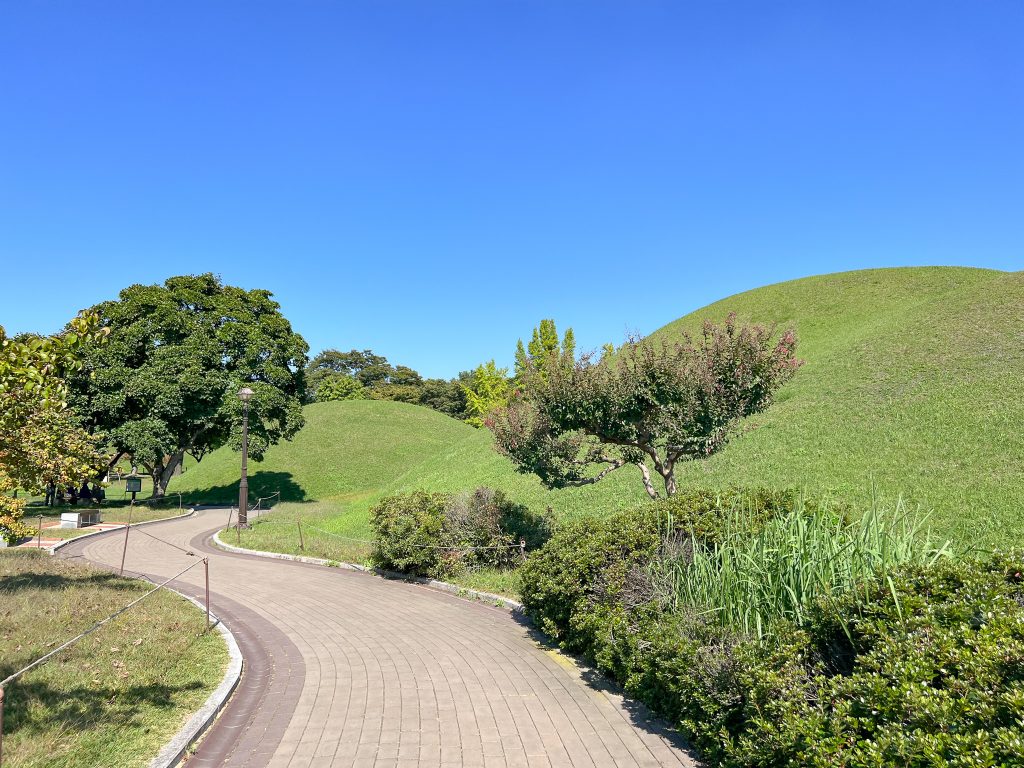 Cafe Hopping
Gyeongju is home to many aesthetically pleasing cafes. No matter where you go, you will find more and more beautiful-looking cafes that you want to sit down at and enjoy a dessert with coffee or tea. We had a really hard time choosing the best ones as there wasn't even remotely enough time to try all of them. If I have time I would definitely come back to check out more of the cafes and would probably create another guide to Gyeongju cafe culture.
As a small tip, try to have coffee at the rooftop of Ohi Cafe in Gyeongju. You'll have an amazing view over the city and their drinks and desserts are actually very delicious!
Woljeonggyo Bridge and Gyochon Traditional Village
Address Woljeonggyo Bridge: 경상북도 경주시 교동 48
Opening Hours: 9:00 am until 10:00 pm
Admission: Free
Woljeonggyo Bridge was initially built during the Silla period but burned down (just like many historic sites) during the Joseon dynasty. It was then rebuilt in 2018 and is nowadays the largest wooden bridge in all of Korea.
If you can, you should come and visit the bridge both during day and night time as it will have a completely different vibe for each times of the day. During the evening and night it is beautifully lit and you can take amazing photos with the bridges reflections in the water. 
The best location to take a photo of the whole bridge, is the small stone cross-walk over the stream. Just be careful to not fall into the water!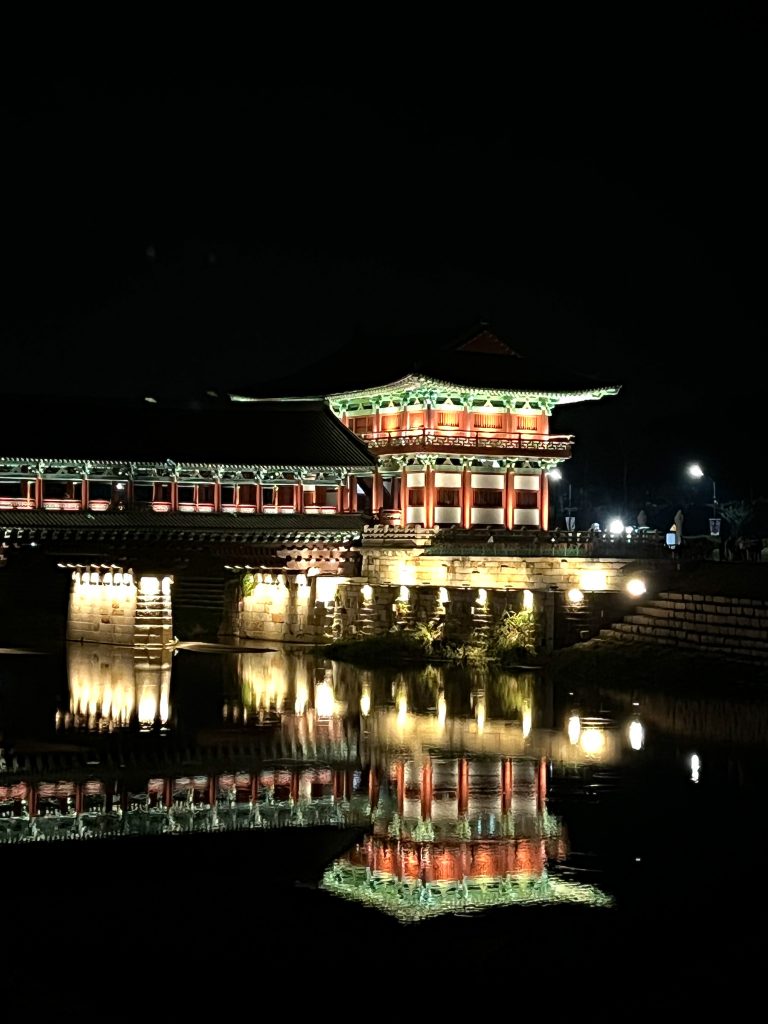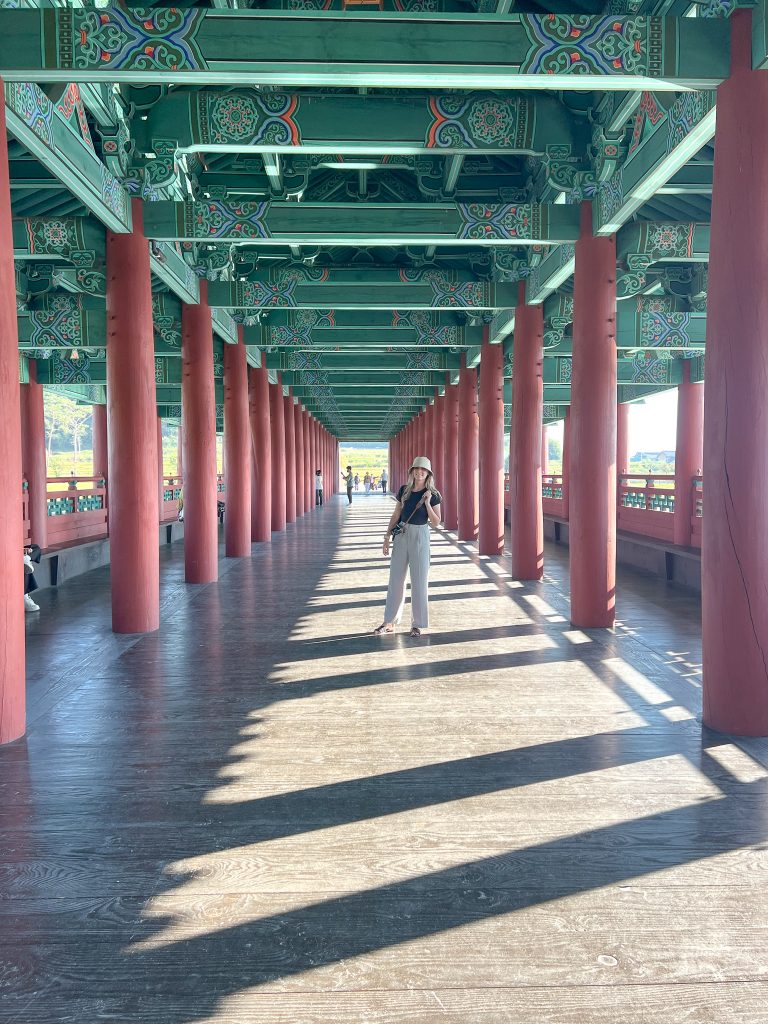 Address Gyochon Traditional Village: 경상북도 경주시 교동 교촌길 39-2
Opening Hours: 24 hours
Admission: Free
Gyochon Traditional Village is filled with traditional Hanok houses and experiences. If your schedule permits, you can participate in traditional artisan workshops and learn more about the traditional and ancient Gyeongju.
Donggung Palace & Wolji Pond
Address: 경상북도 경주시 인왕동 원화로 102
Opening Hours: 9:00 am until 10:00 pm
Admission: 3,000 KRW for adults
This palace was used during the Silla Kingdom as a secondary palace by the crown prince. It was later abandoned but Anapji (former name of the pond) was rebuilt in 1974. Many relics were discovered in the pond during the reconstruction work and gave an indication on how the palace was built with stone walls having surrounded the lake.
By visiting the palace grounds and pond, you'll find out more about this former palace and where the individual buildings were located. 
I highly recommend visiting this palace during the evening hours as it is beautifully lit up and you will be able to take beautiful pictures of the moon shining bright above the pond.
Gyeongju National Museum
Address: 경상북도 경주시 일정로 186
Opening Hours: Monday through Friday 10:00 am until 6:00 pm, Saturday 10:00 am until 9 pm, Sunday 10:00 am until 7:00 pm
Admission: Free
Unfortunately, during my visit, I did not get to go to the National Museum. However, if I ever go back I'll be sure to stop by as it is a beautiful museum full of artefacts and interesting information about Gyeongju and its former title of capital of the ancient Silla Kingdom.
Cheomseongdae Observatory
Address: 경상북도 경주시 인왕동 839-1
Opening Hours: 9:00 am until 10:00 pm
Admission: Free
The stone structure, called Cheomseongdae, used to be an astronomical observatory in Gyeongju. The literal translation is star gazing tower. It is the oldest surviving astronomical observatory in all of Asia. 
You'll see the observatory on many of Gyeongju's postcards and marketing material as it is one of the main tourist attractions. 
As it is located in a big park, you can also walk around, admiring more of the ancient tombs and the beautiful flowers everywhere. If you happen to visit Gyeongju during the autumn season, you will also be able to see the beautiful Pink Muhly field right next to Cheomseongdae.
The observatory is a beautiful sight both during the day and at night time as it is lit up in different colors at night time.
Shopping
And what is a guide to Gyeongju without mentioning shopping? If you love stationery and cute little knick-knacks then Gyeongju is a great place for you. Along the Hwangnidangill Trail and its small side street, you will find many cute stores that sell local souvenirs or cute stationery. There are also some clothing boutiques along the street that are worth checking out. Some of them have really affordable pieces that you might not find somewhere else. 
One of my favorite shops were Mugung Miga (41 Poseok-ro 1050beon-gil Gyeongju-si Gyeongsangbuk-do) and Baeri Samneung Park (272-3 Hwangnam-dong Gyeongju-si Gyeongsangbuk-do).
Food you should try in Gyeongju
Just like any other part of Korea, there are certain foods and desserts you should try that originated in this area. 
One of my favorites (and I am so sad I did not buy more of) were the Chalbori-ppang (찰보리빵). These are little barley-flour pancake sandwiches with a red bean filling. And let me tell you, the fresh ones are to die for. 
Another local delicacy is the Hwangnam-ppang (황남빵) or also referred to as Gyeongju bread. It is a pastry with a thin dough layer and red-bean paste filling.
The city of Gyeongju hosts events all throughout the year. A great way to keep up with events is to check the official website, or, if you're already in the city, check if there are any banners or posters about events happening at the moment.
I hope you enjoyed my guide to Gyeongju and have found some useful information. Have you visited Gyeongju yet? Isn't it such a beautiful area? Let me know in the comments below if you have any questions or want to add anything!
Also, check out my other Korea blog posts here.