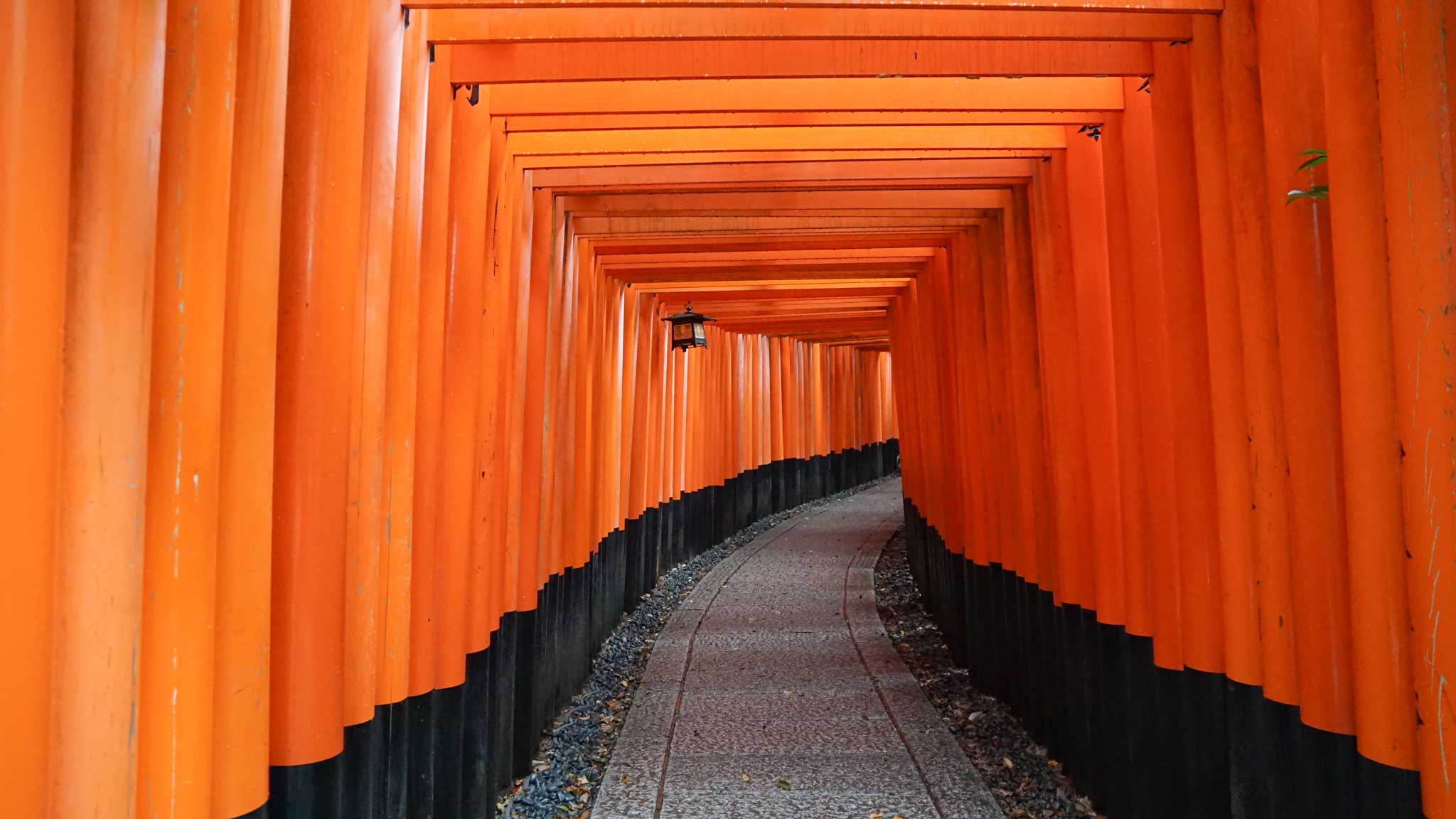 Kyoto is definitely one of my favorite cities that I have visited in Japan thus far. It has such a calm and cute vibe. Even though I have visited twice, I feel like it is still not enough and there are so many more places and temples to check out. I have compiled a list of things to do in Kyoto that you will hopefully find helpful for your current or upcoming trip!
The two times I have been to Kyoto, I visited during the fall foliage season but it is still my dream to be able to visit during Cherry Blossom. 
Address: 1 Kujocho, Minami Ward, Kyoto, 601-8473, Japan (〒601-8473 京都府京都市南区九条町1)
Opening Hours: daily from 8 am until 5 pm
Admission: 500 Yen (adults) – might be different when there are special occasion openings
Located about 14 minutes by foot away from Kyoto Station, this 5-storey wooden pagoda is really impressive and definitely worth a visit. In some months during special occasions, you will even be able to see the pagoda surrounded by Maple trees beautifully lit up at night. 
Do some souvenir shopping around Kiyomizu
Ninen-zaka and Sannen-zaka are great areas to check out if you want to do some souvenir shopping for yourself or your family. You can find many stores that sell traditional Japanese pottery, fabric items, or local snacks. I recommend that you have a look around and check a few stores. 
You can also find many cute cafes in the area that are worth checking out. 
It's a really lovely area to explore and there are so many great photo spots but it can get pretty crowded with tourists so just keep that in mind when you go!
Read more about what souvenirs to buy in Kyoto here. 
Visit the Golden Temple - Kinkaku-ji
Address: 1 Kinkakujicho, Kita Ward, Kyoto, 603-8361, Japan (〒603-8361 京都府京都市北区金閣寺町1)
Opening Hours: daily from 9 am until 5 pm
Admission: 400 Yen (adults)
One of the most famous temples in Kyoto is the in gold covered Kinkaku-ji. In the north west of the city, this temple should surely not be missed when you're traveling in Kyoto. Although there are many tourists visiting the temple every day, it is well worth it. Plan about an hour to visit this beautiful Zen Buddhist temple. 
Visit Arashiyama Bamboo Forest and the nearby Tenryu-ji Temple
Address Bamboo Forest: 1 Kinkakujicho, Kita Ward, Kyoto, 603-8361, Japan (〒603-8361 京都府京都市北区金閣寺町1)
Opening Hours: 24/7
Admission: free
The Arashiyama Bamboo forest and nearby Tenryu-ji temple are also very popular tourist destinations in Kyoto. I do recommend visiting the bamboo forest early in the morning in order to avoid the bigger crowds visiting throughout the day. You can also read more here in my post about the Arashiyama Bamboo Forest. 
Address Tenryu-ji: Japan, 〒616-8385 Kyoto, Ukyo Ward, Sagatenryuji Susukinobabacho, 68 (〒616-8385 京都府京都市右京区嵯峨天龍寺芒ノ馬場町68)
Opening Hours: daily from 8:30 am until 5 pm
Admission: 500 Yen
If you already made your way all the way to the Bamboo Forest, do stop by Tenryu-ji Temple. It's a beautiful temple in walking distance to the forest and especially beautiful during the fall foliage season. The temple was founded in 1339 and is home to a beautiful Zen garden, tea house as well as a giant dragon painting inside of the Hatto temple.
Go shopping along Shijo Street
Ideally when visiting Kyoto, you will want to stay around the Shijo area as this is where you can reach all kind of sights in Kyoto quite easily. 
The area around Shijo street is also great for shopping. You can find some big department stores like Daimaru or Takashimaya along the main road. On the opposite side of the street, you can enter and area with a covered shopping area where you will find many smaller clothing shops, souvenir stores, as well as cafes or restaurants. You can also find a 24/7 Don Quijote store where you can easily get lost among the many different items they sell on different floors. 
Walk under the red Torii Gates at Fushimi Inari Taisha
Address: 68 Fukakusa Yabunouchicho, Fushimi Ward, Kyoto, 612-0882, Japan (〒612-0882 京都府京都市伏見区深草藪之内町68)
Opening Hours: 24/7
Admission: free
One place I would recommend getting up early for and where it will be really worth it, is the Fushimi Inari Taisha. Try to get there as early as possible in order to admire the beautiful red wooden Torii gates without all the crowds. I went there at around 7:30 am and there were already a few people there but not enough to not be able to take any pictures anymore or try not to get in the way of other people trying to take pictures. 
If you walk all the way up to the top, you will also have an amazing view over Kyoto. Along the way, you will find restrooms and some shops where you can take a break, have some tea and enjoy a quick snack before continuing your journey. 
And just as a tip: For a personalized and unforgettable souvenir, consider visiting some of the shops that sell small red Torii gates. They can customize it by adding your name and date of visit onto it.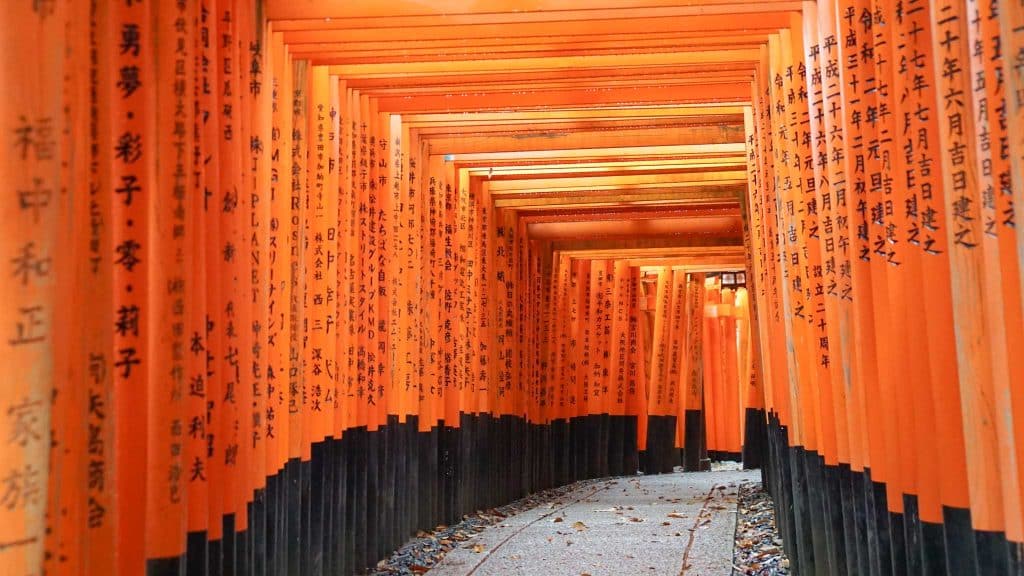 Watch the sunset at Kiyomizu-dera temple
Address: 1 Chome-294 Kiyomizu, Higashiyama Ward, Kyoto, 605-0862, Japan (〒605-0862 京都府京都市東山区清水1丁目294)
Opening Hours: daily from 6:00 am until 6:00 pm (during special night viewings in Spring, Summer, and Autumn it is open until 9:30 pm)
Admission: 400 Yen
One of the more popular temples in Kyoto is Kiyomizu-dera in the east of the city. Just be aware of large crowds visiting and taking pictures. If you go early in the morning, you might be able to avoid the bigger crowds. 
However, the sunset from Kiyomizu-dera is breathtaking and definitely worth to see. You will have a great view of Kyoto with temples and pagodas in the backdrop of the picture which makes it a truly magical experience. 
Explore Tofuku-ji Temple & Shorin-ji temple
Address Tofuku-ji: 15 Chome-778 Honmachi, Higashiyama Ward, Kyoto, 605-0981, Japan(〒605-0981 京都府京都市東山区本町15丁目778)
Opening Hours: daily from 9:00 am until 3:30 pm
Admission: 400 Yen (Tsutenkyo Bridge/Kaisando Hall, Hojo building/gardens)
The most popular season for visiting Tofuku-ji temple is the Autumn season when the maple leaves turn into a bright colorful red/orange. But even during "off-season" this temple is still absolutely beautiful and definitely worth a visit. Tofuku-ji temple was founded in 1230 but due to it being destroyed during a fire it was again rebuilt in the 15th century.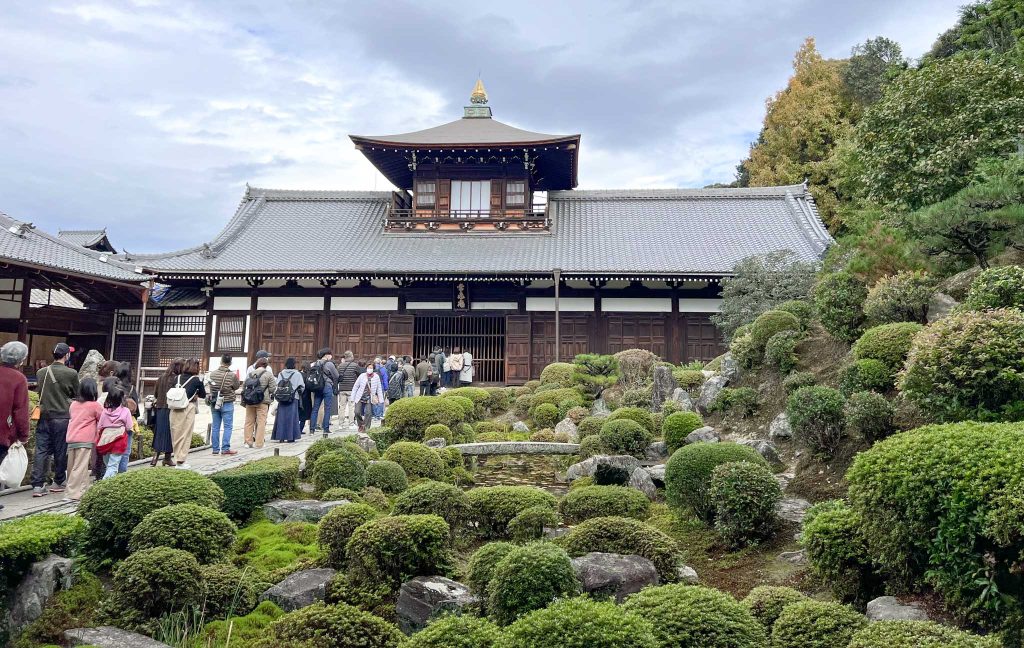 Address Shorin-ji: 15 Chome-795 Honmachi, Higashiyama Ward, Kyoto, 605-0981, Japan (〒605-0981 京都府京都市東山区本町15丁目795)
Opening Hours: daily from 10:00 am until 4:00 pm
Admission: 800 Yen
Located not very far from Tofuku-ji temple is the sub-temple of Tofukuji (Shorin-ji temple) which is another beautiful place to visit in the area. I would recommend taking the ca. 10 minute walk and taking in the beautiful Japanese vibes while walking through the small streets. You will also find many more small temples on the way and if you have time, check them out. 
I always recommend getting lost a little and not just following a guide book when visiting Kyoto. You will be surprised on what amazing places you will stumble upon!
Go pottery shopping or make your own pottery
Japan is known for its beautiful pottery and you can find so many shops all over Kyoto selling all kinds of pottery – both expensive as well as cheaper items. I would recommend that you browse around a little before buying something. A few shops especially around the very touristy areas can be quite pricey and you might be able to get the same pottery items for less a bit further away from the touristy roads. 
And if you want to make your own pottery, there are also a few places all throughout Kyoto. Most of these places also offer shipping to your home country as the process of firing the pottery takes some time (usually around a week +). Just keep in mind that shipping costs are not as cheap but it can definitely be a fun experience! 
Explore the grounds of the Kyoto Imperial Palace & the Imperial Palace East Garden
Address: 3 Kyotogyoen, Kamigyo Ward, Kyoto, 602-0881, Japan (〒602-0881 京都府京都市上京区京都御苑3)
Opening Hours: Tuesdays through Sundays from 9 am until 3:20 pm during winter months (closed on Mondays), open an hour longer during the summer months
Admission: free (but number of visitors is limited per tour) – check here for more info
Visiting the Kyoto Imperial Palace and the surrounding East Garden is an absolute must for anyone traveling to Japan's ancient capital city. Once you step inside the palace grounds, you'll be transported back in time with the palace's beautiful buildings and wonderfully landscaped gardens. 
You can visit the area around the palace for free but entrance to the Imperial Palace is limited and I recommend that you check online prior to visiting.
Visit Nanzen-ji & Eikando Temple
Address Nanzen-ji: Nanzenji Fukuchicho, Sakyo Ward, Kyoto, 606-8435, Japan (〒606-8435 京都府京都市左京区南禅寺福地町)
Opening Hours: daily from 8:40 am until 4:00 pm
Admission: there is an admission fee for the 5 different main temple buildings ranging from 300 Yen to 500 Yen each. You can enter the general area for free.
I only visited this temple during my most recent visit and was surprised why it hadn't been on my radar during my first trip to Kyoto back in 2019. Nanzen-ji is a beautiful place to walk around at and explore. Even if you do not wish to enter the main temple buildings, there is still a lot to see around the area. To me, one of the most impressive places inside the area was the large brick aqueduct.
Address Eikando Temple: 48 Eikandocho, Sakyo Ward, Kyoto, 606-8445, Japan (〒606-8445 京都府京都市左京区永観堂町48)
Opening Hours: daily from 9:00 am until 4:00 pm
Admission: 600 Yen
Eikando temple is especially popular during the fall foliage season and you should be prepared for big crowds wanting to view the beautiful vibrant red maple leaves. But also during the other seasons, this temple offers a tranquil and beautiful experience for visitors. You should plan at least an hour for your visit in order to really take in the beauty of this temple. 
If you happen to come during the fall foliage season, do make sure to also check it out during the night viewing times which is equally as beautiful as during the day. 
Take a walk along Tetsugaku no Michi
A place I had only discovered in my most recent trip to Japan is the Tetsugaku no Michi trail in the north east of Kyoto. It's a beautiful trail along a stream and only a few minutes away from Eikando Temple. Especially walking along the trail during sunset gives it a special kind of charm. The trail is also very popular during the Fall Foliage and Cherry Blossom season.

Watch the water show at Kyoto Station
The water show (Musical Fountain Aqua Fantasy) is something I stumbled upon while walking through the area around the Kyoto Station one evening. Between Kyoto Station and the Kyoto Tower, you will be able to experience daily water and light shows in coordination with fun music the evenings. The show is supposed to vary every month and starts at either 7 or 8 pm.
Get an aerial view of Kyoto at the top of Kyoto Tower
Address: 721-1 Higashishiokojicho, Shimogyo Ward, Kyoto, 600-8216, Japan (〒600-8216 京都府京都市下京区東塩小路町721-1)
Opening Hours: daily from 10:30 am until 9:00 pm
Admission: ¥800
Kyoto Tower is located right opposite of Kyoto Station and is a great place to get a 360 view of Kyoto. I went up there in the evening, so I was able to see Kyoto by night.
There are other places where you will also get a good view of Kyoto as the city is quite flat but Kyoto Tower is the highest and very central building to view the city from so it definitely gives a better view.
Dine or have a drink at Pontocho
Pontocho is one of Kyoto's most famous dining areas along the Kamo River. The narrow alley runs from Shijo-dori all the way to Sanjo-dori and offers a variety of different restaurants and bars. Even if you are not hungry, it's quite an interesting place to explore during the evening when it's gotten dark outside and all the lights are turned on.
I hope you were able to add a few new things to your bucketlist for your Kyoto Trip. Of course, there are many more things to do and I recommend that you don't just try to tick everything off of your list but also get lost a little and explore some of the smaller streets. You never know what you might stumble upon!
If you want to read more about my travels to Japan, click here. Feel free to also follow me on Instagram or TikTok to stay up-to-date with my travels.