One of the items I wanted to bring back the most from Japan was a Kimono. I wanted to buy a nice traditional Kimono that I could use at home or wear during everyday life. While I was browsing through a few shops in Kyoto, I noticed that Kimonos can be quite expensive. So I started looking for Second Hand Kimonos in Kyoto and found a few great places that I of course do not want to keep from you.
Harajuku Chicago Kyoto Store
This is a store I had found online while doing some research. This store has casual Second Hand clothing on the bottom, and the upper floor is full of Second Hand Kimonos, Haoris, Yukatas, etc.
They have a wide variety of different patterns, colors, lengths and quality. If you are searching for a Kimono in this store, take your time and look through all the racks. There can be some more expensive products but also some that are quite inexpensive. The first time I went, I had bought a Haori that I had seen in front of the store while walking past. Since I couldn't get it out of my head, I had to go back and get it for myself. I paid 2000 Yen (around 17 Euro) for this Second Hand Haori.
It was in perfect condition! One tip I want to give you is that you should always check for stains and take a closer look at the Kimonos or Haoris. I noticed for some of them that there was a tea-like looking stain on the outside or inside of the jacket. At first I did not notice but when looking closer you'll see. However, do keep in mind that these again are Second Hand Kimonos and not new ones so there can be a few small stains. From the ones I had found, I can tell you, though, that most of them are in an excellent condition and worth every cent!
I went back a few times to this store as I felt like I hadn't explored it enough and ended up buying another traditional Kimono together with a Datejime and a Jacket for my cousin to wear.
How do I get to the store?
The store is very close to Nishiki market and if your hotel is somewhere between Shijō and Gojō Station, you can definitely walk there. You will also find numerous other clothing and souvenir stores close to the shop. And while you are already around this area, I'd recommend you stop by at A Happy Pancake where you can get super delicious Japanese Fluffy pancakes!
And if you spend more than 5000 Yen in the store and you have your passport with you (which I would highly recommend no matter where you go) you will also be able to get your purchase tax free. (Keep in mind that tax is usually added on top of the sales price).
The store is open daily from 11am until 8pm and the full address of the store is the following: Japan, 〒604-8061 Kyoto, Nakagyo Ward, 寺町 六角下式部258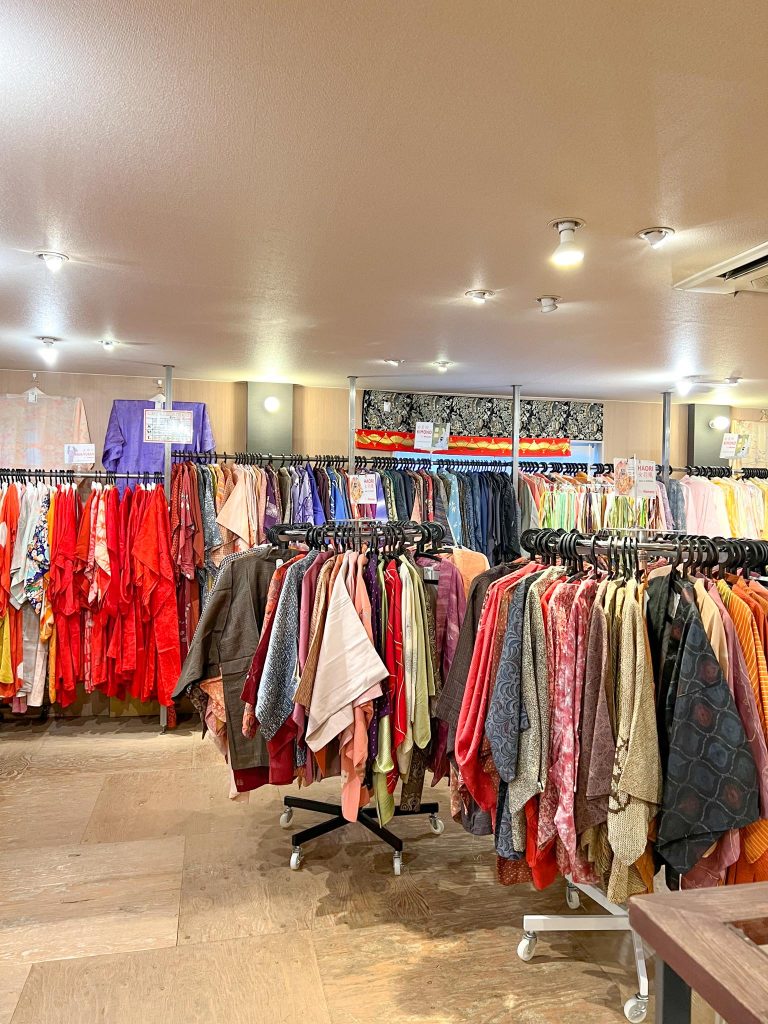 Other Places to Buy Second Hand Kimonos in Kyoto
There are also a few smaller Second Hand Kimono Shops in the same area as the Harajuku Chicago store. There is one that I really loved and where I had bought two Haori's – one of them being brand new as the thread was still on it. That shop had great Haori's and it was extremely difficult to decide. In the end, I bought a black one and a rust/orange one with little flowers on it. I paid 2000 Yen each plus 200 Yen tax which added up to around 36 Euros.
The store is located on the right side when you enter Teramachi Street Shopping District from the main street. It is a very small shop that isn't very obvious and also not open all the time. Unfortunately, I could not find it on Google Maps or otherwise I would have left a link and shop name.
If you happen to get to the shop when it is not open, don't worry – walk a little further and you will find other small Second Hand shops. I would just always recommend to compare prices and browse around a little until you actually buy something. You will be surprised what good deals you might stumble upon! And if you have found one that you absolutely love, just buy it. I caught myself going back to a store once because I just could not get this one Haori out of my head. I knew that if I had not bought it, I would have regretted it.
If you want to read more about my trip to Japan, click here.