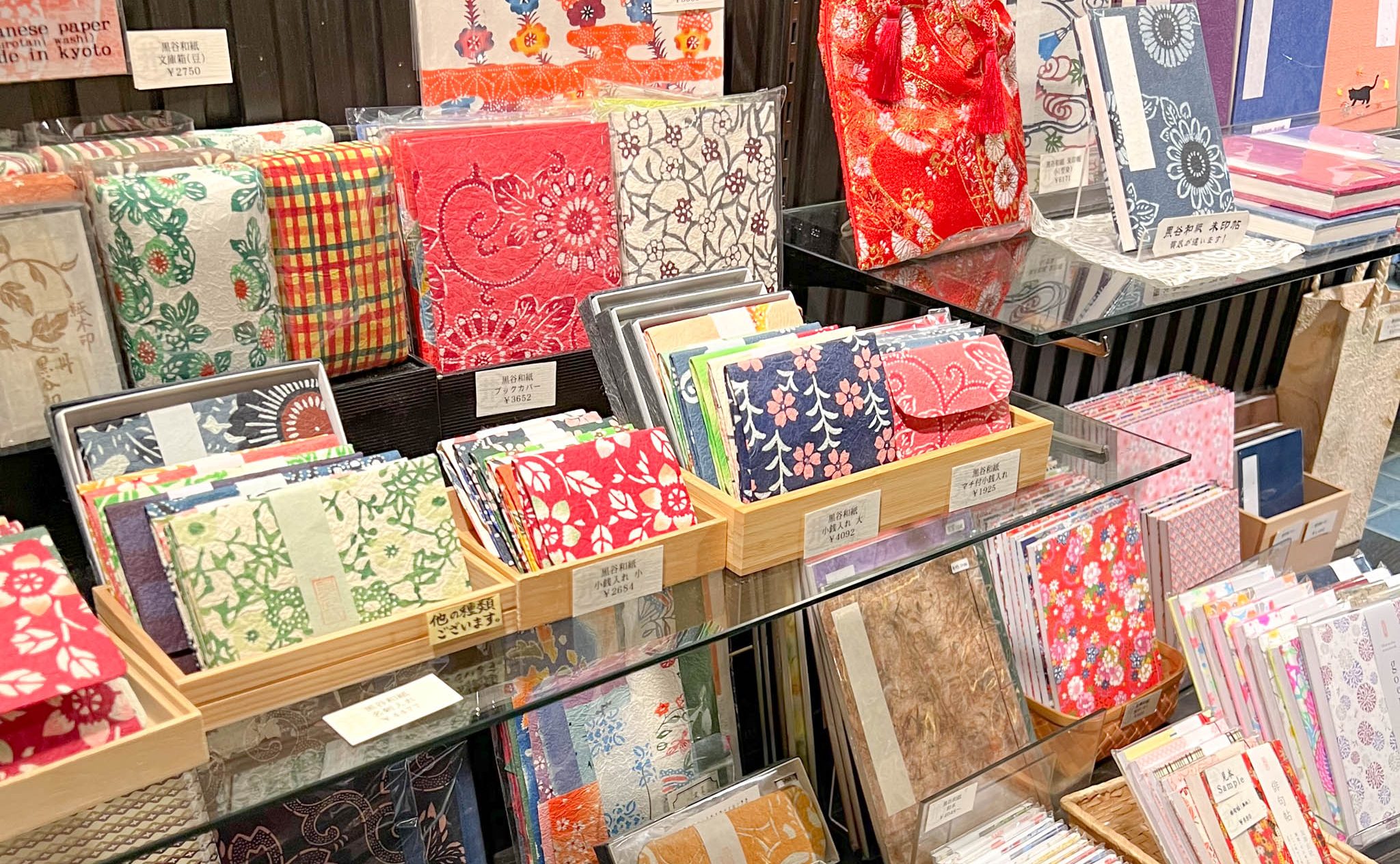 Coming to Japan for the first time and being overwhelmed with so many interesting and fun things, it can sometimes be difficult to decide which souvenirs to buy in Kyoto and what to add to your list when traveling. 
I put together this list of items I would always look out for when in Kyoto and those that make such unique presents for yourself or others. 
You can find so many shops selling Kimonos, Haoris, and other traditional Japanese clothing items. I would definitely recommend adding this to the list of souvenirs to buy in Kyoto, Japan. 
And while you can of course buy new items, there are also many stores selling second-hand Japanese traditional clothing that I would recommend you check out. You can read more about buying second-hand Kimonos in Kyoto here. 
This makes such a great gift for you or others especially because these actually come from Japan and are made with beautiful Japanese fabric. 
One of my absolute favorite items to get whenever I am in Kyoto is some beautiful and unique pottery items. Yes, those can be heavy and you need to pay special attention to their transport but when I am telling you that Kyoto has the most beautiful items for not even that much money, I am not lying! 
I usually look out for some very unique items and designs that aren't too mainstream. You can of course find many pottery items in touristy areas but if you venture a bit further, you fill find shops that specialize in pottery and have much more beautiful items. I would also recommend you browse around a bit as some stores can be a bit overpriced compared to others. 
These are the areas I would always keep an eye out for pottery:
Pottery Festival (happening around November close to Shorin-ji Temple)

Pottery Shop Toutensei Kawasaki

Sanneizaka

Ninenzaka

Department stores (Daimaru, Takashiyama)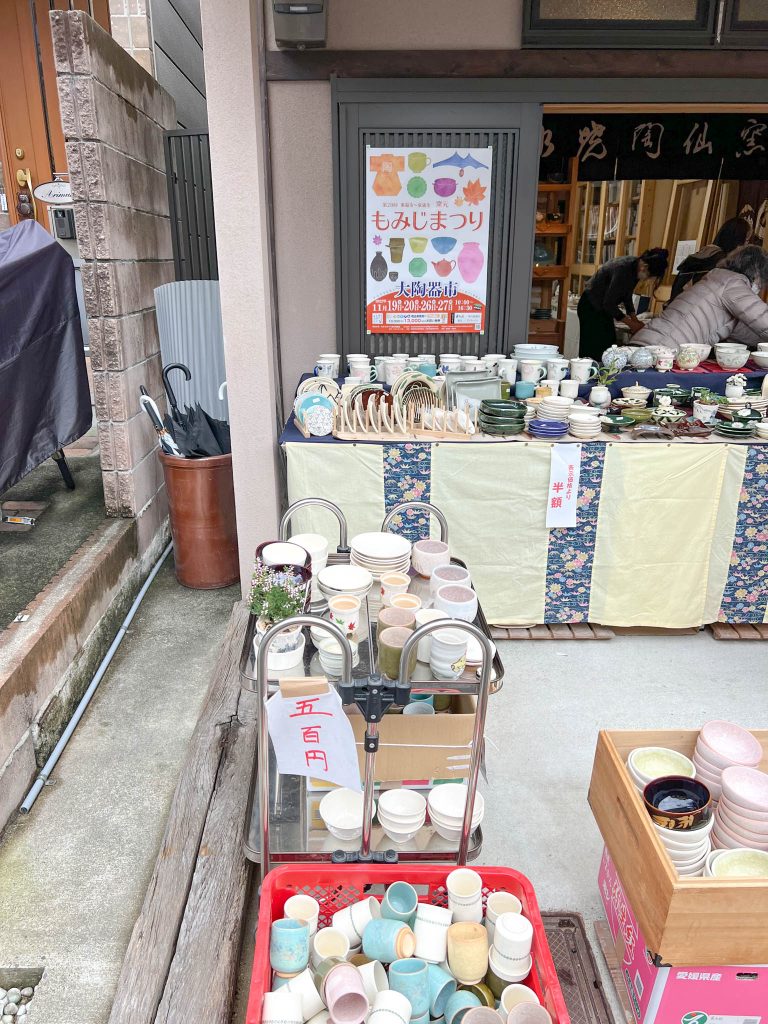 Something I guess is always a hit is to bring back some local snacks that you would only be able to find it that specific city. Just make sure to always check for the expiration date as some items might perish faster as they are fresher than others.
This Japanese temple stamp book is a very unique souvenir that you can even make use of while you are in Japan or on future trips. 
Most temples and shrines all throughout Japan have so-called goshuins which you can define as seals for that specific temple/shrine. Most of the time you will pay anything between 100 and 500 Yen for each of these seals to be added to your book. 
Oftentimes monks or priests add the seal and calligraphy of that temple into the book. But I have noticed that now shortly after Covid, most temples will hand out pre-printed papers that you can then stick into your book yourself. However, some follow the traditional method which I find to be such a unique item to bring back from Japan!
While walking through some souvenir shops in Kyoto you will find many shops selling different varieties of the Goshuincho.
Washi Paper: something that is also quite unique to Japan and such great souvenirs to buy in Kyoto. There are many shops throughout Kyoto that specialize in the selling of Washi Paper items. One of my favorite shops is the Morita Washi Shops which is located between Gojo and Shijo Station (Address: 298 Ogisakayacho, Shimogyo Ward, Kyoto, 600-8095, Japan).
Kyoto has so many wonderful-smelling incenses to buy that it makes it very difficult to choose at times. There are a few stores throughout Kyoto where you can buy cheaper but also more expensive incense in many different scents. It. is definitely one of the many great souvenirs to buy in Kyoto and I always make sure to buy some for me and my family.
Japan has one of the best tea selections and is also very well known for its Green Tea flavors – be it Matcha or roasted Green tea. You can find many stores in Kyoto selling different flavors and I would recommend that you buy some either for yourself to try back home or for your friends and family. 
And it you have always wanted to buy a Matcha kit to make Matcha drinks at home, then this would also be the right place for you. 
You'll also notice that some of the cafes sell their own tea creations which is great because then you can also try the tea beforehand. 
Okimono O-mikuji and Daruma Dolls
Shrines and temples all throughout Japan and also Kyoto have fortunes for sale known as o-mikuji. These are usually little pieces of paper that predict the fortune of the person's future. It is said that bad fortunes written on the paper should be tied up and left at the temple in the hope that they won't come true and good fortunes can be taken home. 
Especially this year I have seen more and more palaces selling little figures with an o-mikuji inside which will also serve as a cute little souvenir to bring back home. 
When walking through Kyoto, you might see a lot of these little wooden red dolls called Daruma. These are traditional Japanese dolls modeled after Bodhidharma.
Daruma dolls are used in a way to manifest a goal you have and there are certain steps that should be followed in order to reach that goal. 
In general, when you have a certain wish or goal in life you think about it or even write it on the bottom and the color in the left eye with a black circle. Once you goals has been achieved you color in the other eye. One would usually leave the Daruma doll on display and in a location where you would constantly see it to be always reminded of your goal. There are many other in-depth guides for Daruma dolls on the internet but I always think that this is such a great little souvenir to bring back home. 
I hope this blog post gave you some ideas on souvenirs to look out for when traveling to Kyoto. And if you want to read more about Japan, click here. 
Please leave a comment below if you have any questions or suggestions.