Autumn has arrived in Seoul! And with that come many autumn festivals all over Seoul and the entire country. One of the most famous festivals here is the Silver Grass Festival in Seoul at Haneul Park.
Every year in October, Haneul park will be covered in beautiful silver grass. The area is quite big – to my surprise as I thought it would be much smaller. 
Address: 서울특별시 마포구 상암동 482
How to get to Haneul Park
The easiest way to get to Haneul Park is to take the brown subway line 6 towards Eungam Loop and get off at World Cup Stadium station Exit 1.
Once you get out of the station you will see a big Homeplus (supermarket). Make your way clockwise around the stadium until you get to the main road. 
Follow that road for a few minutes (pass under two bridges and a bus stop) and turn left at the traffic light. Keep walking along the main road on the other side until you see a car park on your left and a sign indicating the way to Haneul Park. The walk from the station to the car park will take around 13-15 minutes by foot.
Once you get to the car park, there are 3 options for you to choose from on how to get to Haneul Park (which is on the top of a hill). You can either take the stairs, walk the not-so-steep walkway around the hill until you reach the top, or opt for the shuttle carts to go uphill. 
Shuttle Carts
I decided to take the Shuttle Carts to go up the hill. There was quite a long queue but I only waited around 15-20 minutes as the queue was moving quite fast with many shuttle carts going up and down. 
The price for the shuttle cart is 2,000 KRW for a one-way ticket or 3,000 KRW for a return ticket if you also want to take the shuttle downhill. I decided on the return ticket as I did not have that much time. 
The shuttle cart itself only took about 7-8 minutes to go up. Of course you have to add the waiting time but overall I feel like it was much quicker than walking and also a lot more comfortable. 
The Silver Grass Festival in Seoul
Every year in October (let's exclude the Covid period), there is the Silver Grass Festival in Seoul at Haneul Park. One very popular spot both for locals as well as tourists. 
The Silver Grass Festival in Seoul is free of charge and you can visit from 10:00 am until 10:00 pm (these opening times are only for the Silver Grass Festival that happens once a year).
If you're coming to Seoul during the autumn season, I highly recommend you make sure to check out when the Silver Grass Festival is happening and add it to your travel itinerary. It is really a beautiful and unique sight where you will be able to take lots of beautiful photos and get lost in a giant field of Pampas grass. 
When and how much time should you plan to visit?
Depending on your desired way of getting up the hill, I would count in more or less time. But as the Silver Grass Festival in Seoul is actually quite big with many cool photo opportunities, I would plan for at least an hour to an hour and a half at Haneul Park itself without counting the journey up the hill. 
If you want to bring snacks and have a quick picnic/break at the break area, you can also plan in a bit more time. The view from the top of Haneul Park of some parts of Seoul is also amazing and you should not forget to check it out.
In regards to when you should go, I would recommend going during weekdays in the morning. As this festival is also very popular amongst locals, they will also want to visit and most of them will flock to Haneul Park in the afternoons or weekends. Although there are also many locals during weekdays, it will be a little less crowded. So, if your schedule permits, come earlier in the day to enjoy the festival to the fullest.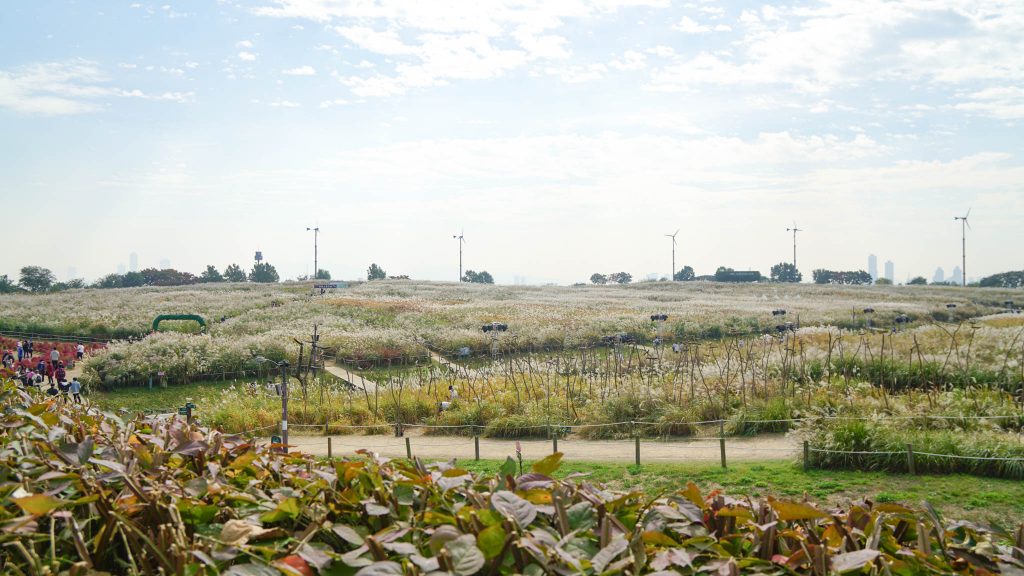 I hope you will have an amazing time visiting the Silver Grass Festival in Seoul! Leave a comment below if you have any questions or things to add!
And if you'd like to read more about South Korea click here for more blog articles.