Seoul, South Korea is a great place for sightseeing, cafe hopping, and shopping. There are so many different areas to shop in that it can get quite overwhelming. If you are traveling to Seoul in 2023, I have put together a shopping guide for you so that you know all the best places to go shopping. Whether it is international chains or local shops, you will find almost everything anywhere in Seoul.
Express Bus Terminal - GOTO Mall
Gotomall Underground Shopping is probably one of the most famous areas for affordable and cute K-Fashion. Keep in mind that most of the clothing items are one size (or as referred to in Korea: Free Size or F). Some of the shops will have similar clothes and prices are pretty similar as well. The clothes there change quite frequently so you will find different clothes after a few weeks. 
One tip: If you pay in cash, you sometimes get clothes a bit cheaper (ca. 10%), or the shop owner will not add the 10% on top of the advertised price. This always depends on the shop but I have seen both happen and you should be prepared for either possibility. If you happen to only have your credit card with you, you can also always pay by credit card as each shop accepts those. 
How to get there?
By Subway: Get off at Express Bus Terminal (Line 3, 7, or 9) and walk towards exit 8 or 8-1.
Hongdae is a shopping area that I would describe as more popular amongst younger people. You will find a few stores like H&M, Nike, New Balance but most of the ones you'll see are free-size shops. 
Hongdae is located right between many big Korean universities, so that's why this area is more catered towards the younger generation but then again anyone can shop there and I do believe anyone can find something there. There are many jewelry and accessory shops, stationary stores like Artbox or Daiso as well as a big Kakao Friends (including Kakao Factory Store) and Line Friends store on the main road.
Myeongdong used to be a very lively shopping street but, unfortunately, due to Covid many shops have closed down. In recent weeks I did see more shops opening back up but even with not all shops open, you'll still be able to explore the area and check out some of the bigger stores like Zara, H&M, Footlocker, a few skincare shops as well as the Lotte Department Store and Lotte Young Plaza. If you want to read more about shopping in Myeongdong, you can also check out this blog post.
If you are really into beauty and cosmetic products, you should check out the Laneige store in Myeongdong where you can have a cushion foundation created that matches your skin tone. You will just need to make an appointment beforehand (can be done either on Naver or by going to the store).
For Kpop items like albums, merch, etc. you can check out the Myeongdong Underground Shopping Mall. To get there, get off at Myeongdong Station exit 5 and walk straight to Sinsegye Department Store. But before crossing the street, go down the stairs by entrance 4 to get into the underground shopping mall.
Garosugil is an area I have only discovered recently but that is another great outdoor shopping street with many international but also a few local shops. You'll find H&M, Mango, and Zara but also Korean shops like 8 seconds or  Masklab. Parallel to Garosugil Shopping Street you will also find many great restaurants, bars and cafes and you'll see this area really come to life on weekends and in the evenings. 
How to get there?
By subway: Take the orange line 3 or dark red line (신분당) to Sinsa station exit 8, walk straight until you find Garosugil road on the left.
I am sure you have seen pictures of the famous Starfield Library by now. But did you know that it's located within a shopping center? So on rainy days or when you just want to buy some new apparel, you can make your way to COEX Mall and browse around the many stores. You'll find both international as well as local shops. 
When walking through COEX and Starfield mall you might get a little lost (I always do) but you'll find touchscreen maps throughout the whole mall that help guide you whereever you want to go.
How to get there?
By subway: Take the green line 2 and get off at Samseong Station exit 6 or alternatively you can take the brownish/yellow line 9 and get off at Bongeunsa Station exit 7.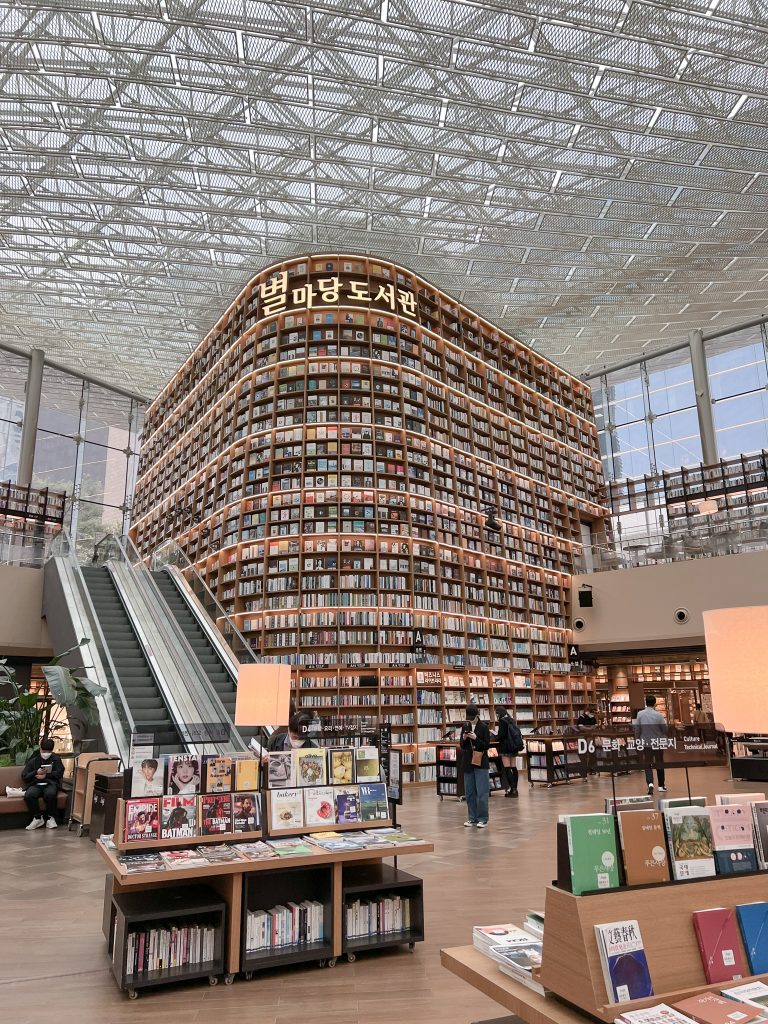 Yeonnam-dong is a fun and beautiful district close to Hongdae and full of great cafes, restaurants, and small little shops.
There are a few clothing shops right by Exit 3 on the left side when you walk along the Gyeonggi Line Forest Trail Park. I personally really like these shops and have already found a few clothes there. Prices are not too expensive but definitely more expensive than some of the Hongdae and GOTO Fashion Mall prices.
You can also find a few different fashion stores once you make your way through the streets of Yeonnam-dong. When you walk through the many small streets, you will also find numerous small cute stationery shops where you can buy things like stickers, tote bags, posters, accessories, and many more things. If you are into Vintage fashion, Yeonnam-dong also has a few vintage shops that are worth checking out.
How to get there?
By Subway: Get off at Hongik University Station (Line 2, Gyeongui Line, AREX) Exit 3
By Bus: There are several buses going to the Yeonnam-dong area. Depending on where you want to go, I recommend checking Naver or Kakao Map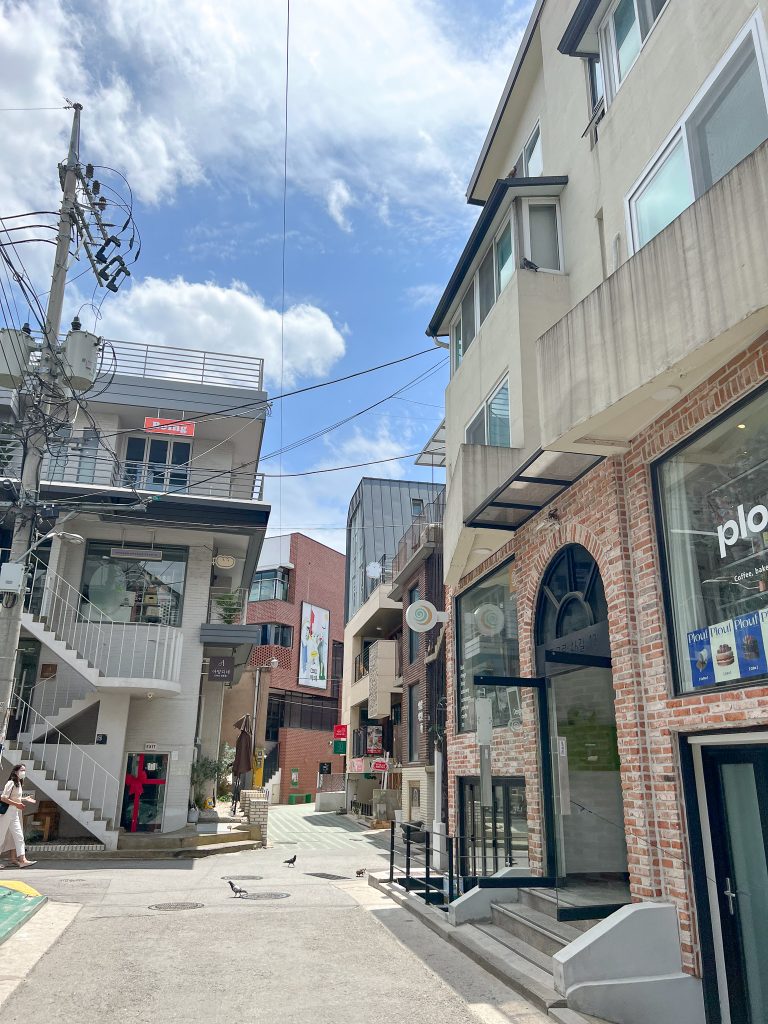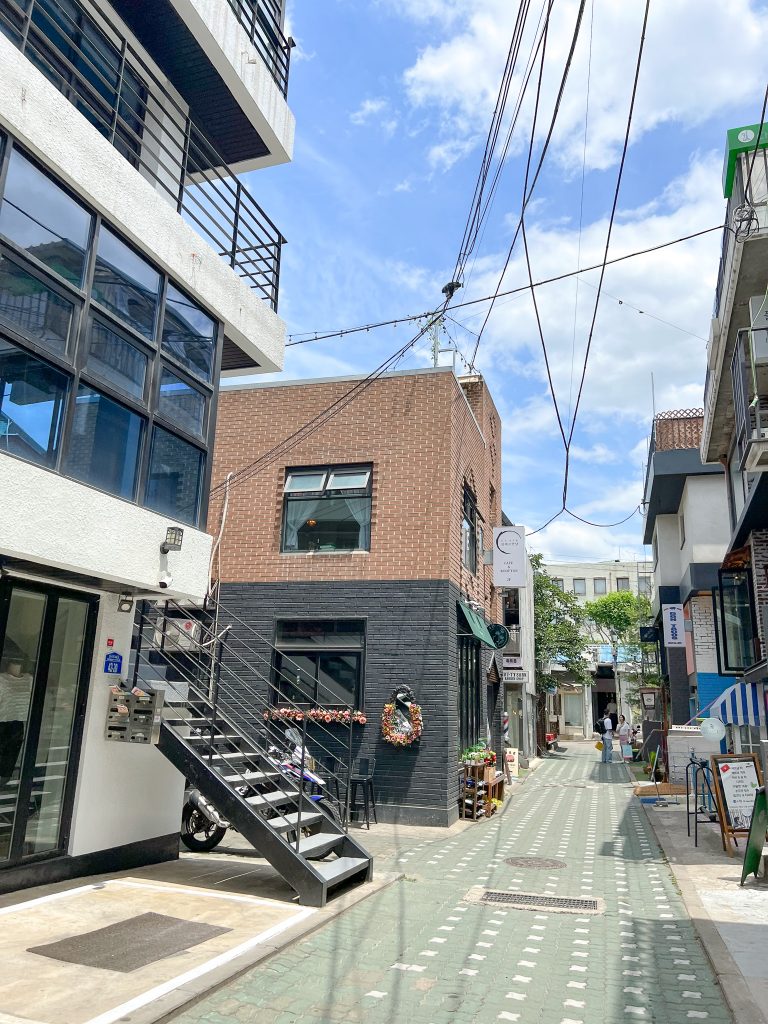 The Hyundai Seoul
Address: 108 Yeoui-daero, Yeongdeungpo-gu, Seoul
The Hyundai Seoul in Yeouido is a newly opened shopping mall that is definitely worth a visit. The architecture inside is very aesthetically pleasing with a small waterfall by the entrance and you will find many great stores.
On B1 level, there's a big food court with many different places to eat at. However, if you go on weekends or during lunch time it will be very difficult to find a seat and do keep in mind that even in the food court some of the restaurants have a break time from 3 to 5 pm and won't serve you.
Below, you'll see a screenshot of the different levels and themes for each level at The Hyundai Seoul.
How to get there?
By Subway: Take the purple line 5 to Yeouinaru Station and walk to exit 1 or alternatively take the brownish/yellow line 9 and get off at Yeouido Station exit 4.
IFC Mall Yeouido
Address: 10 Gukjegeumyung-ro, Yeongdeungpo-gu, Seoul
This mall is located right next to The Hyundai and a great place for shopping. It doesn't look like a mall from the outside and once you get inside you'll be going down to B1 for the first floor of shops. Once inside, you will find many international brands like Zara, Uniqlo, &OtherStories, Oysho, Saphora, etc. 
This international mall really lives up to its name and if you are looking to shop at some international brands then this is a great place for you. Especially if you want to get away from the crazy heat in Summer or cold Winter days.
Lotte World is a great place for shopping while also combining it with a few attractions such as the Lotte World Tower, Lotte World, or taking a walk around Seokchon Lake. You will find some local but also international brands in the mall. The mall itself is very spacious, clean, easy to navigate, and fairly new as it was opened in 2014.
There are numerous subway stations that will have a few shops for you to browse through – oftentimes also with quite affordable clothing. One thing to keep in mind is that you usually will not be able to try on the clothes and most of them are One-Size (Korean Free Size). So beware of that when browsing through the stores.
Apart from clothing shops, you will also find some jewelry or flower shops inside the subway stations. 
Hyundai City Outlet
Hyundai City Outlet is more like a department outlet store with many international stores like Tommy Hilfiger or Polo Ralph Lauren. In the basement, you'll find a big Kyobo bookstore which is my favorite place to buy stationary at.
Migliore Building & Nail Mall
Migliore Shopping Center is full of clothing stalls all sorted by gender and type of clothing. There are levels with only mens wear, some with clothing just for women, and then you'll also find those with accessories such as bags, shoes, jewelry, etc. 
The items you can find there are quite inexpensive and comparable with Goto Mall. 
Just be warned that the whole place is very narrow and without windows, so it can feel very cramped inside. 
If you're into nail art and love doing your own nails, then you should definitely check out the Nail Mall at Migliore building. It's located on the 16th floor and has the same opening hours as the rest of the mall. You'll find stickers in all kinds of different colors and designs, gels, nail accessories like gems and glitter and many more. Prices are pretty affordable. If you are, however, looking for just general nail color, you won't be able to find much as the whole place is mostly focused on gel nails.
The mall is open Tuesdays through Sundays from 10:30am until 02:00am.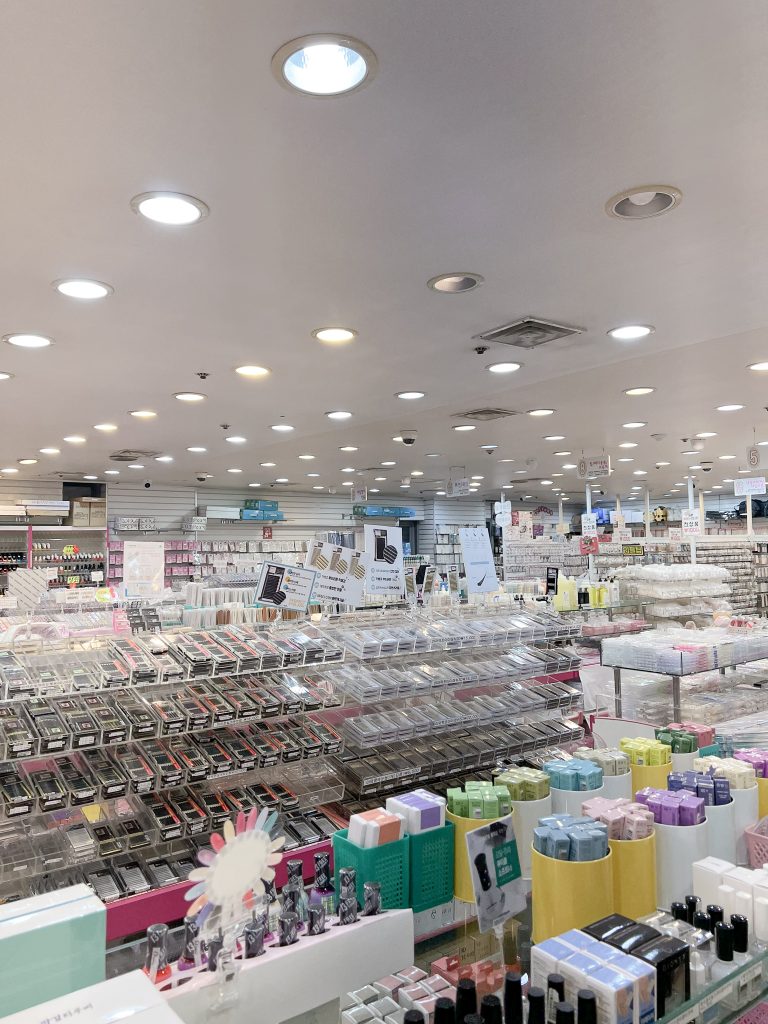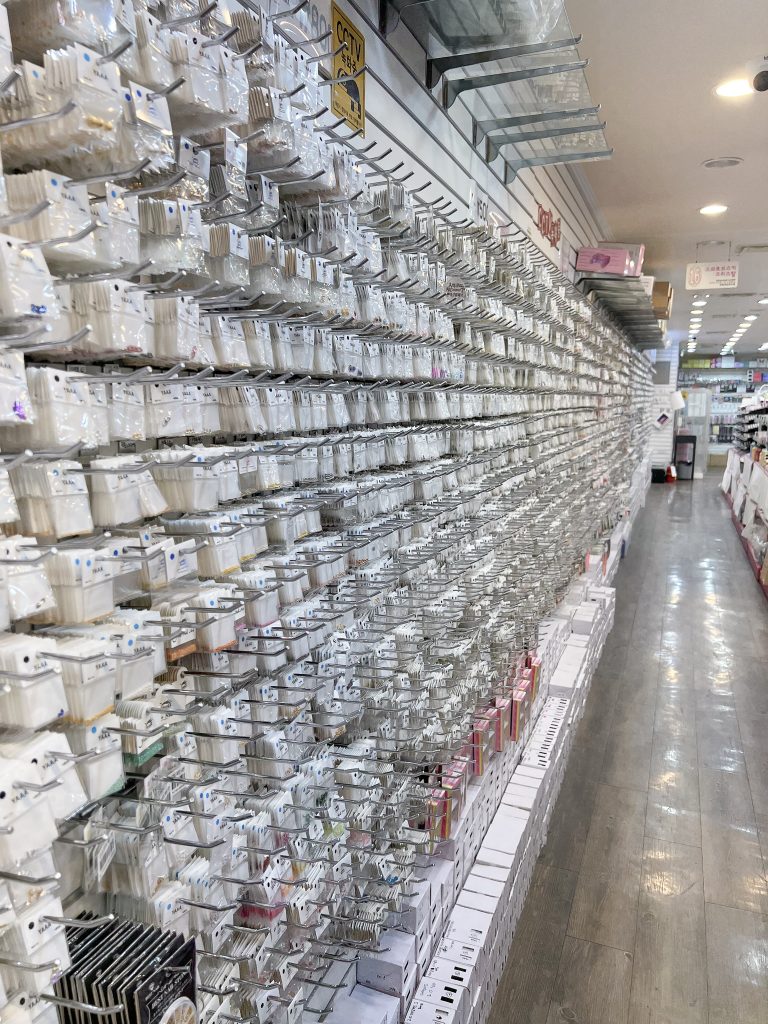 Doota Mall
Doota Mall has a few international brands as well as small Korean clothing stalls. Some of them are a bit more pricey than what you would for example find at Goto Underground Shopping Mall but still fun to check out and you might be able to spot some great items to purchase.
I really do like the Starbucks there especially if you are able to get a seat on their balcony because you have a great view of Dongdaemun and everyone walking around the area and who doesn't like people watching anyways?!
Dongdaemun Market A Dong
If you want to buy some Korean style fabric or have your own traditional Hanbok made in the fabrics you pick, then this is definitely the right place for you. I went there a few weeks ago with my friend to buy some fabrics for my mom back home and I was really impressed. They are inexpensive, great quality and just something different you wouldn't get back home. For 1m of fabric I paid between 5,000 won to 7,000 won – of course there are always some that are a little more pricey but this is just to give you a general idea. 
When we went, there weren't many places open. I am not sure if this was due to Covid or because we came at a time when lots of places were just closed. It's also good to just carry some cash with you. I am sure that most of them accept card but they do prefer cash payment.
And don't be discouraged if you cannot find it at first. We walked around for quite a while until we found it. 
Leave a comment below if you have any questions or want to add cool places to shop in Seoul.
If you want to read more about Korea, then click here for more blogs.