One of the things that you should definitely try when you travel to Seoul is to get dressed up in traditional dresses and walk around the beautiful palaces of Seoul. The Hanbok experience was very high up on my bucket list and so when I saw that the weather looked amazing right on the first day, I decided to get out of the hotel early in the morning and go on the hunt to find a Hanbok Rental Shop. There are numerous rental shops close to the 3 main palaces. I walked towards the Bukchon Hanok Village on went into the first Hanbok Rental shop I saw. The rental shops usually open around 9:30. I would recommend going right in the morning to not miss out on any beautiful Hanboks as this is a very popular activity to do in Seoul.
Hanboknam Bukchon Hanok Village
I rented my Hanbok at Hanboknam Bukchon Village. Before renting one, I asked whether I could have a look first. I wanted to make sure that they had something I would like and they did! It was so difficult to choose only one to wear. There are two different kinds to choose from – you can either go for the traditional which will be more settle and simple or you can take choose a themed Hanbok.
How much does the Hanbok rental cost?
In most Hanbok rental places you can choose between a few different options which will in the end determine the final price. Usually, you can choose between 2-hour, 4-hour, or full-day rental. At the shop I went to I could choose between the following options:

Traditional Hanbok:
– 1h 30 min: 10,000 KRW (7.65 Euro)
– 2h 30 min: 15,000 KRW (11.50 Euro)
– 4h: 20,000 KRW (15.30 Euro)
– full day: 30,000 KRW (23 Euro)
Themed Hanbok:
– 1h 30 min: 20,000 KRW (15.30 Euro)
– 2h 30 min: 30,000 KRW (23 Euro)
– 4h: 40,000 KRW (30 Euro)
– full day: 50,000 KRW (38 Euro)
How does renting a Hanbok work?
Once you get into the store, you will be asked to register at the entrance and leave your ID. You will be given a key to the locker (this is usually included in the price but make sure you ask beforehand). The locker is a great way to store your heavy bags, jackets, etc so that you won't have to carry those around during the day.
Choosing a dress will be the most fun part and for me that took forever. There were so many beautiful Hanboks and it was very difficult for me to choose. The rental shop I went to included two try ons and so I picked out two Hanboks I wanted to try. While trying them on, I noticed that the skirts vary in length, so make sure you keep an eye out for that – especially when you are a bit taller, make sure you choose a longer skirt. If those skirts did not fit and you want to try another one, most shops will charge you extra. Every rental shop will also have staff that can help you put on the dress – it can be a little difficult sometimes, especially when you want to make sure you have it on correctly.
After having chosen my dress and leaving my clothes in the locker, I went to the hair dressing station. My rental price included the hair styling but again ask before you get styled up whether they will charge you extra. At the Hanboknam shop, they also put pearl pins in my hair that you usually had to pay extra for but because they asked if they could take a picture of my hair for their Instagram page, I got those free of charge which was very nice. It made the whole outfit so much more beautiful.
As soon as I was all dressed up, left everything I did not need in the locker, I went to the cash register to pay. I chose to rent the Hanbok for only 1 1/2 hours as I did not want to walk around in it all day and they ask you not to eat and drink while wearing it and of course I wanted to get lunch at some point. Most Hanbok places will let you pay by credit card so there is no need to bring cash with you. And after having paid, I was ready for my very first Hanbok experience.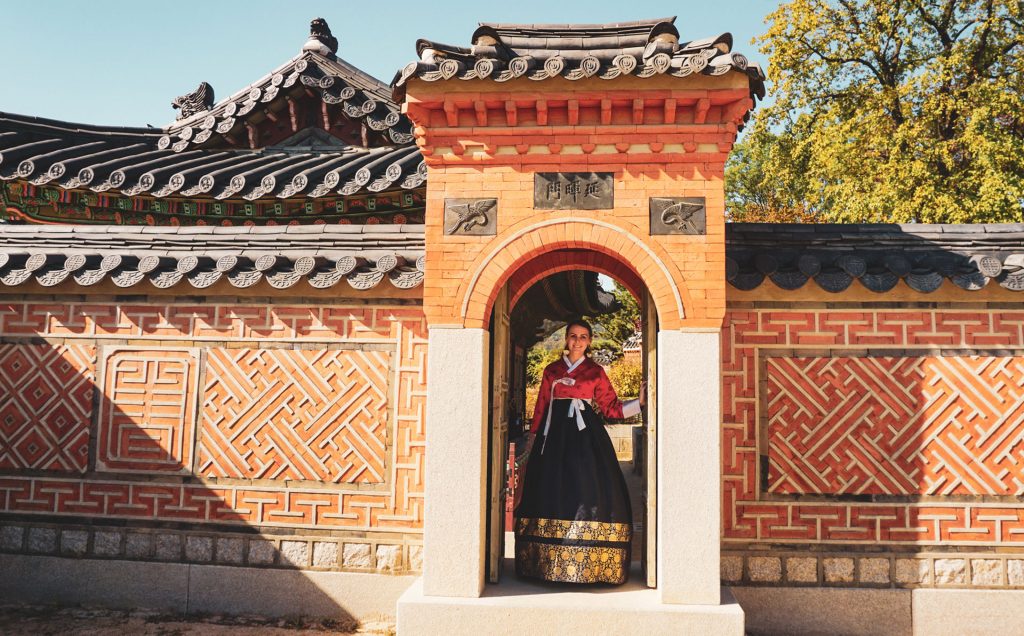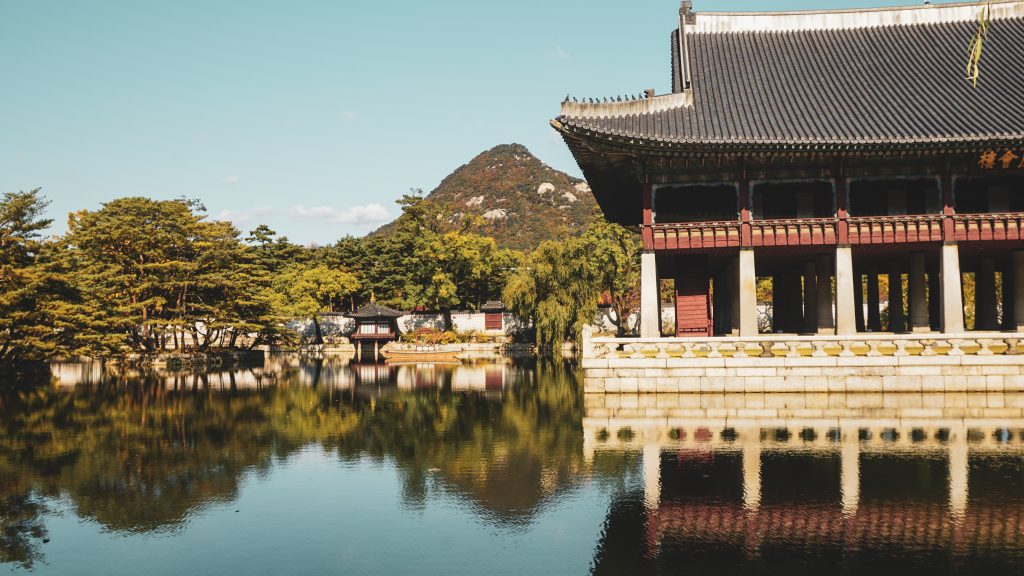 What's included in the rental price?
Every shop is different, so do make sure to check what is included in the price before you try on and rent a Hanbok. At Hanboknam the following items were included in the price:
– Locker & Key
– 30 min of browsing through the Hanbok selection
– Trying on 2 Hanboks
– Hairstyling without pins
– And if you ask nicely, they will even take a quick picture of you in the shop
And to top it all of, you will be granted free access to the palaces when wearing a Hanbok. I chose to visit the Gyeongbokgung palace as it was closest to the rental shop and it was one of the few palaces open on a Monday. As I was travelling alone, I was already worried on how I could take pictures of myself wearing the Hanbok because of course you want to take home some nice pictures as memories. However, on the way to the palace I met a nice Indonesian girl who was also walking around by herself in a Hanbok and after a short introduction we decided to explore the palace together and take some pictures of each other. One of the biggest perks of travelling solo is really the people you meet from all over the world.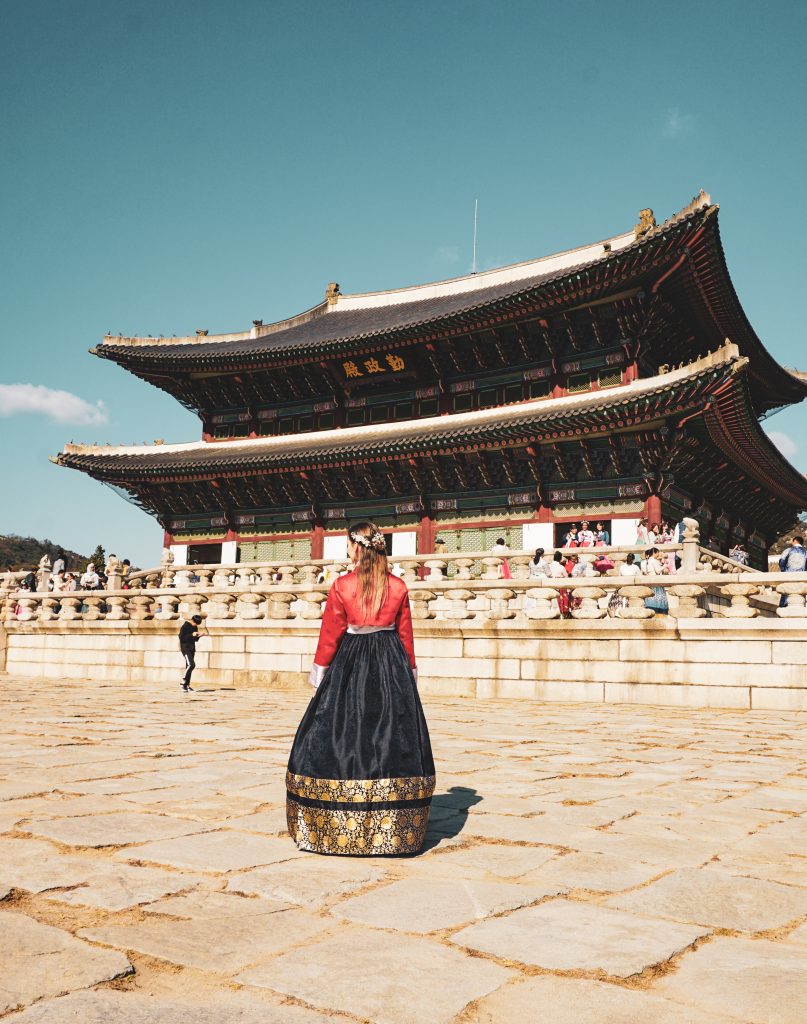 Have you been to Seoul yet and tried on a traditional Hanbok? What was that experience like?Let me know in the comments below! I would love to hear some more thoughts!
Read more about my trip to Seoul here.