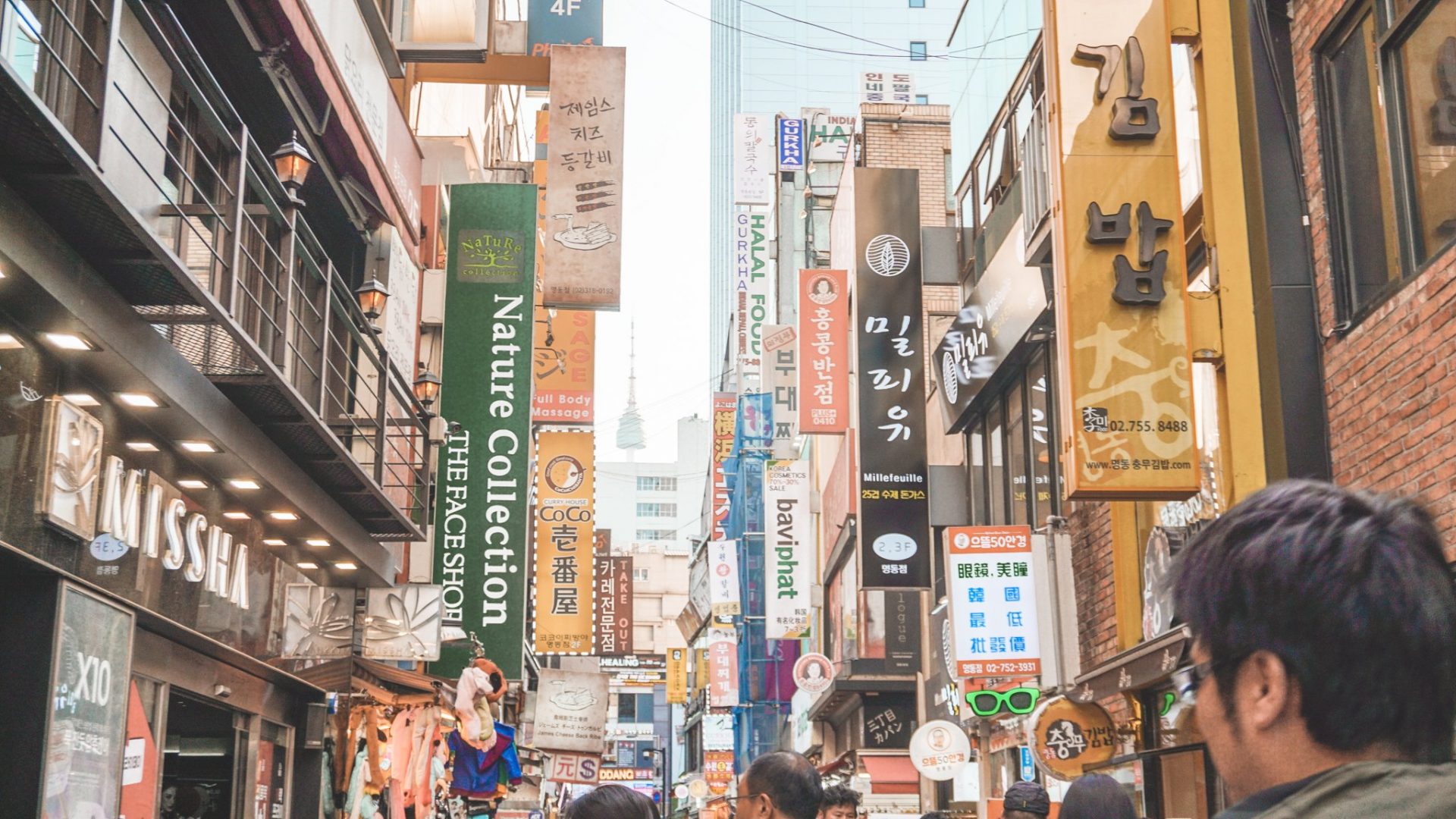 Myeongdong is slowly getting back to pre-Covid times. More and more shops are reopening and the streets are full of tourists again. It's still not as crowded as before but it's great to see it come back to life. 
These pictures are what Myeongdong looked like in April 2022 with many shops closed due to the lack of tourists.
Myeongdong is by far the most crowded area for shopping in Seoul and where you'll find numerous beauty shops. It's hard not to get lost in Myeongdong. I got lost multiple times and walked around with my phone in my hands trying to navigate through the busy streets making my way to that one store I wanted to go to.
Korean Beauty Stores
South Korea is known for its natural and amazing skincare products. Innisfree, Laneige, Etude House – only to name a few of the more popular brands. My best friend had told me about it before I went but I was honestly overwhelmed by the assortment of products and brands and had no idea where to start. Most shops offered value packs with 20 face, foot, or hand masks for a set price. It was actually quite difficult to find single face masks to try before buying a full pack.
What usually works best for me when I am new to a country (and how I found a few cool brands in the past) is that I always tried to keep my eyes open for what other people where buying that might inspire me.
One thing to keep in mind is that Korean beauty products are very cheap in Korea compared to elsewhere, so if you find something you like, be sure to stock up. As I was visiting in November, they had a bunch of great Black Friday sales where I was able to save some money and on top of that, as a tourist, get an immediate tax refund once you pass a certain amount. So keep in mind to always carry your passport with you. You'll never know what you might end up buying without having the intention to do so.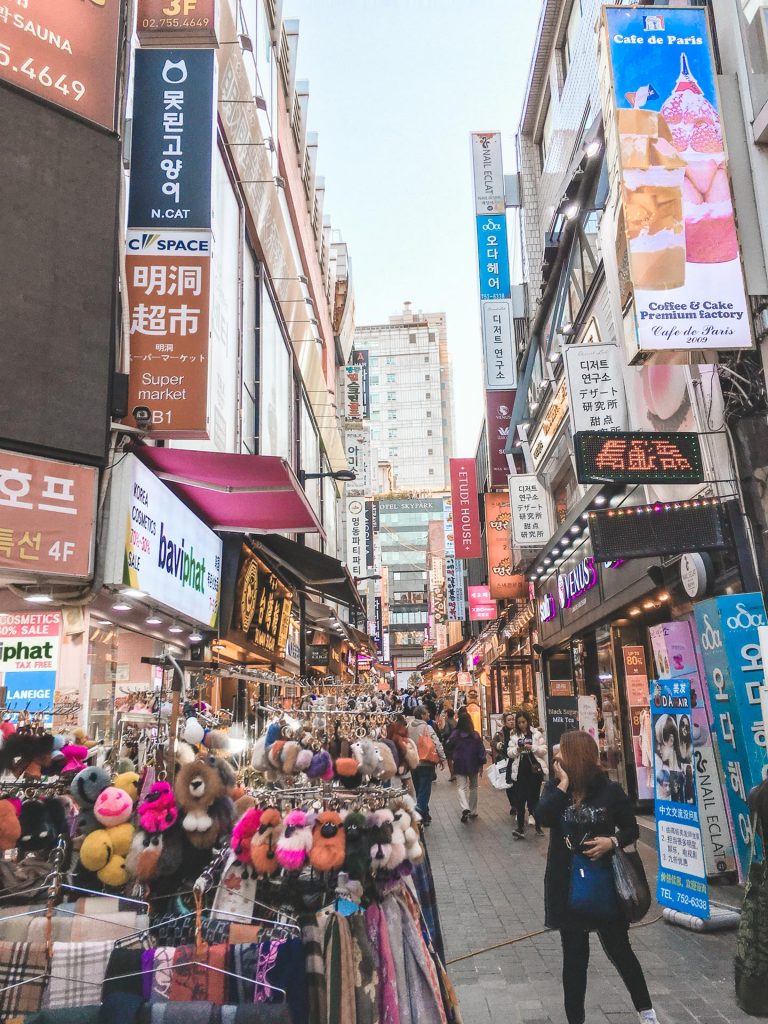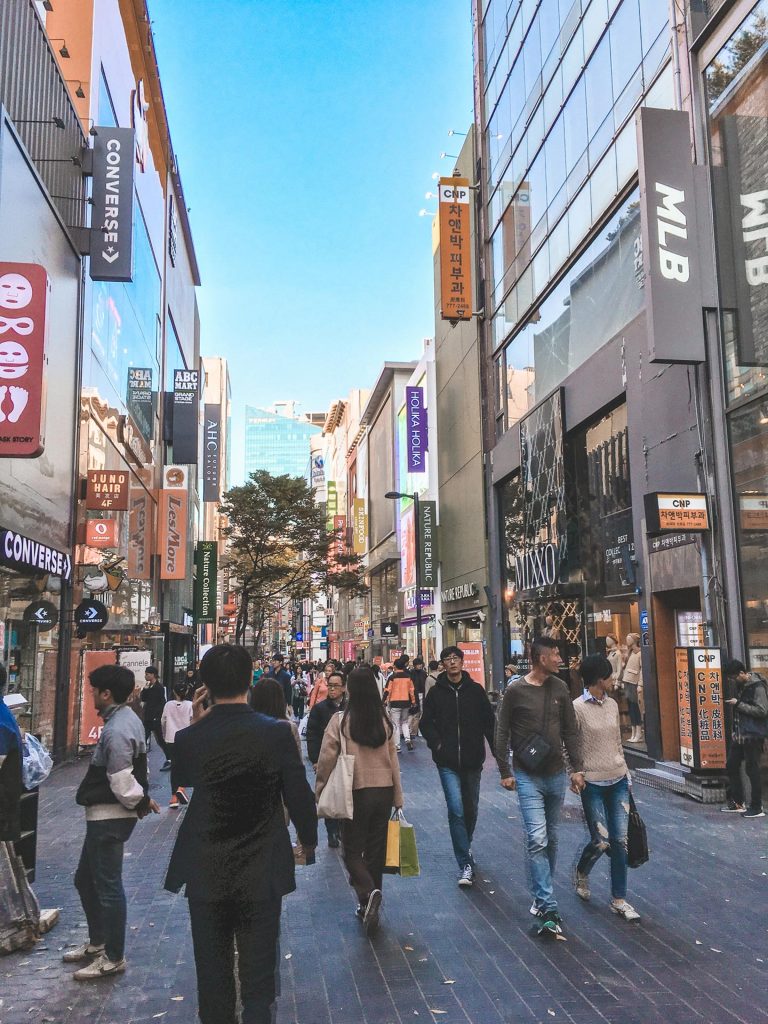 Korean Food Stalls in the Evenings
Myeongdong will get more crowded towards the evening as once the sky turns dark, multiple little street food vendors pop out of nowhere filling the streets around Myeongdong Area with the smell of spices, meat, and garlic. Yes you read that right, Koreans love Garlic and you'll notice that smell a lot more often than you would think.
If you love Garlic Bread, Korea is the place to go – just sayin'.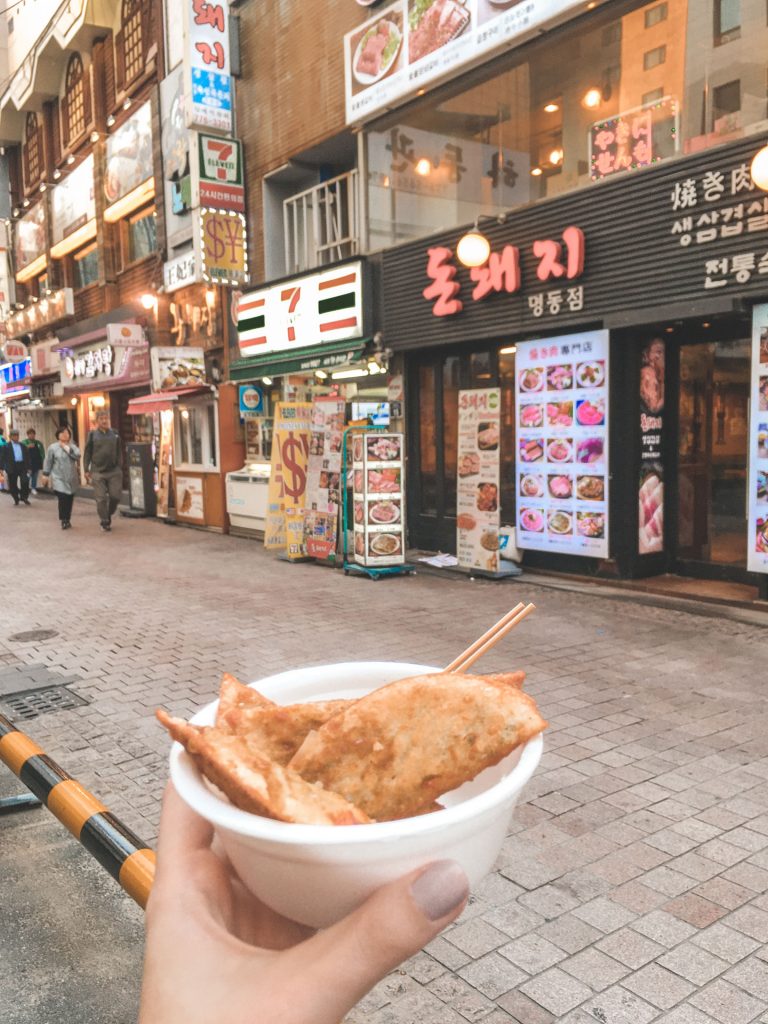 Almond Heaven in Myeongdong
And since we're already talking about food. Have you heard of these tasty almonds you can get in various different flavors? There is actually a factory store in the middle of Myeongdong. Don't ask me where because I honestly couldn't tell you because that area was just way too confusing. You'll be able to taste a few of the flavors in front of the shop as well as once you get inside. They have some crazy flavors there but also a bunch of really delicious once. One of my favorite were the ones covered in yoghurt.
The most popular one that you should definitely try is the Honey Butter Almond flavor. You'll get the most popular flavors at any 7/11 Store in Seoul but that store definitely had a bigger variety to try in different package shapes and sizes.
Daiso & Artbox
Two of my favorite stores to go to in Seoul are Daiso & Artbox. Both have super cute stationary as well as little Seoul souvenirs and if you are a stationary addict like me, you'll definitely have to check out these stores.
You can think of Daiso being somewhat of a One Dollar or One Euro store. While they do have a few more expensive items, they also have a bunch of affordable and low-budget friendly stationary and souvenirs of the country you are in.
Artbox unfortunately closed down during the pandemic but you can still find the store in many other parts of Seoul and Korea!
FASHION STORES
Throughout the Myeongdong Area, you'll find multiple fashion stores – not only big brands like Zara or H&M but also Korean brands that are worth a look. I usually tend to go to the local stores to get an idea of the local style and to also buy clothes. As I am quite short, Asian clothing usually fits me really well and it's a great addition to my wardrobe and somewhat of a change to all the clothes they sell back home.
One of the main department stores of Seoul – Lotte Department Store is located right in Myeongdong. The top floors offer Duty Free Products that you can purchase and pick up at the airport if you wish to.