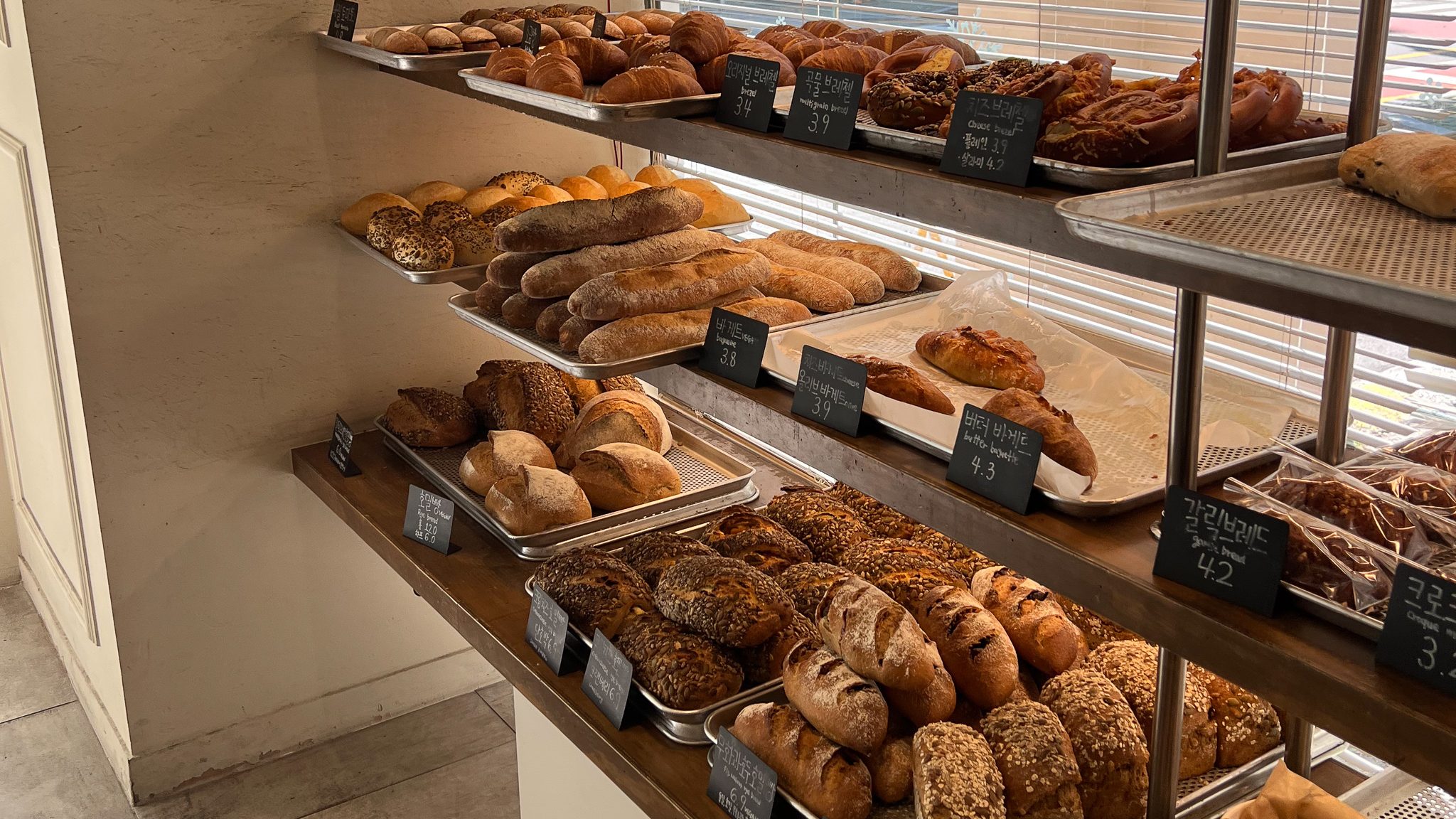 As a German with an undeniable love for good bread, I always make it my number one mission to find good bakeries with good bread in any new city I move to outside of Germany.  During my travels throughout the world, I have realized that not everyone knows bread as we, Germans, know bread. For many, it is the sweet white toast bread that is widely available anywhere. Some countries also have an even sweeter version of white bread that just doesn't satisfy my German tongue. 
Since I've been living in Korea for a little over 6 months now, I want to share with you some of my favorite bakeries in Seoul that I tend to go to when I am craving some good bread. 
Bakeries in Seoul, South Korea
Address: 서울 영등포구 국제금융로7길 3 수정상가 1층
Opening Hours: every day from 8:00 am until 9:00 pm
Instagram Account: @brot.art
Located in Yeouido, close to Hangang Park, it's a perfect location to get a little snack before strolling along the Hangang or even for your picnic with friends. They have a wide variety of different pastries and bread. The only thing I have realized is that Koreans currently love to add figs or other dried fruits to their bread creations – which is fine but if you just want plain bread, it makes it a little more difficult. Nonetheless, I can really recommend this bakery for anyone craving a Bretzel, a Baguette, or some non-sweet bread. 
Seongsu Baking Studio (성수베이킹스튜디오)
Address: 서울 성동구 서울숲2길 46 B1층
Opening Hours: Tuesday through Sunday from 8:00 am to 5:00 pm (closed on Mondays)
Instagram Account: @seongsu_baking_studio
This bakery in Seoul is one of my most recent finds and is located in beautiful Seongsu, not far away from Seoul Forest. 
One thing to mention here is that this bakery sells out rather quickly. So even though they are open quite a long time, all the good items might be gone if you go in the afternoon. I'd always recommend coming here during the morning or lunch hours if you can.
They have a wide selection of delicious bread and this bakery has become one of my favorite places to visit and buy a few pieces of bread. And since it is located close to Seoul Forest, it's the perfect spot to get some snacks for a picnic in the park.
Seongsu is a beautiful area by itself, so by making a trip here, you'll also be able to stroll through a really nice neighborhood while exploring some cute cafes and shops.
Address: 서울 강남구 봉은사로55길 42-8 1층
Opening Hours: Wednesday through Saturday from 11:00 am until 6:00 pm
Instagram Account: @backerin_seoul
This is one of the bakeries in Seoul that is specialized in making Bretzeln. They make them in a wide variety of different and very delicious flavors. This bakery also sells out pretty quickly so make sure you either go early in the day or you're okay with the most famous flavors being gone if you arrive later. They might also close early if they are sold out for the day. I'd recommend checking their Instagram account for any updates on their stock.
The baker of this bakery also studied and worked in Germany for quite some time so the quality of the pretzels and bread is amazing.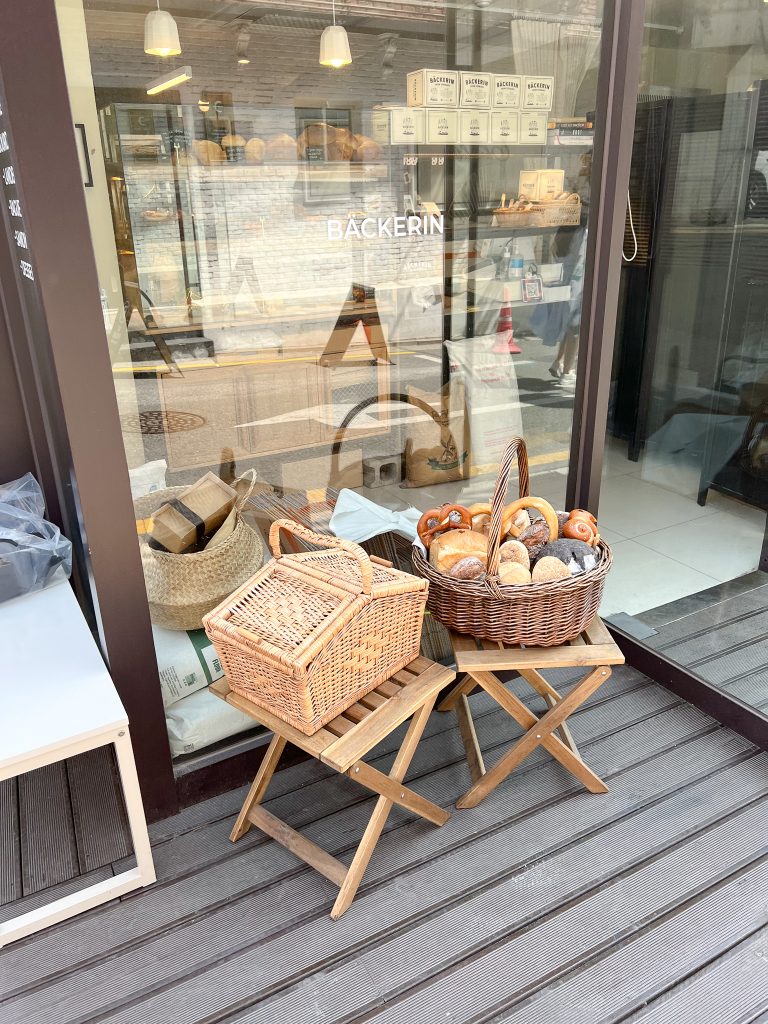 Paris Croissant, not to mistake with Paris Baguette, is a bakery chain that also offers a variety of different pieces of bread and non-sweet pastries all over Seoul. 
A few locations include the following:
1. Hannam-dong 
2. Ichon-dong
3. Seocho-dong
And many more – you can just type "ParisCroissant" into the Naver or Kakao Map search, and you'll find all the locations near you.
Instagram Account: @wood_and_brick
This bakery chain with 4 locations in Seoul is another favorite of mine. Apart from having good non-sweet bread, they also have really good Salt Bread (if you've lived in Seoul for a while, you must know by now that these are super popular nowadays).
Location 1: Gwanghwamun Branch (서울 종로구 새문안로5길 5-1)
Location 2: The K Twin Tower Branch (서울 종로구 종로1길 50 더케이트윈타워 B동 1층)
Location 3: Bukchon Branch (서울 종로구 북촌로5길 14)
Location 4: Seongbukdong Branch (서울 성북구 성북로 120 1층 우드앤브릭)
All of these branches are open between 8:00 am and 9:00 pm. Some open a little earlier and some close a little later but you can easily check that on Naver or Kakao Map.
While I continue to explore different areas in Seoul and hopefully find more good bakeries, I will add them to this list. If there are any bakeries you think I should try and that should be added to the list, please leave a comment below.
And if you want to read more about South Korea, click here to find all my other blog posts.