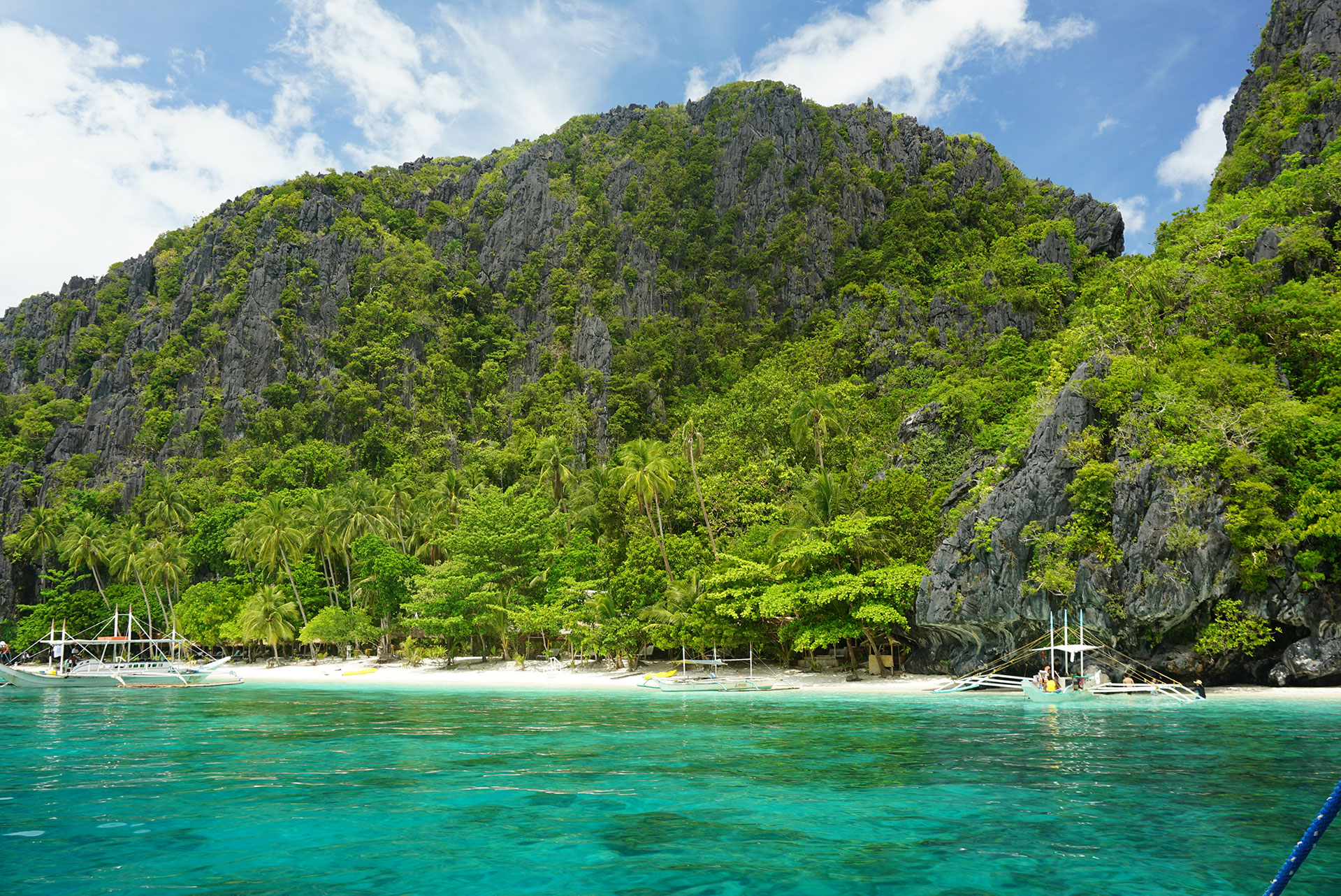 Reading different blog posts, you will soon realize that basically every single one of them recommends to the A&C Island Hopping Tour in El Nido.
It basically covers all the beautiful places and especially if you do not have that much time in El Nido I would definitely recommend that tour. I booked my tour with El Nido Paradise Tours. They have some of the best boats on the island and I was really happy with the tour and the service.
The morning of my tour it had rained a lot and there was lightning and thunder. I wasn't even sure if I would actually get to do the tour that day but we waited in the tour office for about an hour until the sky cleared up and we were ready to go.
Island Hopping in El Nido is one of the most amazing things I have ever done. The water is crystal clear and there are so many colorful fish in the water that you would just love to stay in the water all day.
What is included in the Tour?
Usually, the tour costs around 2000 PHP but you can always try to negotiate to get a cheaper price. Also, if you have already paid the environmental fee, you should bring the document to the tour company so that you do not need to pay extra for the environmental fee again.
Tours mostly include snorkel gear as well as drinking water and lunch. Ask about these things before you book the tour. The tour guides were very friendly and typical Filipino (they were singing love songs the whole time). You can expect to be on the boat almost all day, leaving right after breakfast and coming back before dinner.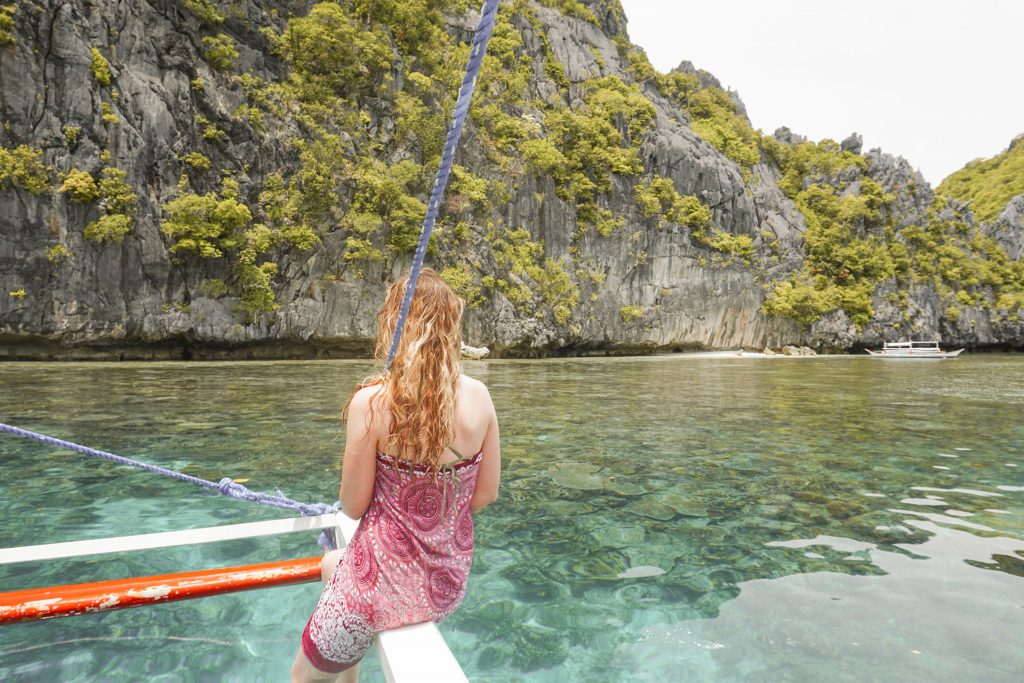 What should you bring with you for doing Island Hopping in El Nido?
Keep in mind to bring water shoes when you do Island Hopping in El Nido. There are a lot of sea urchins in the water and you will need to climb over some rocks in some places. I only had my Havaianas on the first trip which was obviously not the best thing to do but that is better than nothing. Most tour companies even offer shoes for rent.
I would also recommend bringing a waterproof bag. This was actually a life saver for me over there because for most tours you need to swim to the boat because it is not parked right at the bay. With the waterproof bag nothing will get wet. And especially when you are on the boat and it starts raining like crazy (which it did a few times), your stuff is protected.
Also, bring a towel, sunscreen, sunglasses and some cash as a tip or when you want to purchase drinks on one of the islands. I always also brought a couple of snacks in case I got hungry at some point. You should not underestimate the tour and snorkelling because it can get a bit exhausting and you probably need more food and water at some point.
If you have a GoPro, bring that one as well. As I said, the underwater world in El Nido is simply breathtaking and you will want to show everyone back home how amazing it was. You might even get to see a turtle in the water.
Bringing your own snorkel gear along might also be a good idea because you will never know what condition the snorkels are in and how clean they are. I just always prefer to take along my own.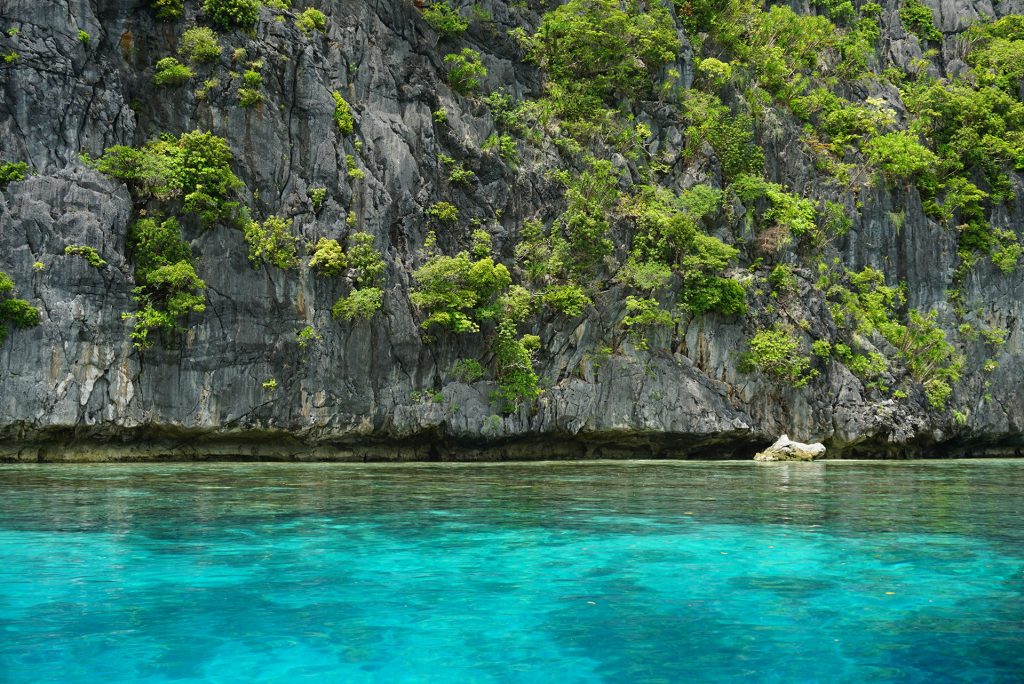 The Stops of Tour A&C
Every tour company has their own route and decides which stop to go to first but these are all the stops that are usually covered in the combination tour A&C:
Small Lagoon
The Small Lagoon is a marvellous place to visit during and Island Hopping Tour in El Nido. You can either rent a kayak here or swim and snorkel your way through the lagoon. We, unfortunately, did not stop at the Small Lagoon because everyone of us was super exhausted from the trip and it was close to the end and we all just decided to head on to the next stop.
Big Lagoon
The Big Lagoon is were most photos are being taken that you see online when you google Island Hopping in El Nido. It is a beautiful place and I would recommend renting a kayak to paddle through the lagoon since it is quite big and you will get to see more of the lagoon. The entrance of the lagoon has pretty shallow water but once you get deeper into the lagoon the water will get deeper and again there are hundreds of sea urchins in the water that you need to look out for.
Since I was travelling alone, I was lucky enough that one of the tour guides decided to kayak me through the lagoon (of course I had to pay the kayak myself but at least I got to really experience the beauty of the lagoon). If I am not mistaken the kayak cost me around 600 PHP but going into the lagoon is totally worth every cent.
Secret Lagoon
The Secret Lagoon was not as spectacular as it sounds. You had to climb through a small hole in a rock formation to get into the small secret lagoon that had really dirty water and there was not really much to see. Here you would definitely need water shoes, though, because on your way to the secret lagoon you have to walk over rocks and there are a few sea urchins hiding between the rocks that you will not see right away.
Shimizu Island
Shimizu Island is another great spot for snorkelling and swimming – notice how I say that for every single island around El Nido? But it is true. You will definitely not get sick of the view and will want to explore more and more of this amazing island.
Helicopter Island
Helicopter Island is a perfect place for both swimming and snorkelling. Before doing the Island Hopping tour I went there for diving and it was simply breathtaking, so I was really excited to go back and this time for snorkelling. Helicopter Island got its name due to the shape that resembles a helicopter. I cannot emphasise enough how beautiful and clear the water is but I guess you just need to find that out for yourself and let yourself fall in love with the Philippines.
Secret Beach
The Secret Beach is another great place for snorkelling. If you are a good swimmer and you have talked to your tour guide, I would recommend snorkelling around the rocks because you will see a lot of beautiful corals and fish. You just always need to take caution with boats and don't get too mesmerised by the underwater world and forget everything around you. I noticed when snorkelling around the rocks that I did not need to swim that much because the water basically carried me and I was not exhausted when I got back to the boat.
Hidden Beach
This beach is hidden between two limestone rock formations. You won't be able to see this beach right away since it is so hidden – hence the name. This stop was another awesome place to go snorkelling and swimming.
7 Commando Beach
Our last stop was 7 Commando Beach where we stayed until sunset and it was just magical – the whole sky turned gold. Seven Commando Beach has beautiful soft white sand with a few beach huts where you can hide from sun or rain, a beach volleyball field and some beach huts to buy a softdrink. Seven Commando Beach was actually one of my most favorite stops of the tour, mostly because there weren't as many tourists and it was nice to relax at the beach and watch the sunset.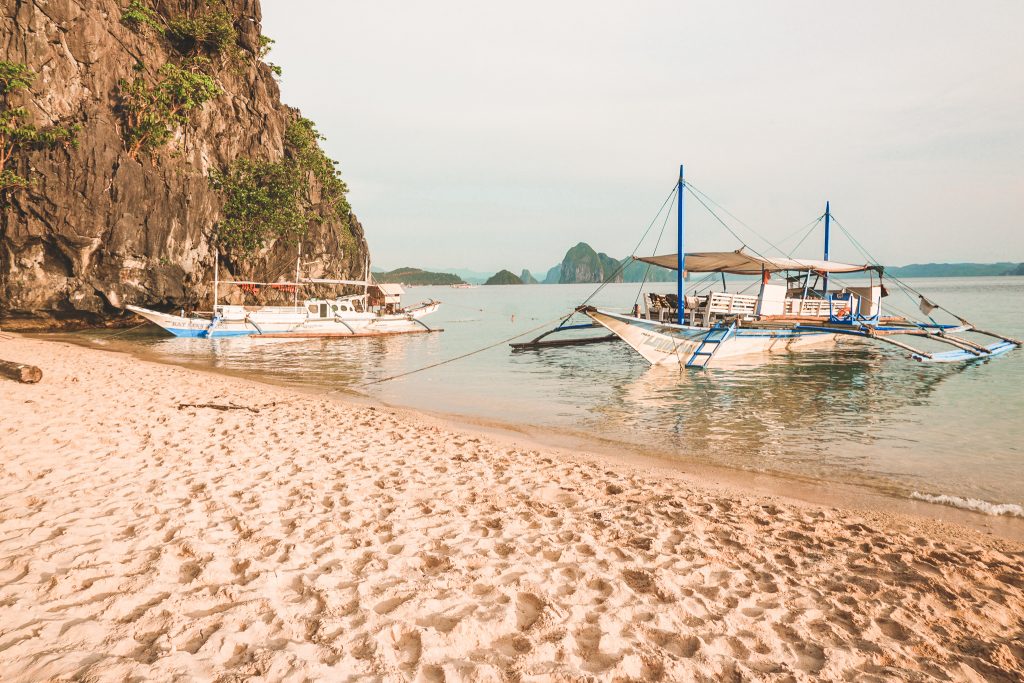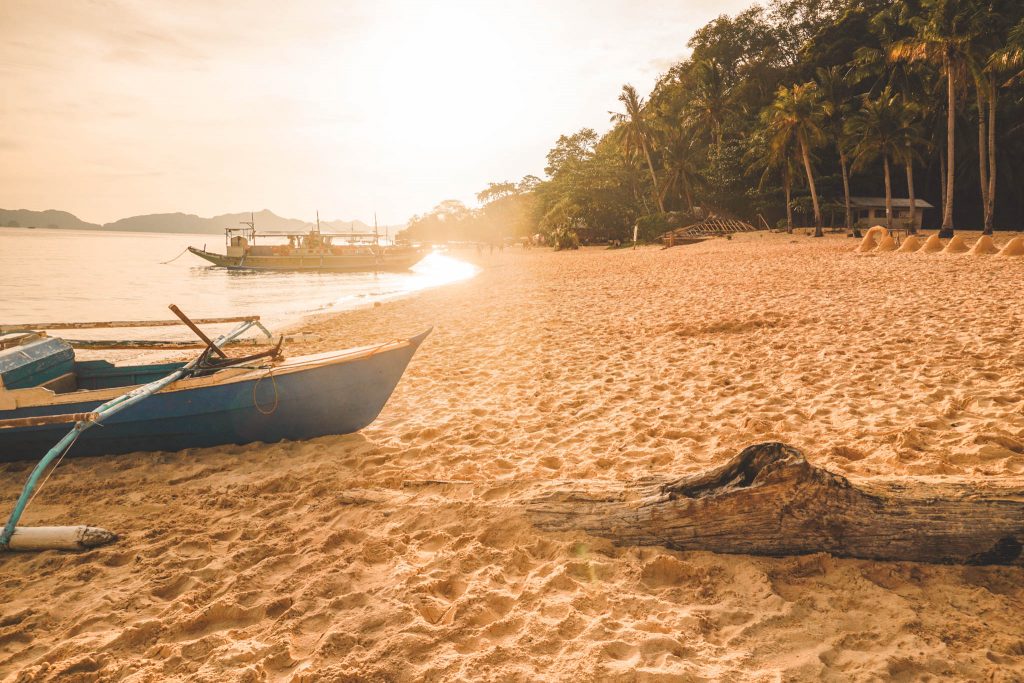 When doing Island Hopping in El Nido, I noticed a few places where corals had already died and were all white. Some of these areas have already been closed off in an effort to get these corals back to life and rehabilitate them. This will take several years and in order to not destroy more corals, every tourist needs to take caution and not step on corals, touch them or break them. This will kill the corals and will be an endless cycle that cannot be stopped anymore at some point. When you decide to travel to El Nido or any other place, always remember to respect the underwater world as much as you respect your own environment back home.
---
That being said – Have you ever been Island Hopping in El Nido?
What did you like best? Let me know in the comments below!
Read more about my trip to the Philippines here.