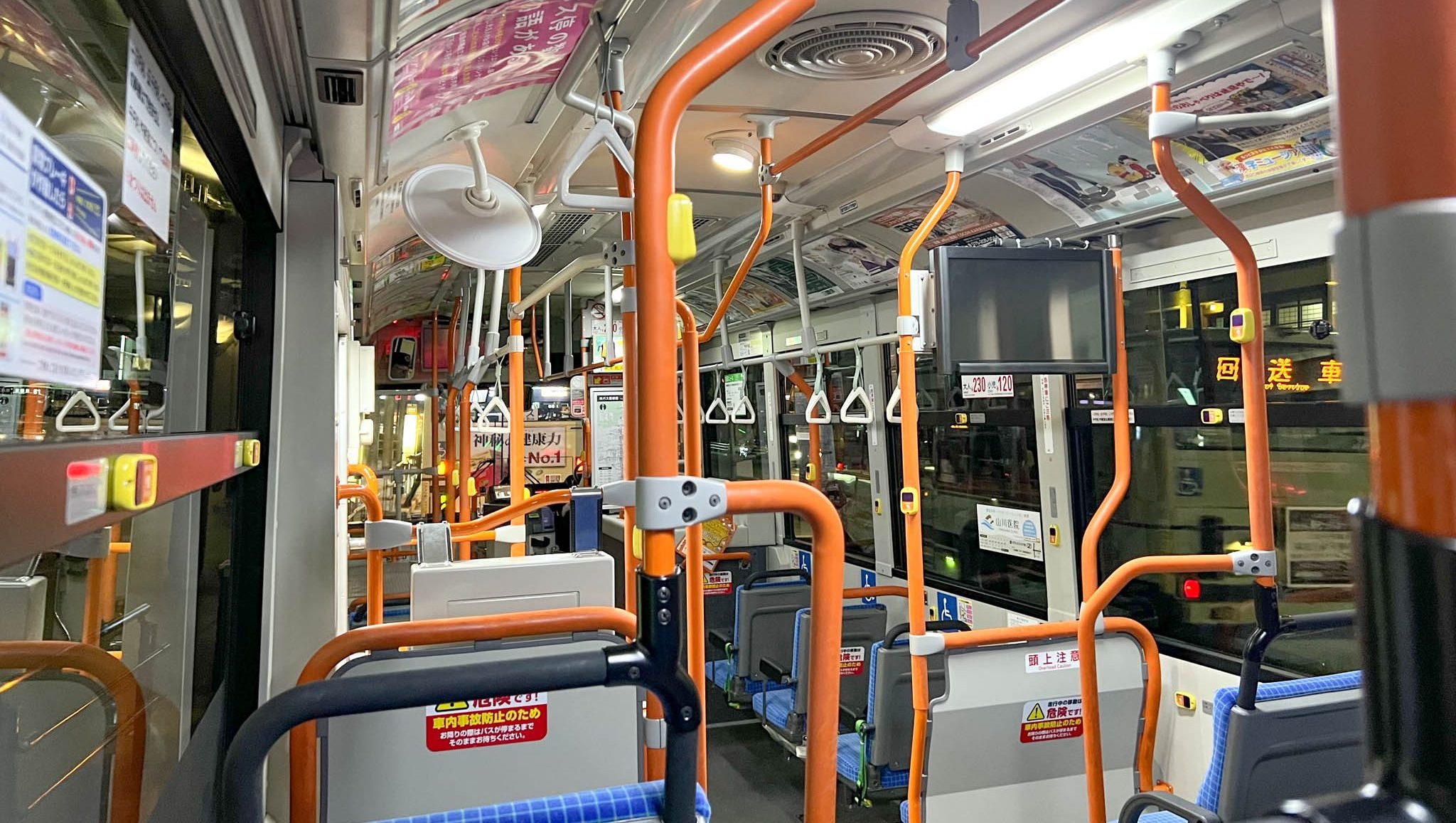 Arriving in a new city, or even a new country, that is just unfamiliar, and speaks a totally different language with a completely different writing system can be quite overwhelming. And then on top of that having to use public transport can be a whole another challenge. That's why I wanted to put together this guide on how to use the bus and subway in Kyoto. I am hoping that you will feel a lot more confident taking public transportation and will let you know about a few tricks to save some money while you're in Kyoto. 
First things first, you have probably arrived in another big city in Japan by plane (like Osaka or Tokyo) where you already needed a transportation card such as the ICOCA card. This card will definitely also be useful in Kyoto and I would always make sure you have enough money on it to pay in an emergency. 
And although Japanese might be a language unknown to you, you will find signs and stop announcements also in English which will make it very easy to navigate. 
Buses are usually the way to go in Kyoto and there will always be at least one bus that will get you to the destination you want to go to.
Cars, and also buses, drive on the left side of the road in Japan. So always make sure you are waiting at the right bus stop on the right side of the road. This can be confusing at first but if you check on Google Maps which direction you want to go to, you can better understand on what side of the road to wait. 
And that brings us to Google Maps.
Google Maps
Google Maps will be your best friend while trying to navigate through Kyoto and I must say it is pretty accurate. I've only experienced it once when I couldn't find the bus stop it was trying to show me but otherwise it has been very reliable in telling me which bus to take and when the bus would be arriving.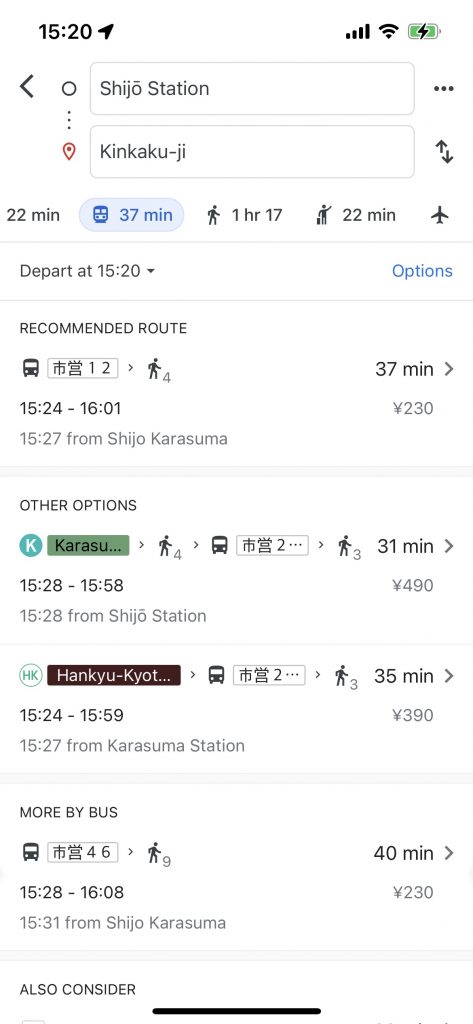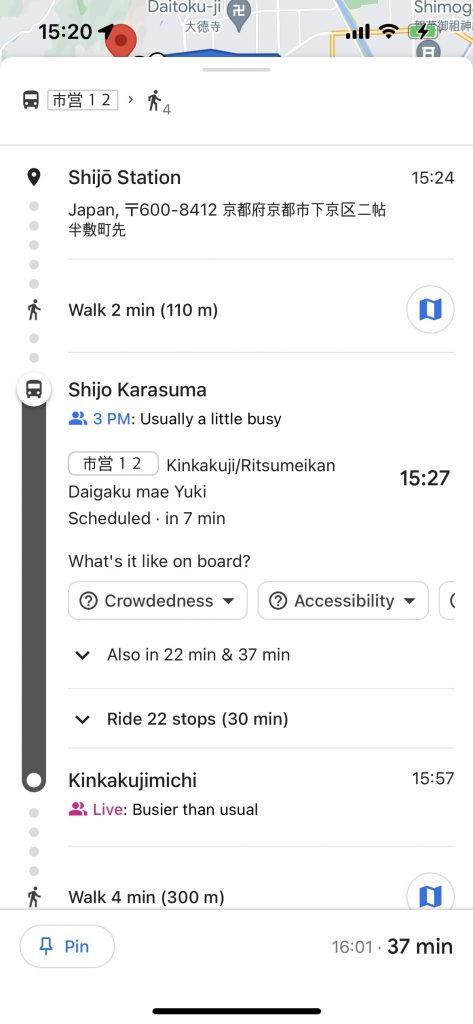 Getting on and off the Bus
Whereas in most countries, you would get on the bus in the front, Japan is a little different. In Kyoto, you get on the bus in the middle and NOT the front. Even if you are standing at the front of the bus, you will have to walk towards the back to get on. 
And while you get on in the middle of the bus, you always get off in the front. This is to make sure that you can either pay your bus fare, tab your ICOCA card or show your bus ticket to the bus driver while exiting the bus. Bus drivers are usually also very strict about following that rule. So even if the bus is crowded and you could get off easily in the back, you have to try to make your way to the front to get off. 
But bus drivers in Kyoto are very friendly and patient, so don't feel bad if it takes some time to get to the front and off the bus. No one will yell at you or get upset. 
How to pay on the bus
There are three different ways to pay on the bus: paying the exact bus fare in coins, tabbing the ICOCA card, or using the Bus 1 Day Ticket. This also depends on the type of bus you take. The driver cannot give you change, so make sure you have the exact amount in coins available. Some buses have a machine to change bills to coins but I would not count on that. 
How much does a bus ride cost?
Most of the bus rides you will take in the Kyoto area are fixed rates of 230 Yen per bus ride for adults. Children pay 120 Yen per ride. So keep in mind that if you get off one bus and immediately get on the next one, you have to pay 230 Yen as an adult again as it counts as a new bus ride. 
1-Day Bus Ticket
If you are planning to visit a few different sights in a day and will be taking the bus more than 3 times, I would highly recommend you get the 1 Day Bus Ticket. 
You can get the 1 Day Bus Ticket at any subway station in Kyoto. Just one thing to keep in mind: you cannot buy it at the ticket machines but have to buy it with the subway staff next to the subway gates. The ticket itself costs 700 Yen and you can get it on one day and use it on another. It only counts when you take the first bus ride. Make sure you bring cash with you as they will not accept card. 
What I would always do is go to the subway station the day prior and already buy the ticket so that I could immediately use it the next day. 
When you use the 1 Day Bus Card for the first time, you have to put it through the card slot next to the driver so that it prints the date on the card. After you have done that once, you just show the date to the driver every time you get off the bus. I snapped a photo and added it below so that you have an idea of where to put your card. You put it into the green card slot reader. Once you put it in, it will come out again on the top with the date printed on the backside.
One thing to note here is that you cannot use the 1 Day Bus Card on every single bus in Kyoto. But I would say you can use it on 90% of the ones you would take to all the tourist attractions. That's why I mentioned it is best if you always either have coins on you or have enough money on your ICOCA card. 
A good way to check this is to either check if the bus is a Kyoto City Bus (green color) or a Kyoto Bus (red color) or you can check this website and see if the bus you want to take is on that list for the Kyoto Bus or Kyoto City Bus.
Also, keep in mind that you can only use this ticket for the buses within Kyoto, and not the subway. There is a different ticket for that which I'll explain further down.
Free Wifi
While buses don't have free wifi, you will be able to find some bus stops that offer free wifi. You will need to register with your email address and can then use the wifi. at the bus stop. Usually, the bus stops that have wifi, will have a sign that will inform you about the free wifi. 
Taking the subway in Kyoto
By putting together this guide on how to use the bus and subway in Kyoto, I of course cannot leave out the subway. Although you will most probably just take buses, there will be a few places where the subway is the fastest and most convenient option (like the Fushimi Inari Shrine).
Also for the subways, Google Maps will be a great way to check schedules and trains you have to take. 
How to pay for the subway
If you've already been to Tokyo or Osaka, I can tell you that Kyoto is pretty much the same in regard to how to pay for a subway ride. 
You have the option to either top up your ICOCA card and tab it while you go through the subway gates, or buy an individual ticket at the ticketing machines. I usually just topped up my ICOCA card and tabbed it out of convenience. And if at any point, you do not have enough money on your card when exiting the subway station, there are always machines inside the gates where you can top up your ICOCA card. 
How much does a subway ride cost?
So subway rides do not have fixed prices like the Kyoto busses but they are pretty similar in what you would pay for one ride. Usually, Google would also tell you how much the fare for the journey will be (and this has always been accurate in my case). However, if you want to check the fare beforehand, this website is a great place to view the different fares by distance.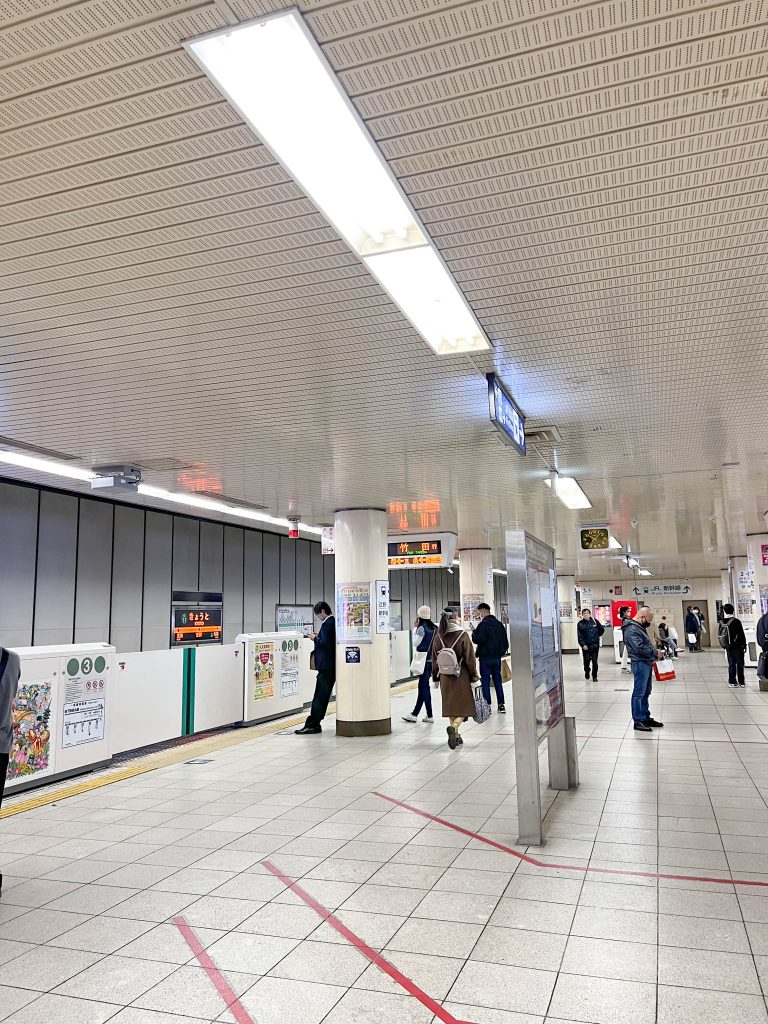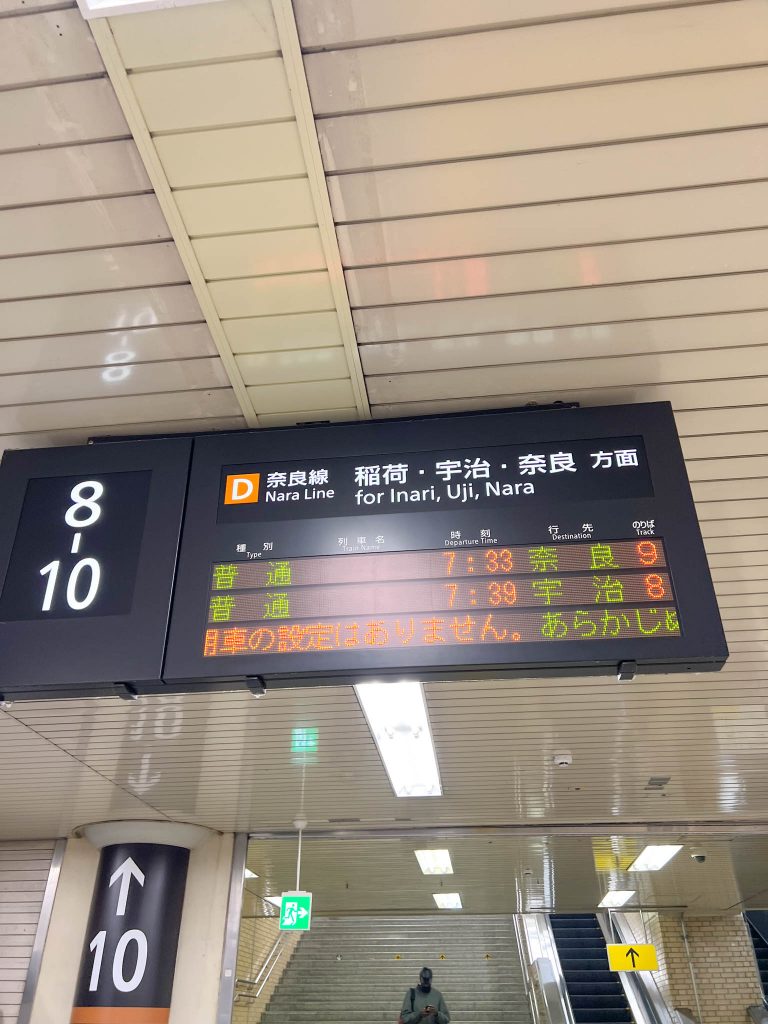 1-Day Bus and Subway Ticket
Just like there is a one-day bus ticket, there is also a combination ticket for one day that includes the subway. This ticket is a little more expensive and costs 1100 Yen for adults. 
Unlike the one-day bus ticket, you can purchase this ticket at the ticketing machines inside the subway station and don't need to go to the subway staff. 
One thing to keep in mind for these one-day tickets is that they are valid within one day and not 24 hours after the first usage. So if you stamp the bus ticket at 11 am, you can only use the ticket until midnight that same day and not until 11 am the next day.
1 Day Subway Ticket
And if you are just planning on taking the subway, you can also purchase the 1 Day Subway ticket for 800 Yen for adults. However, you will really only be able to take the subway and no bus. Many of the sites in Kyoto are not directly accessible by train, so I would always opt for a combination ticket or just a bus ticket.
Free Wifi
Subways themselves do not offer free wifi, but some subway stations do. You will need to register with your email address or Facebook, etc., and can then use the free wifi. Oftentimes it doesn't work everywhere in the station so don't fully rely on it!
I hope this guide on how to use the bus and subway in Kyoto was helpful to you. If you have any additional questions, feel free to leave a comment down below. 
I would also be happy if you checked out my other Japan posts here.