Arriving in a new country or city can be scary especially if you are unfamiliar with the local language, and if the writing system is the complete opposite of the Roman one, things will probably get even more complicated. However, Seouls subway system isn't even that difficult and you shouldn't worry about using it the right way. 
But first things first: Your number one companion for the subway and bus is the so-called T-Money card. This card is a rechargeable plastic chip card you will use to get in and out of the subway station as well as on and off the bus.
Where to purchase a T-money card
You can purchase the T-money card either at the airport or at any convenience store (7-11, CU, E-mart, GS25, etc.) within Seoul and Korea – depending on where you arrive. Some other stores like Artbox also sell T-money cards by the cash register. Keep in mind that usually there is no money added to your card so you will need to top it up first before getting on a subway or bus. If you're looking for cute ones, I do recommend checking Artbox or asking at Convenience stores. Some have T-Money cards of some K-Pop Idols or other famous Korean characters.
How to top up your T-Money card
There are different ways to top up your T-Money card in Korea but keep in mind that mostly it just works with cash so I recommend always having some cash with you just in case.
You will find machines to top up your card in all subway stations. You can change the language to English and then follow these easy steps to top up your card:
1. Press the button on the far right to top up your card
2. Put your T-Money card on the card reader
3. Select the amount you want to top-up
4. Insert the money into the money slit
5. Wait until the screen tells you that topping up the card is finished
6. Take your card and you're good to go!
You can also always top up your T-Money card in any convenience store around Seoul. Just hand them the card and tell the staff how much money you would like to add to it (this would also only be cash). 
Also always keep in mind that you cannot top up your card on the bus, so make sure you have enough money on it or cash with you to pay the bus driver directly (pay the driver with the exact amount).
How to use the T-Money card
In the subway
The t-money card is pretty straightforward to use. Whenever you enter a subway station and make your way to the train platform, there are small gates where you have to tap your card in order to get to the platform. If you don't tap it or you tap it incorrectly, doors will keep you from entering. When you tapped your card, you will also see the remaining balance on your card as well as the amount it charged you for your journey. You will not have to pay again when exiting the train station at your destination but you will also see your balance again once you exit. 
If you happen to not have enough money on your card or you go further than was initially calculated and you have to pay a few won extra, there are small machines at each gate where you can top up your card with cash (no credit card).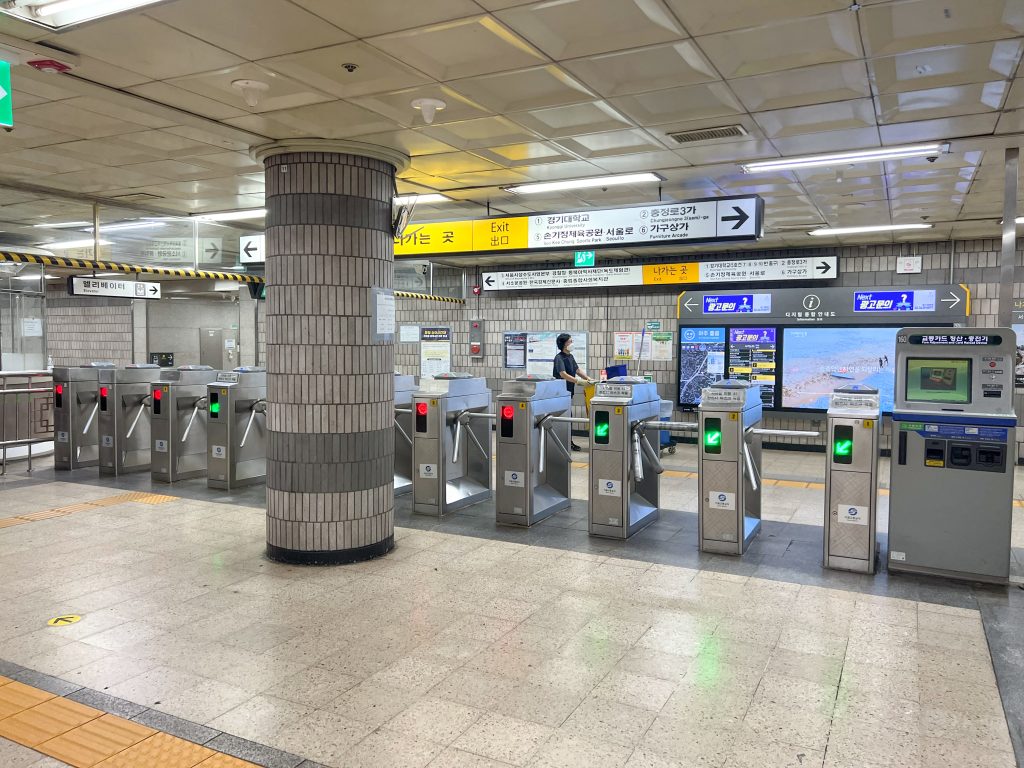 On the bus
On the bus, it's a similar system. You will have to tap your card once you enter the bus and then again once you exit. If you don't have enough money on your card, you can buy a ticket from the driver with cash. If you happen to forget to tap your card or you didn't tap it correctly and there was no "beep" sound, that's not a huge issue. However, it will charge you a fee for the longest distance possible for a bus ride (it should be less than 3000 won).
Helpful Apps for navigating Seouls subway system
I have another blog post that describes 5 useful Apps when traveling to South Korea and also includes those needed to navigate Seouls Subway system.
Your number one companion for your trip to Seoul will probably be either Kakao Map or Naver Map (some people prefer one over the other but both are equally good). Both are great apps to use within Seoul and will be able to tell you which route is the fastest or easiest to get to your destination.
I myself am using Naver Map, so I will give you some guidance on how to check for a route and how to read it. You can select your destination either on the map directly by clicking on where you want to go or using the top navigation bar to type in your destination (keep in mind that some destinations might not be found with the English translation). Once you have selected the destination, you click on "to" in order to then select your starting point which you can do by typing it in, using your current location or setting in on the map directly. 
The app will then display you different options on how to get from A to B. According to the little icons that represent either a bus or subway you can pretty easily figure out what to take. But if you just want Subway, there is an option to just select a route via Subway at the top. Naver Map will also allow you to select your departure time if you want to check ahead of time what the best route would be.
Each Subway line will also be color coded so when looking at the subway map, you can pretty easily determine which one you have to take or are currently on and makes switching the subway on the platform much easier.
How to know which direction to take at the Subway Station
At the Subway Station, there will be many signs telling you the direction where to go. However, for the green line or line 2, which is a circle line, you will not see a destination but rather a few names of stops that are coming up next on your route. This will help you determine which direction you're supposed to be going. Sometimes the trains for each direction stop on different platforms and require a different entrance. So switching to the other side isn't so easy and might require you to tap out and in again at the T-Money card machines.
In general, it's always worth checking what route you're taking and which bigger stops might be next. On line 2, it will usually indicate bigger stations such as Jamsil, Euljiro-3, Hongik Univ. or City Hall, etc. 
But also for the other lines, it is always good to know what stops might be next so you know which way to go. 
Subway operating hours in Seoul
The Subway in Seoul runs between 5:30 am and midnight (24:00). So if you're out and about after midnight, you might need to switch to a regular bus or night bus to get home. 
How to change subway lines
Since Seouls Subway system is pretty easy to navigate, you shouldn't have any issues changing subway lines if your route requires a few different lines to get to your destination. 
Once you get to the station where to switch, there will be signs and colorful indications on the walls that indicate where you have to go. Just make sure you know which direction you have to go so that you do not end up on the train in the opposite direction. 
While switching between lines, you usually do not have to tap your card again. However, there are a few instances and lines where you need to tap again but if you stay within Seoul, there is no extra charge. One example is changing from the Green Line 2 to the Brownish Line 9 at Dangsan Station
If you want to know more about Seoul, you can check out my other blog posts about Korea here.
I do hope this guide was helpful for you. Let me know if you have other remaining questions in the comments below and I'd be happy to answer them for you.