Jeonju, the former capital of the Hubaekje Kingdom of Korea, is nowadays the capital of the North Jeolla Province and only a short drive or train/bus ride away from Korea's capital city Seoul. 
It's a beautiful city full of history and culture. You will find beautiful Hanok houses with traditional Korean houses, museums, as well as a Confucian School.
I recently spent 2 days in Jeonju to experience the fall foliage and want to give you all the information you need when you are deciding on visiting Jeonju in the future. 
How to get to Jeonju from Seoul
Getting to Jeonju from Seoul by public transit is fairly easy and not a long journey. I decided to take an express bus to Jeonju since it was a little cheaper but of course, the KTX would be another much faster option. 
By bus: I took an express bus from Dongseoul Station and it took me around 2 hours and 50 minutes to Jeonju. A one-way ticket cost me 22,400 KRW. There are multiple different buses traveling from Seoul to Jeonju per day.
By train: Trains to Jenoju leave Seoul a few times a day and a one-way ticket costs 34,600 KRW (Economy class). The journey by train takes about 1 hour 45/50 minutes. 
Depending on where your accommodation is located, you can either take a public bus or a taxi. On my way to Jeonju Hanok Village from the bus station, I took the public bus but on the way back I decided to take a taxi out of convenience and it cost me ca. 6,000 KRW.
What is the best time and length for visiting Jeonju
Autumn season is a beautiful season in Korea and I think that that season is also perfect for visiting Jeonju. You will find many beautiful yellow Ginkgo trees, red maple trees as well as many other orange, red, green, and yellow trees all over the city. It makes for such an amazing sight. 
I visited Jeonju at the end of October/beginning of November which was a great time to experience the fall foliage. But I do believe that other seasons also have their charm and you will have a great time visiting Jeonju no matter the season. 
In regards to how long you should stay, it depends on how much you want to explore but I think 2 days is more than enough to also have some time in between to just sit at a cafe and enjoy the atmosphere of the city.
Jeonju Hanok Village (전주한옥마을)
Address: 99 Girin-daero, Pungnamdong 3(sam)-ga, Wansan-gu, Jeonju-si, Jeollabuk-do (전라북도 전주시 완산구 풍남동3가 기린대로 99)
Opening Hours: 24 hours
Admission: free
If you are visiting Jeonju, you will most probably stay within or very close to Jeonju Hanok Village as this is where most sights are located. The village is full of traditional Korean Hanok houses (over 700 of them) that are a beautiful sight and make you travel back in time a little. 
It's a very popular location for both tourists as well as locals because it gives such a great contrast to the surrounding modern city skyline. 
The Hanok village has very well-maintained sidewalks which will make walking through the village much more convenient. You will also find many opportunities where you can just sit down and relax for a bit.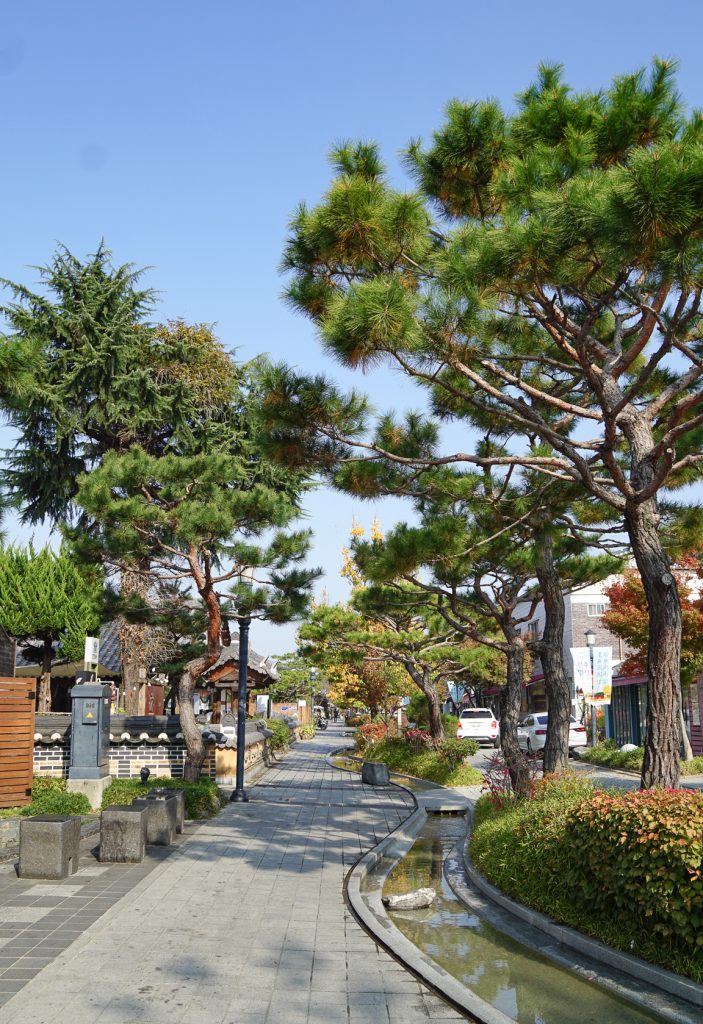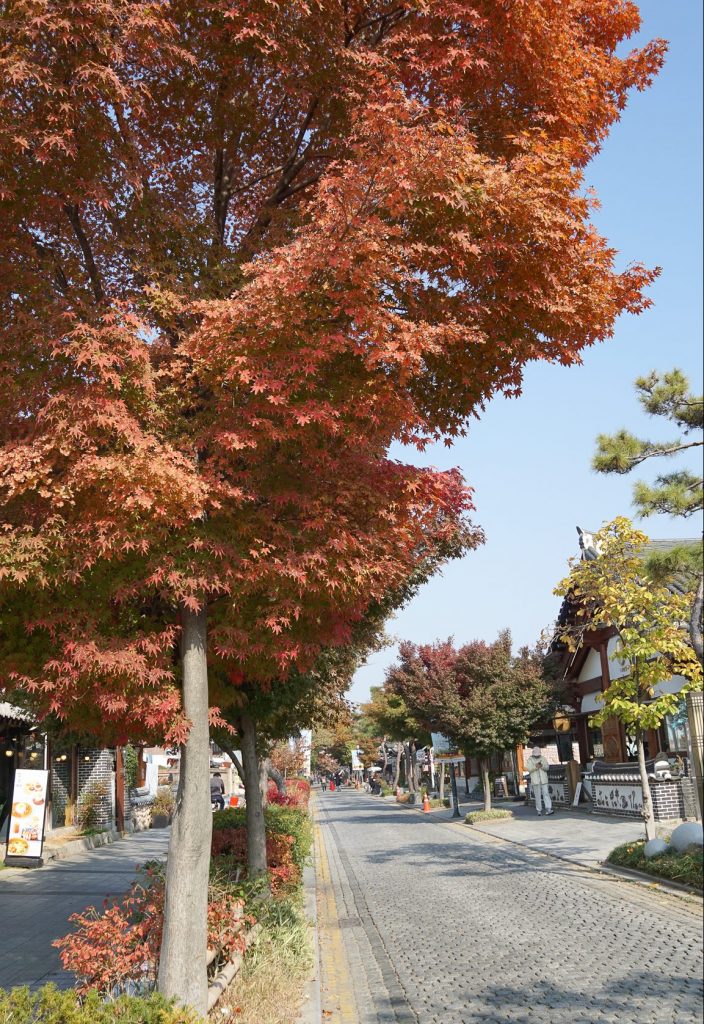 Jaman Mural Village (자만벽화마을)
Address: Jeollabuk-do, Jeonju-si, 한옥레일바이크 (전라북도 전주시 한옥레일바이크)
Opening Hours:
Admission: free
The Jaman Mural village which is located right across the street from the Hanok Village is a beautiful small area with wonderful colorful street art painted on the houses. 
The area is quite hilly so be prepared to walk up and down some hills in order to see everything. It is not as big as Gamcheon Culture Village in Busan but I think it is just as beautiful and worth a visit while you're in Jeonju. 
Jeonjuhyanggyo Confucian School (전주향교)
Address: 139 Hyanggyo-gil, Wansan-gu, Jeonju-si, Jeollabuk-do (전라북도 전주시 완산구 향교길 139)
Opening Hours: every day from 9 am until 6 pm
Admission: free
One of the major attractions within the Confucian school is the giant Ginkgo trees right by the entrance. Everyone will recommend you to go there for photos and to simply just admire them. Especially during the autumn season when the leaves of the Ginkgo tree turn yellow, the view is even more beautiful. However, you will also find a few other very old (> 400-year-old) trees at the Confucian School. 
The Jeonjuhyanggyo Confucian School was established during the Joseon dynasty and is a beautiful place to explore. Entrance is free and if you come in the morning you will also be able to explore the area without many other people present.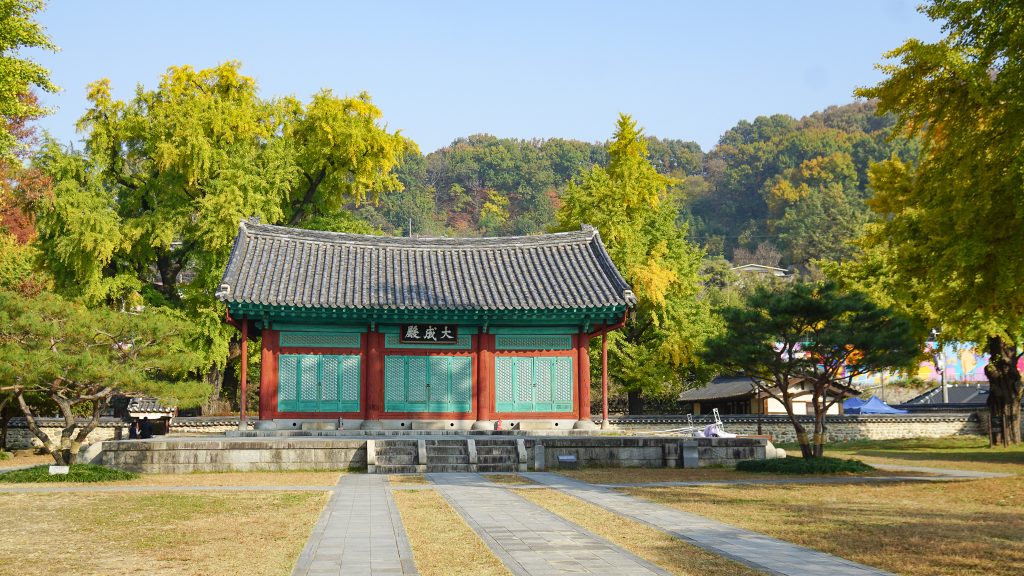 Gyeonggijeon (경기전)
Address: 44 Taejo-ro, Wansan-gu, Jeonju-si, Jeollabuk-do (전라북도 전주시 완산구 태조로 44)
Opening Hours: every day from 9 am until 6 pm
Admission: Adults 3,000 KRW
Gyeonggijeon was built in 1410 and includes a museum and shrine with a lot of history. 
It is a beautiful area during the autumn season as you can see many beautifully colored trees all throughout the area. 
I would recommend planning around 45 minutes for visiting the shrine and main hall plus the surrounding area. As it is centrally located in Jeonju Hanok Village, you will be able to get there very easily by walking.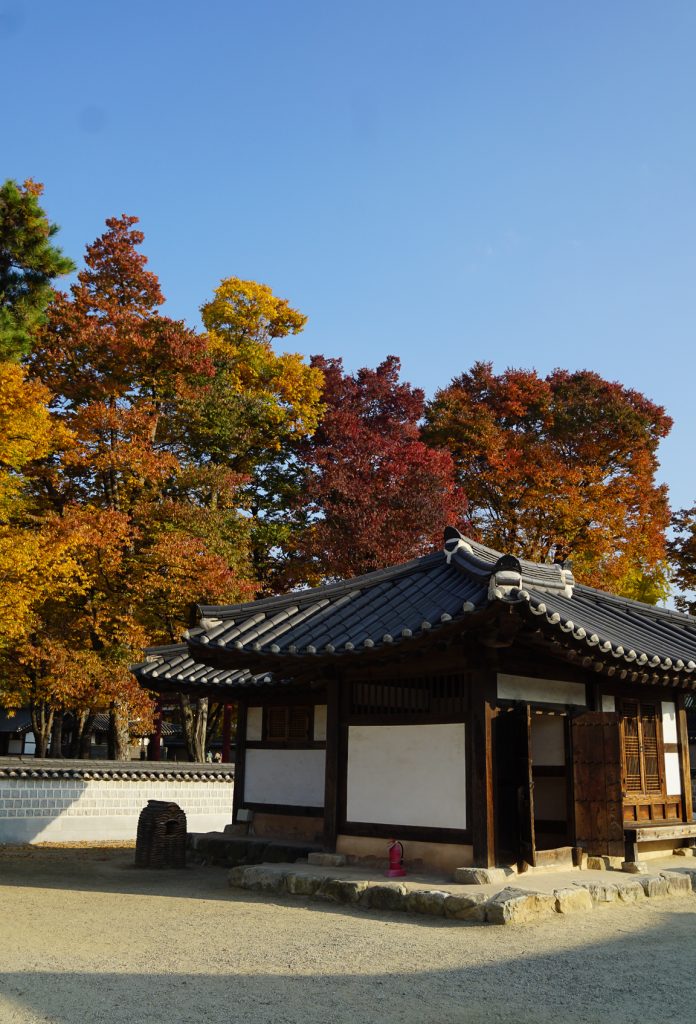 Pungnammun Gate (풍남문)
Address: 1 Pungnammun 3(sam)-gil, Wansan-gu, Jeonju-si, Jeollabuk-do (전라북도 전주시 완산구 풍남문3길 1)
Opening Hours: 24 hours
Admission: free
Pungnammun Gate was built in 1734 during the Joseon dynasty and destroyed by a fire in 1767. It was later restored but again burnt down during the Imjin War. It was again rebuilt as the gate you can see today. 
It is located in the west of Jeonju Hanok Village and is about a 5 minutes walk away from Gyeonggijeon.
Korea Expressway Corporation Arboretum (전주수목원)
Address: 848 Banwol-dong, Deokjin-gu, Jeonju-si, Jeollabuk-do (전라북도 전주시 덕진구 반월동 848)
Opening Hours: Tuesday through Sunday from 9 am until 6 pm (closed on Mondays)
Admission: free
This beautiful garden is a bit further away from Jeonju Hanok Village and all the other sights but definitely worth a visit – especially during the autumn season.
The park was built in order to restore some nature that was once destroyed by the expressway constructions. 
There are a few buses that can take you towards the park but you will still have to walk a bit and buses don't run very frequently. So if you are a little pressed for time, it would be advisable to get a taxi. It will take around 25 minutes by taxi one-way compared to 50 minutes by bus. The journey by taxi will cost around 12,000 KRW one way.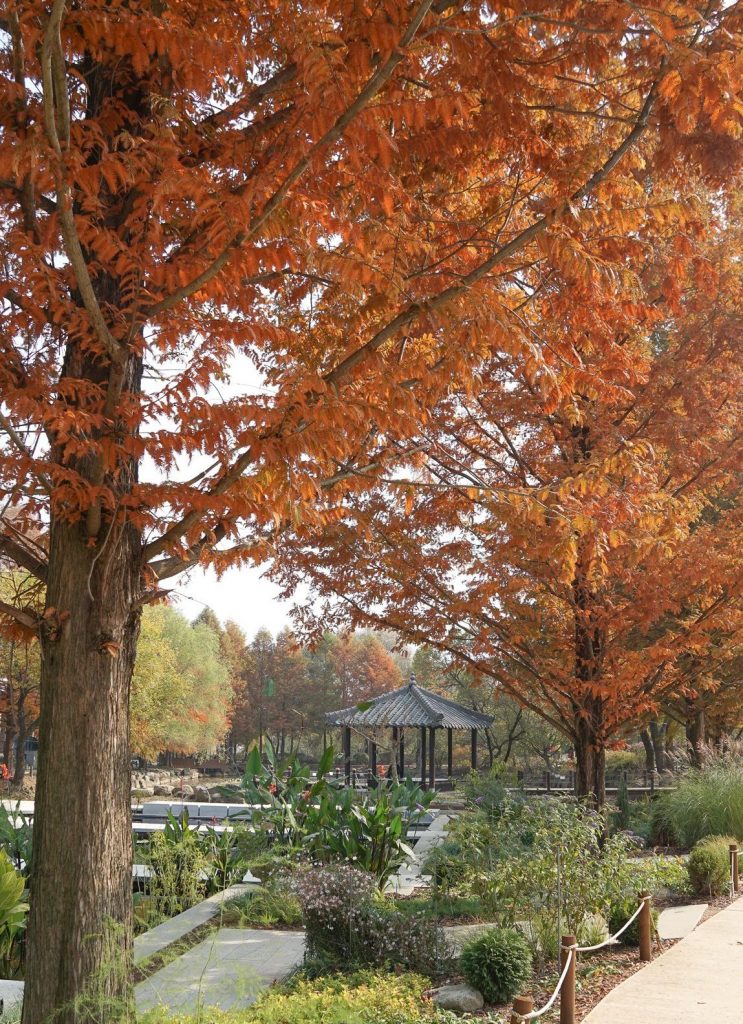 Namcheongyo (남천교) & Stream
Address: 192-4 Gyo-dong, Wansan-gu, Jeonju-si, Jeollabuk-do (전라북도 전주시 완산구 교동 192-4)
Opening Hours: 24 hours
Admission: free
I highly recommend that you walk along the stream during sunset as you will have an amazing view and together with the Silver Grass it looks absolutely magical. There are benches for you to sit on, a swing you can swing on or take pictures on if you wish, and a nice broad walkway for you to enjoy the nature around the stream. The stream is located right at the border of the Hanok Village and is therefore easily accessible just like the rest of the sights. 
Namcheongyo is a one-of-a-kind bridge in Korea that serves as a gateway to Jeonju Hanok village. The bridge and pavilion are beautifully lit up at night.
Jeondong Cathedral (전동성당)
Address: 51 Taejo-ro, Wansan-gu, Jeonju-si, Jeollabuk-do (전라북도 전주시 완산구 태조로 51)
You will have a beautiful view of the cathedral from the Gyeonggijeon Hall where you will have Ginkgo Trees right in front of the cathedral which makes for a beautiful picture frame. I have not been inside the cathedral but I am sure that you can also view the inside if you wish. I do believe it is also just as beautiful to look at from the outside. 
If you're visiting Jeonju, I would highly recommend you stay at a traditional Korean Hanok house. You can find many options to choose from on online booking sites. Just keep in mind that most of the time you will be sleeping on a (heated) floor without a proper bed. However, the experience is one of a kind and I really enjoyed it. My Hanok Stay even provided breakfast for us in the morning which was simple but very delicious. Another advantage is that you're right within Jeonju Hanok Village and can easily walk everywhere.
석갈비 (Seokgalbi) & 떡갈비 (Tteokgalbi)
One of the foods that you should try while you're visiting Jeonju is Seokgalbi and Tteokgalbi. 
It's a dish made out of grilled short ribs (pork and beef) and used to be a royal dish. It is now one of the specialties of the Gyeonggi Province of Korea.
Bibimbap
And if you are a fan of Bibimbap, then you should definitely try it in Jeonju as it originated in this area. You will find many restaurants serving delicious Bibimbap all throughout the Hanok village. 
Just like any other Korean city, you will find numerous wonderful cafes in Jeonju – especially in the Hanok Village area. A few that I found and can recommend are the following:
Cafe Ireuri (이르리)

Cafe Dalgom

Neoui Goyo Cafe (너의 고요)

Sobok

Jeonmangdae Cafe (전주한옥마을카페 전망)
Kakao Friends Store Jeonju Branch
If you've been to Korea before you've probably heard of the Kakao Friends Store. There is actually a branch in Jeonju that sells products you would only be able to get in Jeonju – so it's worth checking out while you're there!
Choco Pies
When I saw a lot people walking around with an orange paper bag I wanted to know what it was and found the store and went inside. PNB is Jeonjus oldest bakery that sells delicious and fresh Choco Pies in all kinds of flavors and sizes. I first bought the traditional choco flavor but after eating one, I went back to buy more of the other flavors to try. All of which I have really enjoyed until now. 
There are a few PNB bakeries in and around the Jeonju Hanok Village.
If you are planning on visiting Jeonju in the future, I hope that this guide will be helpful! 
Leave questions or comments in the comment section below and if you would like to read more about other places in Korea, feel free to check out my other blog posts here.