One of the many ways to get to El Nido and by far the fastest is going by plane. There is only one company that currently operates in El Nido – AirSWIFT.
You can easily book your ticket on their website: https://air-swift.com/
Simply select your departure airport and date and the website will show you all available flights. I realized that is does not really make a difference if you book your flight early or pretty last minute. Prices won't really differ.
Coming from Manila
Flights leave daily 4 times a day from Manila Terminal 4 to El Nido Airport. They depart (always account for some delays as it is still Manila airport) at 5:55am, 10:15am, 10:50am, and 2:15am. Flight time is about an hour. Just keep in mind that no plane ever departs on time in Manila. I haven't met a single person whose plane was not delayed.
My plane was delayed for over two hours. One of them we spent in the airport, the other hour on the plane.
Getting on the plane is a great experience, though. Once boarding started, we all got onto a bus that would take us to the plane. Once we arrived at the plane, there was a red carpet leading from the bus up to the stairs to the plane (I felt super fancy that exact moment). They boarded rows 1 through 14 first, followed by the other rows. You get on the plane from the back and it is a 2 by 2 layout. Luckily the plane was super empty and so I had two seats for myself. If you want a window seat, make sure you request it upon check-in, otherwise they will just give you a random seat.
Coming from Cebu
Flights from Cebu leave less frequently than from Manila. They leave once a day at 3:15pm. Prices are comparable to the Manila-El Nido flight but one advantage of coming from Cebu is that planes are not always delayed and the airport is much nicer itself!
There are also flights leaving Bohol every other day at 10:40am. Flight time should also be about an hour.
Other Departure Airports
A few other airports in the Philippines also offer direct flights to El Nido via AirSwift: Caticlan, Clark and Coron/Busuanga (that flight is literally only about 20 minutes). The flight from Coron is the cheapest but it is also the shortest.
Advantages of flying to El Nido
Time. It will save you a lot of time if you fly into El Nido rather than taking a flight to Puerto Princesa, hopping on a van and taking a 5-6 hour van ride up to El Nido. Trust me, I have done both and flying is so much more convenient.
Airport. Lio Beach is one of those island airports where the runway goes all the way up to the beach and ocean which make for an amazing descent or departure. The airport is also conveniently located. You can just take a tricycle for 300 PHP into El Nido town and you'll be there within 15 minutes.
Disadvantages of flying to El Nido
Cost. Yes, flying will be much faster but it will also be a lot more expensive. A flight to Puerto Princesa (around 2000 PHP one way) plus the van ride (600 PHP) will probably cost you about half as much as a one way ticket to El Nido (5000-6000 PHP or 85-100 Euro).
Luggage. AirSWIFT will only allow you to check luggage that is up to 10 kg but make sure you book your luggage with the ticket. You may also take carry-on luggage with you free of charge. Although I doubt that more luggage would fit into a van if you decide to take the route of Puerto Princesa to El Nido.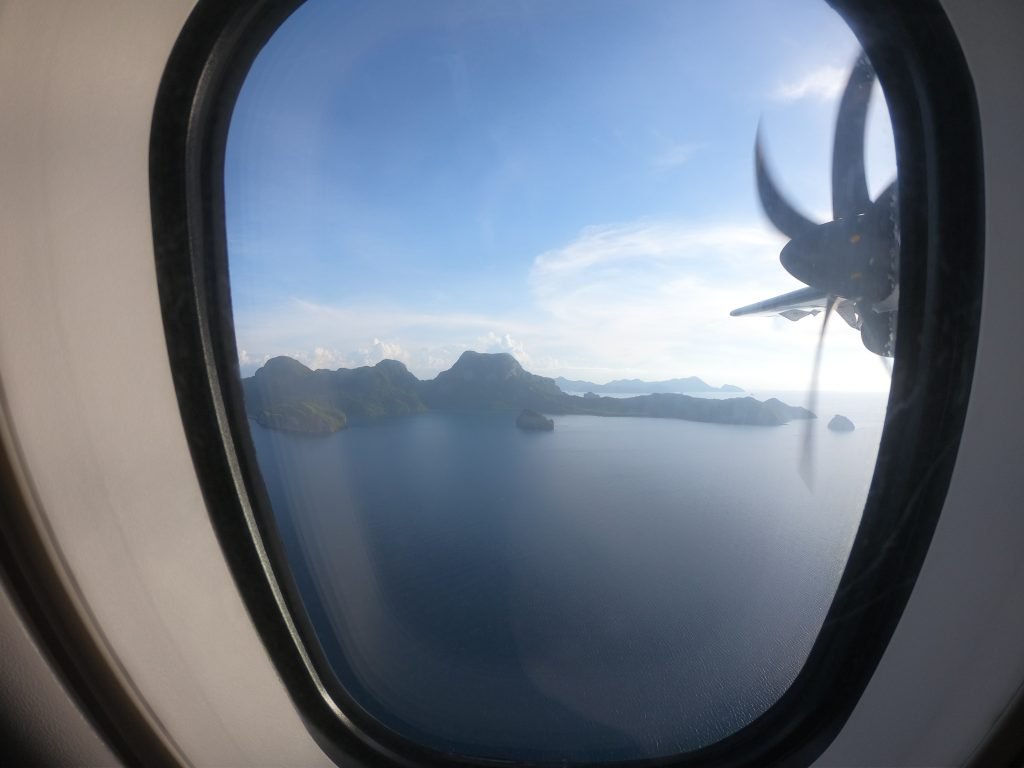 I hope this guide on flying with Air Swift to El Nido, Palawan was helpful for you. If you want to read more about my travels in the Philippines, click here. 
Feel free to leave a comment in the comment box below if you have any questions or want to add something.