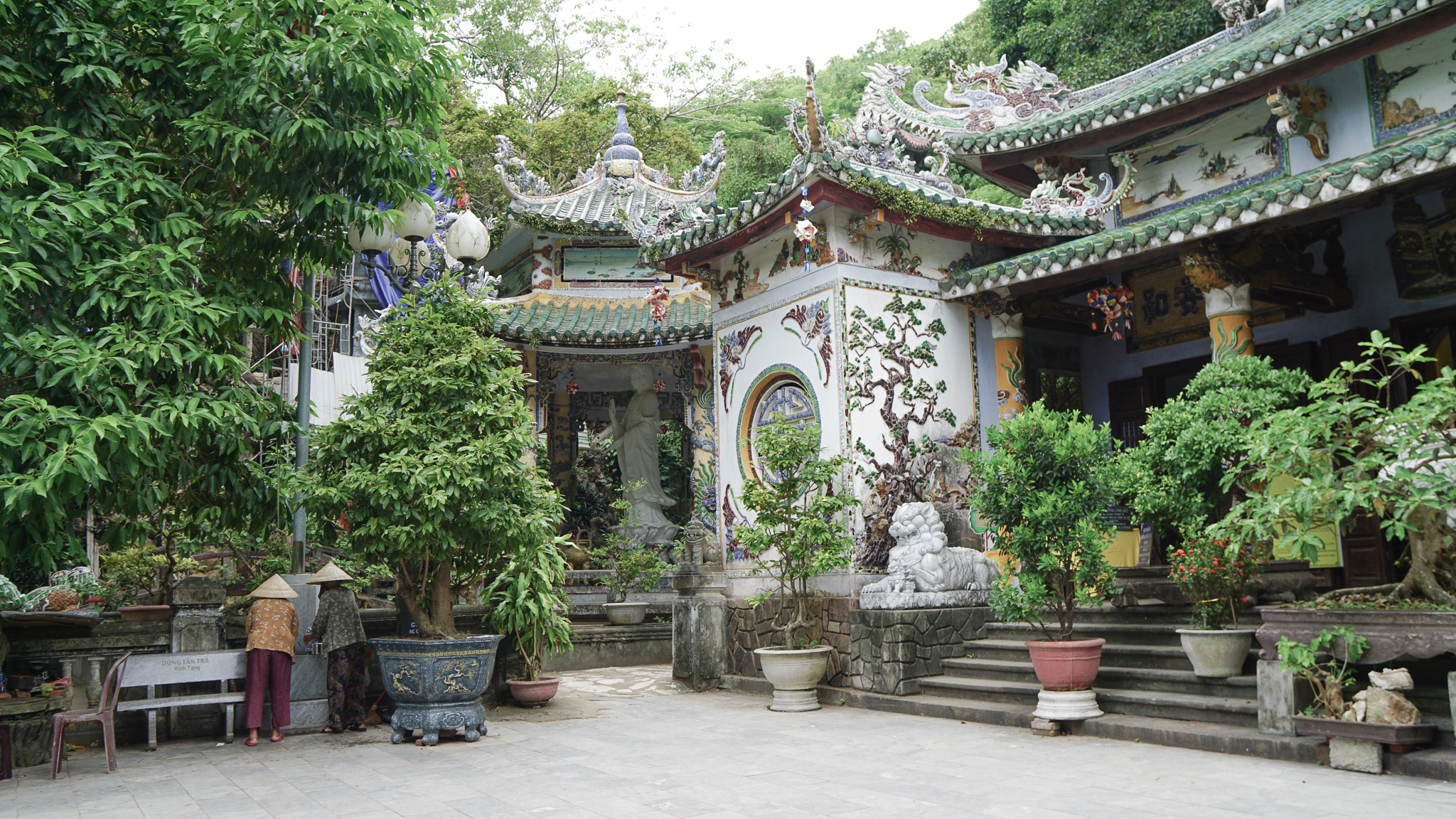 I recently spent 2 weeks in this beautiful Vietnamese coastal city called Da Nang (Đà Nẵng) and want to share with you 5 things to do in Da Nang. During my stay there I really fell in love with the city, beach, and friendly people. Da Nang is a very clean and also safe city. There was never a moment where I felt unsafe or uncomfortable. Everyone was kind and helpful, and English was most of the time, not an issue. Thanks to the app Grab, getting around the city was also no issue and I was always able to safely and cheaply travel from point A to point B. 
This is probably one of the top things to do in Da Nang as My Khe beach is a giant beach that stretches 10 km long and is 60 m wide. In addition to that, it is one of the cleanest beaches I have seen in South East Asia. You will find hardly any trash on the beach or in the ocean which makes going swimming much more enjoyable.
Along the beach, you will find many areas with places offering beach chairs with shade as well as drinks. If you want to rent one of the beach chairs, it will cost 40,000 VND (ca. 1,70 EUR) and you can stay however long you want. If you want to drink a fresh coconut, you can get these for an additional 30,000 VND – but don't forget to bring cash with you. In some areas, you will also be able to order some food that will be brought to a small table by your beach chair.  
There are also flags on the beach indicating the spots where you can go swimming and which areas to avoid – this is usually in combination with a lifeguard being close by where you find the yellow flags.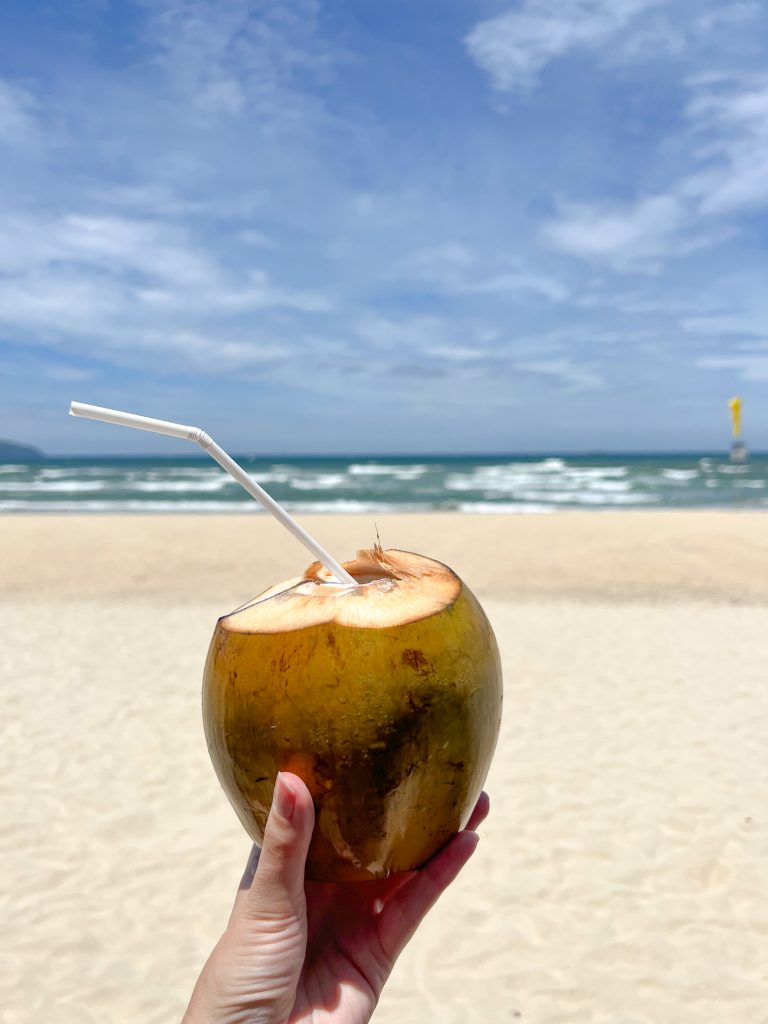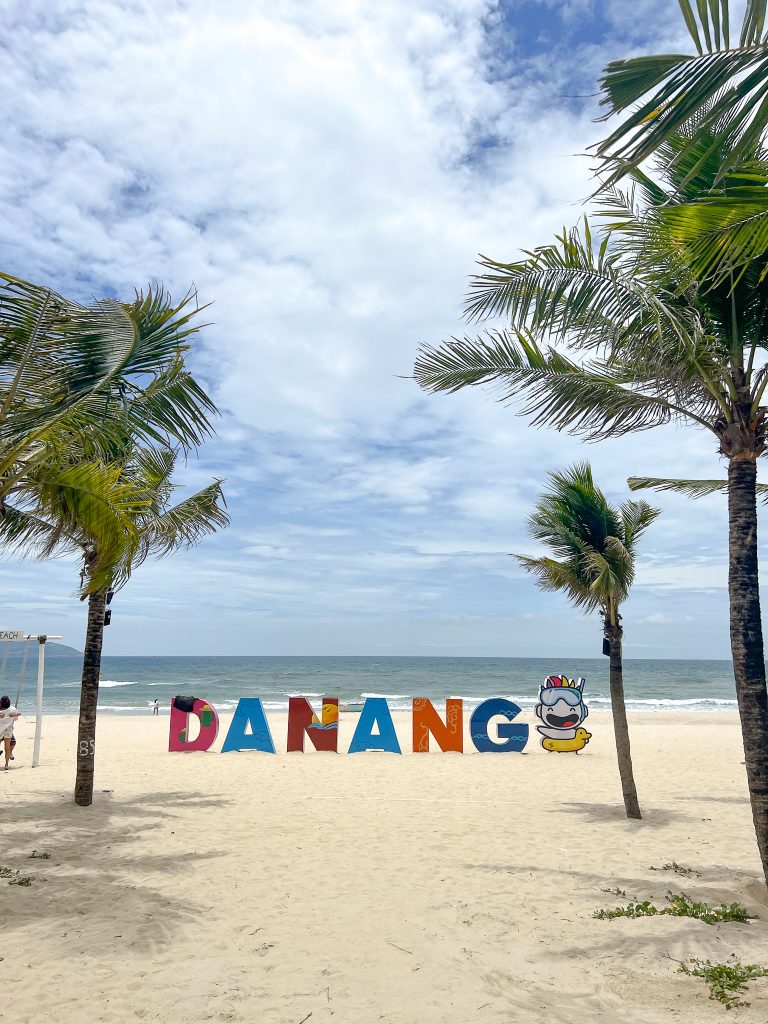 Visit the Marble Mountains
An attraction in Da Nang that requires some good walking shoes as well as being able to climb up some steps is the Marble Mountains. 
And while there is an elevator (which costs 15,000 VND) that goes up the mountain, you will still need to climb a lot of steps in order to see everything afterward. I would recommend to just skip the elevator as the mountain isn't that big and you can easily walk – but be prepared for some uneven steps.
The Marble Mountains, also known as Ngu Hanh Son, is a very famous natural attraction in the south of Da Nang – easily accessible with a Grab or a bike. The mountain is made up of 5 limestone and marble hills with each of them named after an element of the Earth (earth, fire, metal, water, and wood).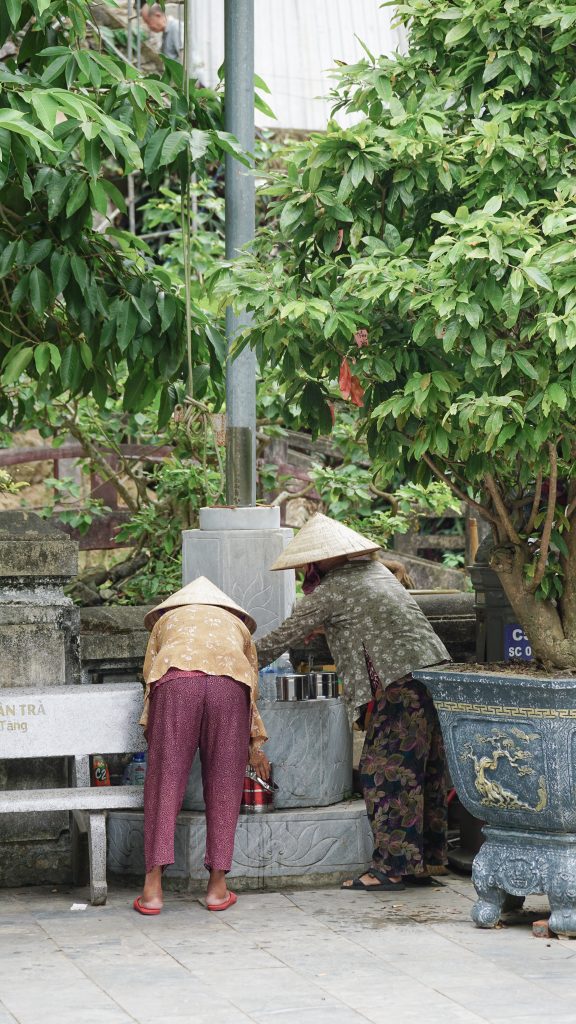 On top of the mountain, you'll find many caves, temples, and beautiful old buildings, such as the Tam Thai Pagoda, as well as a selection of marble statues.
I would plan at least half a day to explore the Marble mountains as this is definitely one of the top things to do in Da Nang.
Check out the Night Market
Da Nangs night market is located close to Han River and happens every night from 5 pm until midnight. You'll find many street food stalls, live music or karaoke as well as some souvenir stalls. You can try many of the local delicacies at the market.
It's definitely a great place to check out in the evening and then taking a stroll a long Han River at night after visiting the night market. 
Address: Mai Hắc Đế, An Hải Trung, Sơn Trà, Đà Nẵng 550000, Vietnam
My favorite area to shop for souvenirs was not by the beach area but on the other side of the Han River.
One store with good quality Rattan products for reasonable prices is the following. The lady working there is also such a sweet person and super friendly. Sometimes the store can get a little crowded but I assure you that you will find some great souvenirs here to bring back home. I wish I had a bigger suitcase so that I would have been able to bring more things back home. 
I was also able to find some cute stores and more unique souvenirs along this road while making my way back home. 
Watch the Sunrise at My Khe Beach
Probably one of my favorite memories of Da Nang was getting up bright and early and watching the sunrise at My Khe beach in Da Nang. 
However, be prepared to wake up early as the sun comes up at 5 am during the summer months and I do recommend getting to the beach by 4:40 am in order to see the whole sunrise unfold. When I got to the beach it was already quite crowded and got even more crowded over time. It felt like everyone in Da Nang was coming to the beach to enjoy an early morning swim, some light exercise or take some photos all the while being able to view this amazing sunrise. 
I stayed on the beach for about an hour to wait for the sun to fully rise and I am so glad I did. 
By the time I left, I saw so many motorbikes parked by the beach, people dancing and doing exercises to Vietnamese music and some locals that were meditating. It was definitely something you wouldn't get to experience during the day or night time in Da Nang.