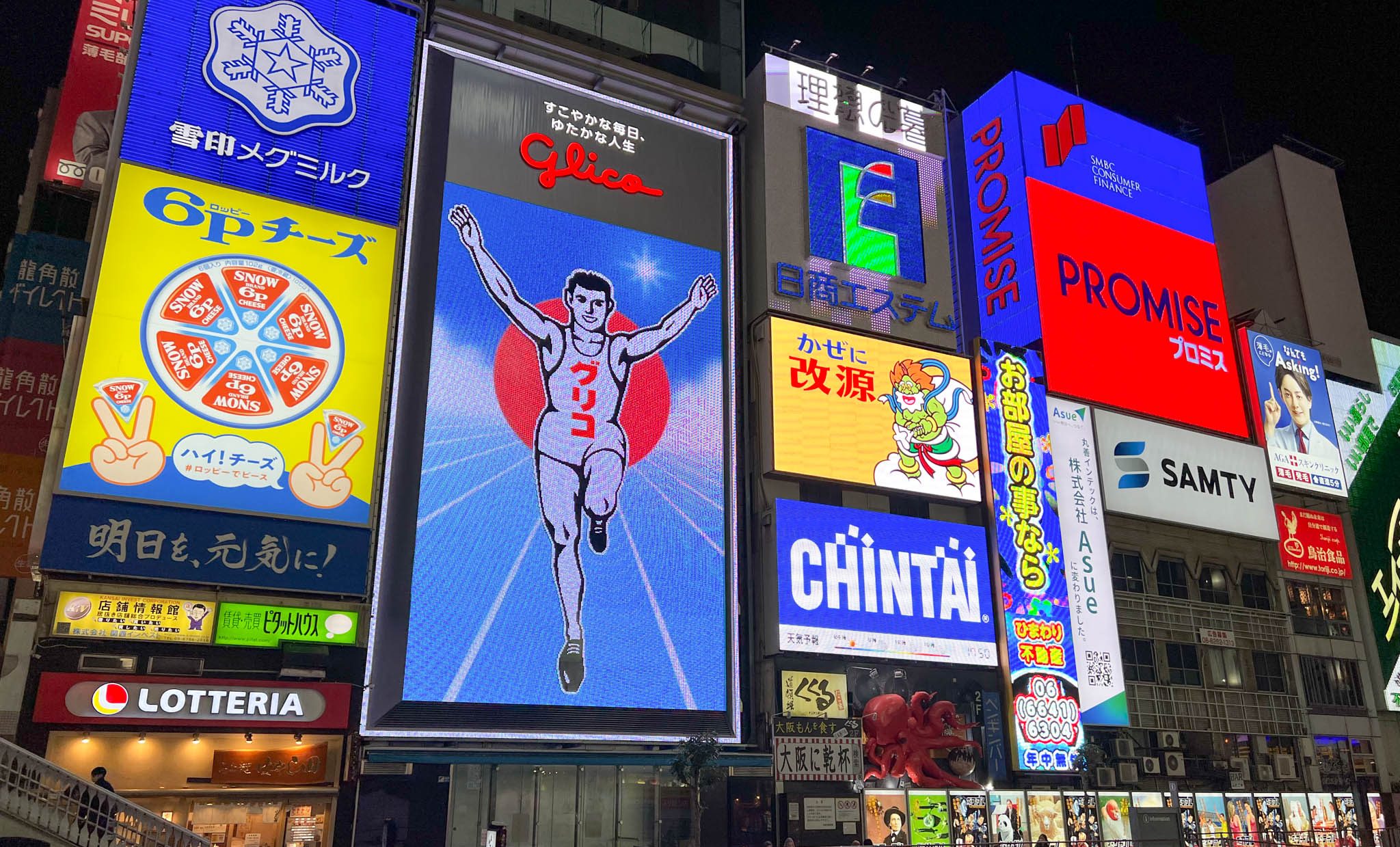 Osaka of my favorite cities in Japan and there are so many things to do in Osaka that I tried to put together a quick guide on things you shouldn't miss out on.
Address: Japan, 〒540-0002 Osaka, Chuo Ward, Osakajo, 1番1号 (〒540-0002 大阪府大阪市中央区大阪城 1番1号)
Opening Hours: every day from 9 am until 5 pm
Admission: 600 Yen for adults
Osaka Castle is one of the major tourist sites in Osaka and definitely a very beautiful place to visit. I would recommend coming here in the morning hours to avoid the bigger crowds. If you want to read more about visiting Osaka Castle, you can check out this blog post. 
2. Have fun at Universal Studios Osaka
Address: 2 Chome-1-33 Sakurajima, Konohana Ward, Osaka, 554-0031, Japan (〒554-0031 大阪府大阪市此花区桜島2丁目1−33)
Opening Hours: usually from 10 am until 7 pm (but on some days they open at 9 am)
Admission: 7400 Yen for a one-day ticket (adult) 
If you have enough time, I would definitely recommend you to visit Universal Studios in Japan. It is such a fun place with many great attractions. And honestly it is such a vibe to experience Harry Potter or Jurassic Park in Japanese. 
And if you are a solo traveler, still go to Universal Studios! Because you can actually get on many rides a lot faster if you are in the Single Rider lane. This is what I did and sometimes I got on a ride within 15 minutes instead of having to wait 1+ hour. 
Also, they have just opened up a new area in the park which is the Super Nintendo World which does look like so much fun!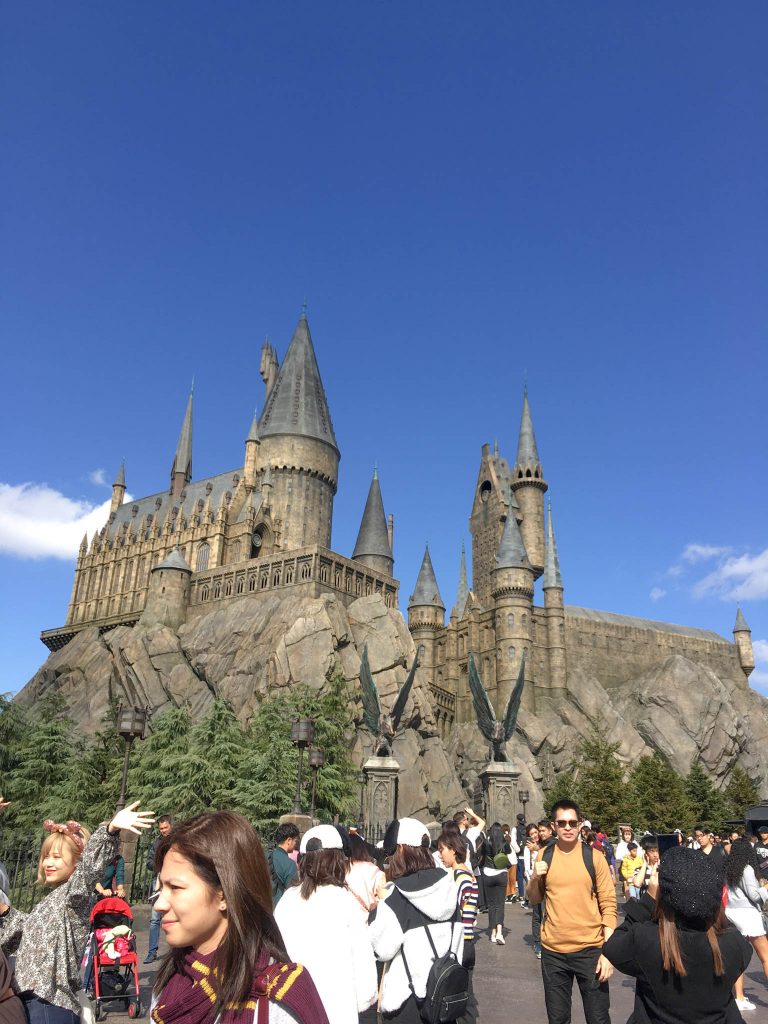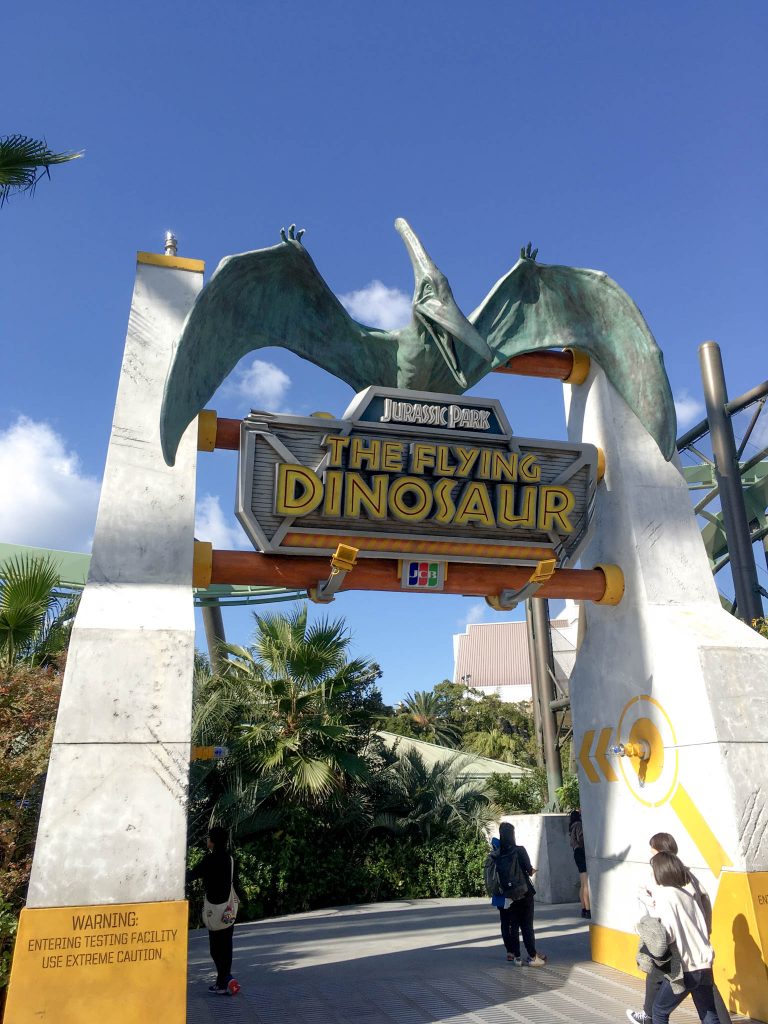 Shinsaibashi is located very close to the Dotonbori area and is a great place for shopping – the main area is covered so even when it rains, you can enjoy some comfortable shopping. You will find many stores like Uniqlo, Gu, Charles & Keith, a few department stores like Daimaru, or even high-end stores on the main road such as Louis Vuitton or Chanel. 
If you want to know more about shopping in Osaka, you can also check out this blog post.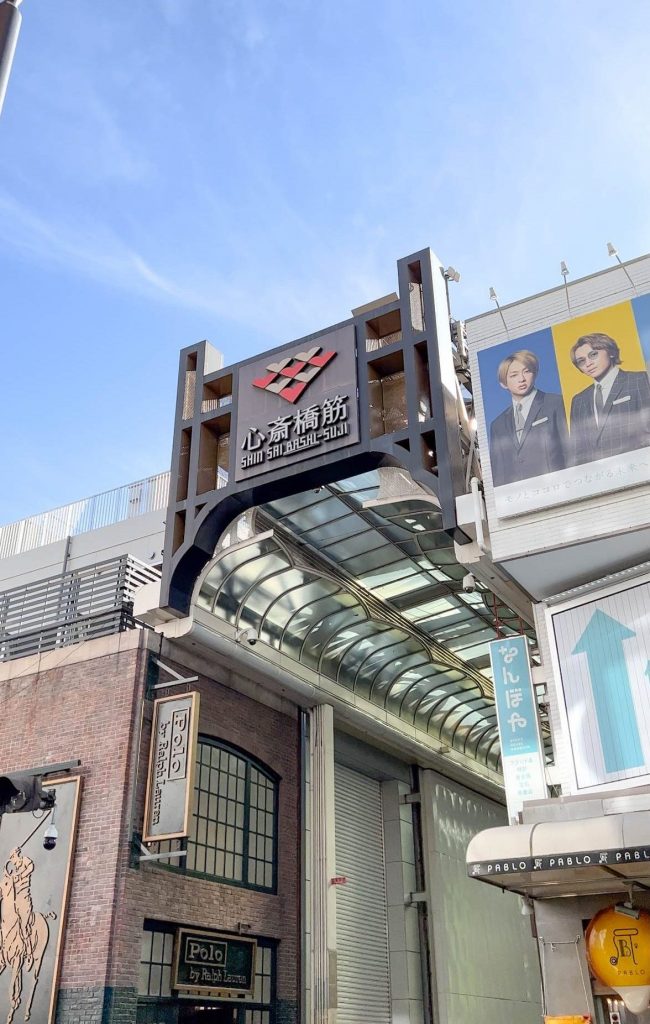 Dotonbori, an area along the Dotonbori River is Osaka's largest downtown and tourist destination. You can find many restaurants such as Ichiran, Kani Doraku, or Takoyaki Juhachiban which are for the most part always tightly packed and involve a lot of waiting time. 
You will also find big digital screens and many lights at night with fun and sometimes little bizarre restaurant exteriors. It's a great place to visit both during the day and at night. 
Right by Dotonbori, you will also find a big Don Quijote store with a big yellow Ferris wheel. It's difficult to properly define this place but you can find any kind of item there from furniture, snacks, cosmetics, and groceries to second-hand luxury goods. It's open 24 hours and can be quite overwhelming if you are looking for something specific. I would recommend just going in without any purpose. 
To ride the Ferris wheel, you will have to go to the third floor where you will find the ticketing machines. The Ferris wheel operates between 11 am and 11 pm and one ticket costs 600 Yen. It is a pretty unique Ferris wheel due to the open type seat and 4 seats in a-row layout.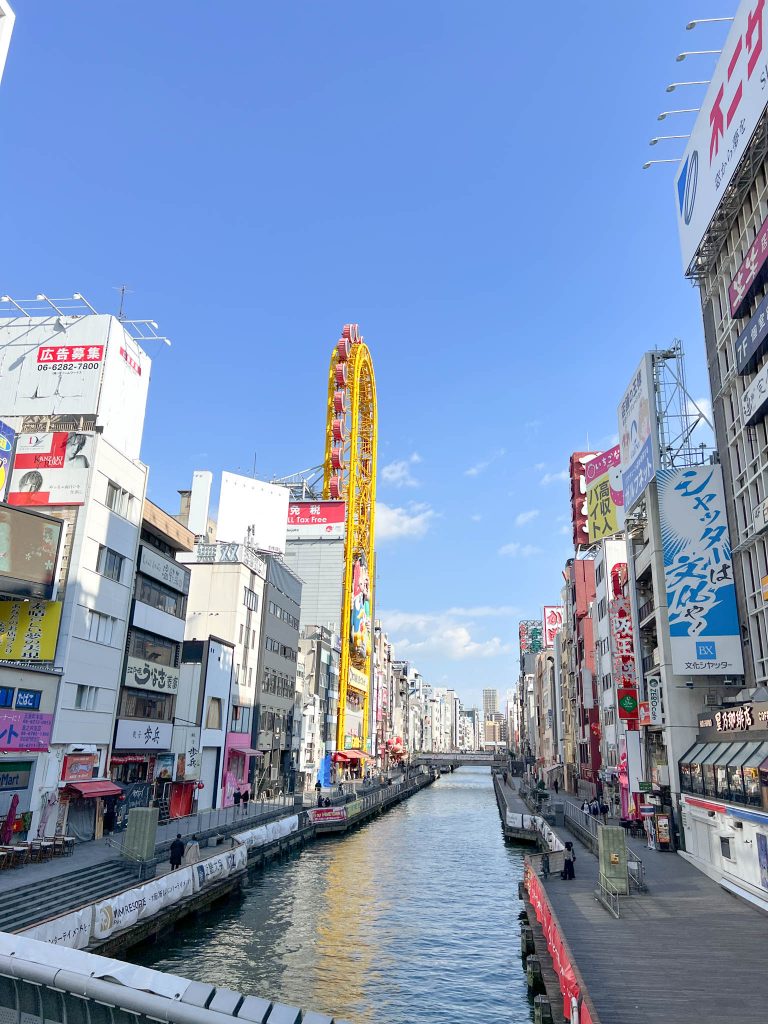 5. Take a Picture in front of the Glico Sign
Address: 1 Chome-10-3 Dotonbori, Chuo Ward, Osaka, 542-0071, Japan (〒542-0071 大阪府大阪市中央区道頓堀1丁目10−3)
One of the most popular photo spots in Osaka is probably that in front of the big Glico Sign at Dotonbori. 
Glico is a Japanese multinational food processing company and its billboard that was installed back in 1935 is today a top tourist destination. 
6. Relax at Keitakuen Garden
Address: Japan, 〒543-0063 Osaka, Tennoji Ward, Chausuyamacho, 1 内 天王寺公園 (〒543-0063 大阪府大阪市天王寺区茶臼山町1 内 天王寺公園)
Opening Hours: Tuesdays through Sundays 9:30 am until 5:00 pm
Admission: 150 Yen
A beautiful place in Osaka is the very peaceful Keitakuen Garden by Tennoji Station. Admission is not too expensive and I was able to relax there for about an hour before continuing my journey through Osaka. 
7. Check out Vintage Shops in America-mura
America-mura is a fun little neighborhood in Osaka with American-oriented styles close to Namba Station. It has a pretty laid back and creative atmosphere with a few street murals and some vintage stores where you can shop. If you are already shopping at Shinsaibashi, I recommend you also drop by here and explore the area a little. 
8. Visit Shitennoji Temple
Address: 1-11-18 Shitennoji, Tennoji Ward, Osaka, 543-0051, Japan (〒543-0051 大阪府大阪市天王寺区四天王寺1−11-18)
Opening Hours: every day from 8 am until 4 pm
Admission: Inner Precinct 300 Yen, Garden 300 Yen, Treasure House 500 Yen
This very famous Buddhist temple was built in 593 AD. You can find a 5-story pagoda, a beautiful pond with turtles inside, a golden hall, and an auditorium. The area around the temple is open 24 hours but certain parts are only open between 8 am and 4 pm. The whole temple grounds is a lovely area that I would definitely recommend visiting while you are in Osaka. 
9. Visit Namba Yasaka Jinja Shrine
Address: 2 Chome-9-19 Motomachi, Naniwa Ward, Osaka, 556-0016, Japan (〒556-0016 大阪府大阪市浪速区元町2丁目9−19)
Opening Hours: every day from 6:30 am until 5 pm
Admission: free
Namba Yasaka Jinja Shrine is definitely on the list of things to do in Osaka as it is such a fun and unique place to visit. I hadn't visited the shrine on my first trip to Japan but made sure to go there during my second visit. 
The shrine is located between Osaka-Namba Station and Daikokucho Station. The shrine has a performance stage in the form of a lion's head and is therefore such a cool place to experience. 
10. Explore Umeda Station & Chayamachi
Umeda Station is a place I usually get lost at but there is so much to see and do in and around the station that sometimes it is actually good to get a little lost. You have many department stores and bigger chains all around the area that you can shop at, you will find many cafes and restaurants, and can even get on the big red Ferris Wheel inside the Hep Five Building.
And if you like the currently very popular Blue Bottle Coffee, you can also find one of their locations in Chayamachi.
I hope this post was helpful and you have found more things to do in Osaka for your upcoming trip. If you have any questions, feel free to leave a comment down below. 
And if you want to read more about Japan click here.