Last year I spent 2 weeks in Da Nang, Vietnam and also got the chance to visit Hoi An. Hoi An is such a cute little town full of colors and life that shouldn't be missed. And although it's not a big city, there are still so many things to do in Hoi An. 
I was really taken aback by the beauty of the city and the amazing architecture you can find all throughout the old town. It's definitely one of those places I would visit again! Do keep in mind that it can get a little crowded especially on weekends and in the evenings. 
Take a Lantern Making Class
One of my absolute favorite activities in Hoi An was to make my own Vietnamese lantern. I had searched beforehand on where to buy lanterns and then stumbled upon a class I could book where I could actually make my own one. And because I love being creative, I booked it right away. 
When you make the booking you can choose between either making the whole lantern yourself (including the wooden structure) or to just add the fabric around the structure by yourself. Just keep in mind that making the whole wooden structure yourself will take about 2 hours instead of just 1 hour. Here is the link for the lantern making class I participated in and this is the address of the shop: 08 Đường Trần Cao Vân, Phường Cẩm Phổ, Hội An, Quảng Nam, Vietnam. It is in walking distance to the old town. 
Get clothes made at a local tailor shop
Getting clothes tailor-made for you is something that many people would recommend when visiting Hoi An.
You can find numerous different shops all throughout Hoi An that can make clothes for you within only a day or two. Just make sure you negotiate the price a little as they tend to try to price the clothes a lot higher than it should be.
You can have all kinds of clothes made there – from suits, to dresses, to pants, blouses and even jackets. Have a look around and see if any of it is to your liking. They will give you many catalogues to look through and even if you find a style you like, you can also tell them to tweak it a little so that it is exactly how you want it.
Hoi An is a great place for souvenir shopping. You can find so many different shops that sell you the traditional Vietnamese souvenirs as well as stores where they sell hand-made items. It's good to walk around and compare prices a bit and don't feel bad about negotiating. That's pretty common in Vietnam.
I was able to buy a few very beautiful souvenirs to bring back home with me. 
Get lost in Hoi An's old town
Hoi An's old town is one of the main reasons people visit the city – and to no surprise. The old town is a beautiful place to explore and walk through. There are so many colorful buildings with beautiful flowers and trees combined with old architecture. When I visited Hoi An, I started to just walk around and explore, walking through some of the side streets and getting lost a little. There are so many beautiful areas left and right. Hence, I do recommend wandering around a little. You'll stumble upon most of the major sights anyways as the old town is not such a big area.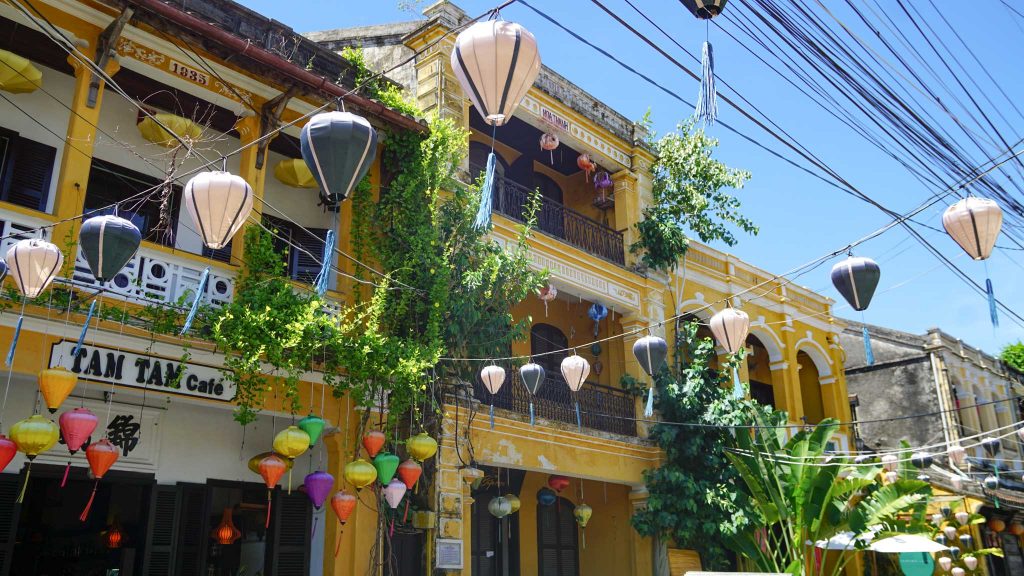 Address: 186 Trần Phú, Phường Minh An, Hội An, Quảng Nam, Vietnam
This old Japanese bridge in the middle of Hoi An's old town is one of the most popular sights. The footbridge was built in the 17th century and is dedicated to the goddess of the sea. 
In order to visit the temple an admission ticket has to be purchased. For non-Vietnamese tourists, you can buy a ticket to visit 5 sights of Hoi An for 120,000 VND (ca. 4.75 EUR) at most sights. 
Admire the beautiful architecture of Hoi Quan Phuoc Kien
Address: 46 Trần Phú, Cẩm Châu, Hội An, Quảng Nam, Vietnam
This place was one of my favorite places in the old town and the first sight I visited when I arrived. Hoi Quan Phuoc Kien (or Fukian Assembly Hall) was built in the 17th century for the Chinese residents. It's a beautiful place to visit and I highly recommend it. The architecture and colors are stunning. 
Learn about the Vietnamese cuisine in a cooking class
If you want to learn more about the Vietnamese cuisine, you might be interested in taking cooking classes. You can find a variety of cooking classes to book online. This is a great way to spend some time indoors when it is raining or during lunch hours when the sun is just burning on your skin. 
Here are a few places that offer cooking classes:
Tra Que Waterwheel Organic Farm Cooking Class
Green Bamboo Cooking School
Taste Vietnam – Ms Vy's Cooking classes
You can find many more online. I myself have not had the chance to attend a cooking class as I decided to do the lantern making class during my day trip to Hoi An but next time I will definitely book one since I love Vietnamese food!
Take a tour of the Hoi An Silk Village
Address: 28 Nguyễn Tất Thành, Phường Cẩm Phổ, Hội An, Quảng Nam, Vietnam
Only about a kilometer away from the old town, you can take a tour to discover some of the old silk weaving and silk production techniques in the Hoi An Silk Village. You also have the chance to buy some of the hand-woven silk items on sight. 
Take a night boat tour and place a wishing lantern in the water
This is definitely one of the more popular things to do in Hoi An as you will see many people lining up for the boat rides and will also see many of the boats in the water. 
Just be aware beforehand on how much should be charged and how much they will charge extra for the lantern to place into the water. You will find signs next to the river that will give you an indication of the cost of the boat ride. 
I took one of the boats and although it was only a 20-minute boat ride and my lantern got swallowed by our boat right when I put it into the water (haha), I still thought this was a great experience. Especially also seeing Hoi An and all the lanterns by night from the river. 
Explore the Hội An Night Market
Open every day of the week, the Hoi An Night Market is a great way to end a day of sightseeing in the city. You will find many food stalls, shops selling souvenirs or clothes and all lanterns will be beautifully lit up. Strolling along the night market in Hoi An gives the city another amazing vibe that you wouldn't find during the day. 
Just keep in mind that if your hotel is in Da Nang it's a little more difficult to get a Grab Taxi back to Da Nang during the evening so you will need to wait a bit and prices will be higher. 
Last but not least I want to share a collage of some of my favorite snaps in Hoi An – because this city is just so photogenic and I can't not share these images with you. 
If you're interested in reading more about my travels to Vietnam, click here for my other blog posts. 
And I would be very grateful if you would also check out the other destinations I traveled to. If you want to keep up with my content and adventures, I'd be happy if you could give me a follow on Instagram or TikTok. 
Let me know if you have any questions or comments, in the comment box below.