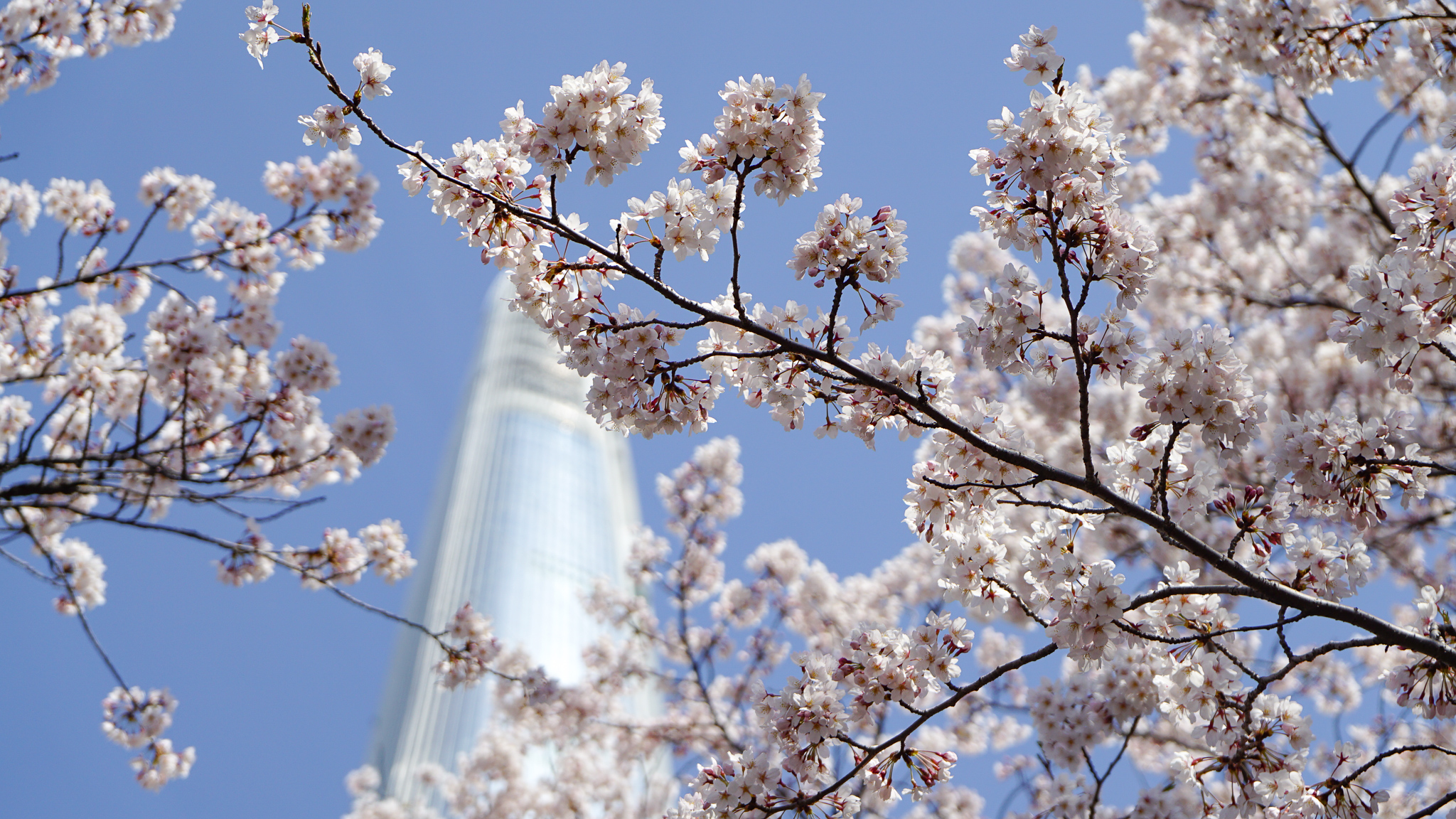 The warm weather brings with it the most beautiful season of the year: Cherry Blossom Season.
If you ever thought about visiting South Korea during spring and more specifically cherry blossom season, I highly recommend you do so. You haven't experienced cherry blossoms until you have come to Korea and seen the beautiful pink and white blossoms all over. 
There is just something so refreshing and magical about the trees that make you instantly happier. In this blog post, I want to share with you three places that you should visit to see the cherry blossoms in Seoul.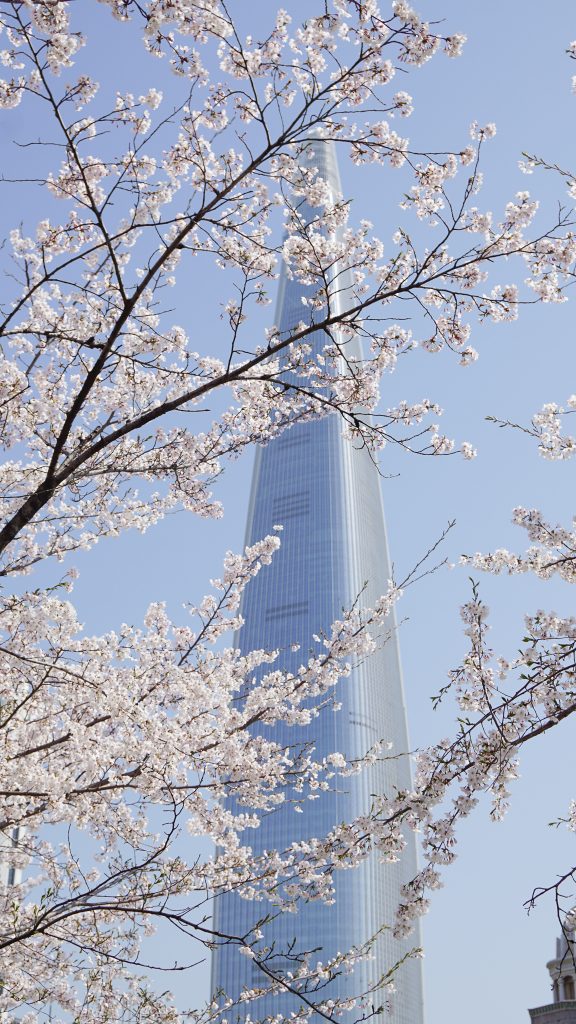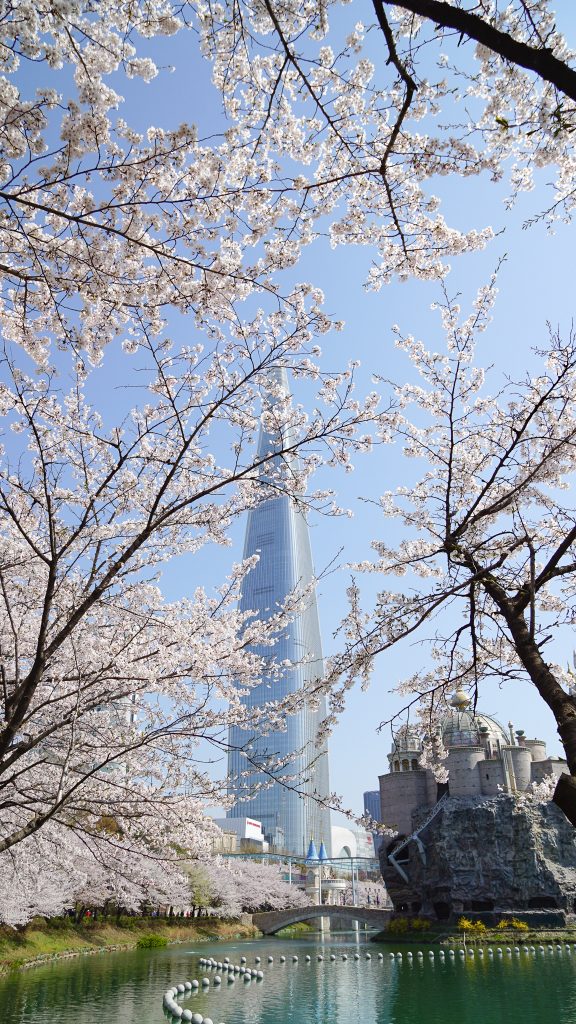 Seokchon Lake consists of two lakes: Seoho Lake (서호) which surrounds the Lotte World Magic Island, and Dongho Lake (동호) which is in front of Lotte World Tower. During cherry blossom season you will notice that everyone is walking in the same direction around the lake which makes it all a little more organized when there are so many people.
How to get to Seokchon Lake?
The easiest way to get to Seokchon Lake is to take the Line 2 Subway (green line) and get off at Jamsil Station (잠실) and take either Exit 2 or 3. You'll then have to walk a few more meters until you reach the lake.
When is the best time to visit?
This is difficult to answer as cherry blossoms are quite unpredictable and it's hard to depict when they will be in full bloom. I suggest checking Instagram posts and Facebook groups before you visit to avoid going when they haven't fully bloomed yet. 
Additionally, I'd recommend going during the week in the morning as it can get quite crowded in the afternoons and especially on weekends when all of Seoul is traveling to see the beautiful trees around Seokchon Lake.

Yeouido Cherry Blossom Festival (여의도벚꽃축제)
The yearly Yeouido Cherry Blossoms Festival is one of the most famous spots to see the cherry blossoms in Seoul. The street is closed down so that everyone can enjoy the trees to the fullest and take pictures without worrying about cars. Just like Seokchon Lake, there is a system on how to walk around the Yeouido Cherry Blossom Festival and you should make sure to take the right route to be able to walk under the trees and not in the middle of the street. I made the mistake and started from the left, which made me walk in the middle of the street for the majority of the way instead of being able to walk under the trees. 
Just like at Seokchon Lake, make sure you research when the flowers are in full bloom and go during mornings on weekdays to avoid the big crowds.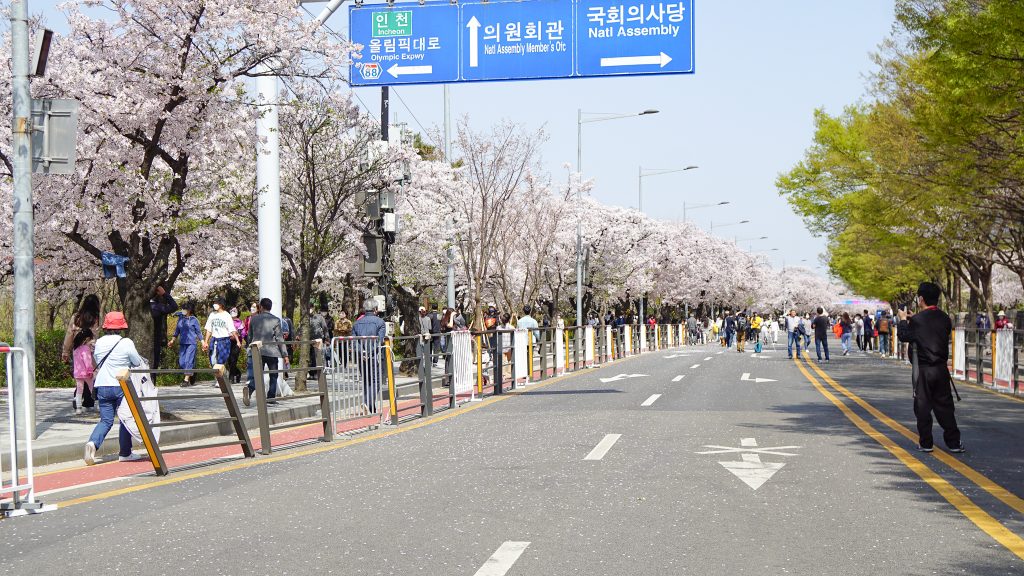 How to get to Yeouido Cherry Blossom Festival?
You can take Subway line 5 or 9 to get to Yeouido Station (여의도역) or get off at Yeouinaru Station (여의나루역) on line 5. 
At Yeouido Station, take exit 3 and walk to the right towards the Han River (한강). This will lead you to the entrance of the Yeouido Cherry Blossom Festival. 
If you get off at Yeouinaru Station, take either exit 1 or 2 and just walk straight ahead. 
Hongdae Sol Naegill Trail - Hapjeong (홍대솔내길)
The Hongdae Sol Naegill Trail is right by Hapjeong Station 합정역 (green line 2). Take exit 5 and walk to the right into the streets with all the restaurants. The street is filled with cherry blossom trees left and right which make such beautiful scenery to walk through. There are a few restaurants where you can sit on the balcony on the second floor and have a drink or something to eat right in front of the blooming blossoms. A very famous spot is the balcony of Cafe Mignon (394-16 Seogyo-dong, Mapo-gu, Seoul). On top of that, they also have some really delicious tarts so make sure to try those when you are there!
Even during the evening, the street is very picturesque and you will see many people taking photos of the glowing cherry blossom trees. I would recommend that you go during the day but also at night as it is just as beautiful!
There are so many more places to see Cherry Blossoms in Seoul such as the Bukseoul Dream Fores or Namsan Tower. Just make sure you always do your research beforehand as cherry blossoms bloom during different times for each of these places. 
If you have any other recommendations for Cherry Blossom viewing in Seoul or have any questions, please leave a comment below.
Click here if you want to read more of my South Korea blog posts.